Protect your income
You might want to consider protecting your income, so that if you were unable to work due to sickness or an accident, you could help maintain your lifestyle.
Here is an example of a situation where someone could consider protecting their income.
Please note : All case studies are fictional and are for illustrative purposes only.
Your income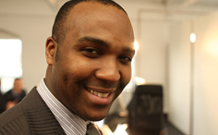 Alex is 27, single, and has no children
Alex earns £22K each year, and spends £550 per month on rent. Alex also spends about £300 each month on bills and living expenses.
With no dependents and no mortgage, Alex relies on his income to look after a pleasant home and fund his lifestyle.
Products he might take from Aviva
Income Protection – provides a monthly payment if work isn't possible due to illness or accidental injury.
This product has no cash in value.
Find out more for Income Protection
To help you choose
Want to know more about life insurance? Our tools and guides can help you understand how to protect the things that matter most, and how much insurance you may need.
Contact us