Retiring due to redundancy
You never know what's around the corner, so it is possible that your carefully laid plans about when you want to retire could be derailed by something like redundancy.
If you're over 55 when you're made redundant, you may have the option of retiring instead of striking out in the job market again.
Case study
This case study is fictitious and is intended for illustrative purposes only.
Shortly after his 60th birthday, Tony found out that he was being made redundant by his employer. This came as a shock to Tony and he was worried that, at his age, he wouldn't find work that would pay him a comparable salary.
In an ideal world, Tony had thought that he would work until he was 62, the normal retirement age at the company he works for. However, now that wouldn't be an option, Tony talked the situation over with his partner and decided to find out more about taking his retirement benefits earlier than he'd planned.
He spoke to a financial adviser, who helped him see the bigger financial picture. As well as helping him with his pension decisions, Tony's adviser discussed investment opportunities for his redundancy money that would also generate an income for him. Taking everything into consideration, Tony decided that he and his partner would be able to have the retirement they wanted without the stress of finding a new job.
Call us now for more information
If you're new to Aviva
0800 285 1088
Lines are open Monday to Friday, 8.00am-6:30pm.
Saturday, 9.00am-12noon.
Or if you're already a customer
0800 158 3470
Please be aware this line is very busy at the moment, we are doing all we can to answer your call.
Lines are open Monday to Friday, 9am-5pm.
Calls from UK landlines and mobiles are free. For our joint protection, telephone calls may be recorded and/or monitored.
Find out how we can help you when you call our teams
If you need some help or information from Aviva, please call us on one of the numbers above. We can help you with:
Using our website
All the facts about Aviva products and services
More details on the options you can choose from when you're making decisions about your retirement
Information on where to find financial advice

Although we can't give you advice, we can put you in touch with an adviser who can talk to you about which financial products or investments may be right for you.
Alternatively, you can visit www.unbiased.co.uk to find an adviser in your area.
If you want financial advice, please contact your Financial Adviser. If you don't have a Financial Adviser you can find one via www.unbiased.co.uk.
Pension Wise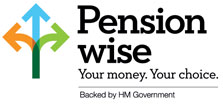 Pension Wise is a free and impartial service set up by the government for people retiring with defined contribution pensions. It will help you understand what your choices are and how they work.
You'll be able to get help on the Pension Wise website, over the phone or face to face about:
what you can do with your pension pot
the different pension types and how they work
tax you pay on your pension.
If you're not sure about your options at retirement you should seek appropriate guidance or advice.