Enjoy the best of Norwich City goals from November in our video below:
Here is the November Award video with Russell Martin:
Here is a picture of our November GOTM winner, Thelma Davey, enjoying her prize and her words on the experience;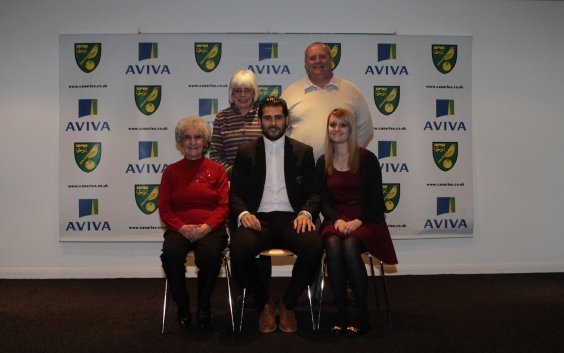 "On behalf of myself and my guests I would like to thank Aviva for the lovely time we had. The meal was delicious and we were able to have a photograph taken with Darren Huckerby, one of our heroes. It was great to watch the match sitting on those lovely comfortable seats, much better than those where we usually sit. What a great result…and to finish off the day with our photograph taken with Bradley Johnson was the icing on the cake, something we will remember for a long time.
Once again many thanks and a Happy New Year to you all at Aviva.
Best wishes,
Thelma."
Send us a tweet or share the competition to your followers @ #AvivaGOTM.