British Red Cross community heroes: four volunteers tell their stories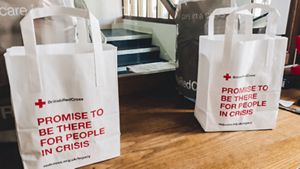 We supported the British Red Cross – our long-standing partner – with a donation of £10 million to help support efforts during the height of the COVID-19 pandemic. Because it takes a strong partner by your side to make it through trying times.
By Sarah Lewis
When Coronavirus struck, British Red Cross volunteers and staff acted quickly to help their local areas. We look back at what actions four volunteers took to help support their communities in 2020, from donating to foodbanks to helping people adjust when they came out of hospital 1.
Delivering food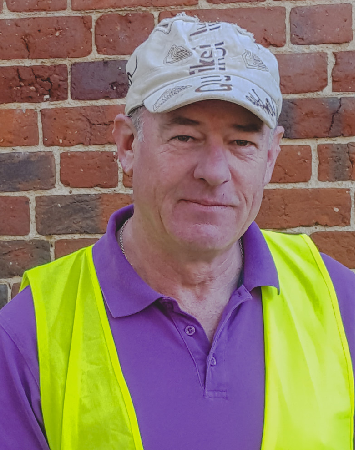 Michael, 59, from Buckinghamshire helped FareShare, a charity dedicated to relieving food poverty. The charity reached out to the British Red Cross as it was receiving unprecedented requests for help during the crisis. Michael volunteered twice a week, both making deliveries and helping in the warehouse.
This is what Michael had to share about his volunteering at the time the pandemic hit.
"I've been doing the driving and unloading because under social distancing rules we don't have help with us. So I drive and then unload the food. It's pretty heavy graft," he says.
"The food comes in from retailers or voluntary donations, that food then gets sorted and checked. It then gets boxed for the portfolio of charities that FareShare distributes to, the likes of the YMCA or Age UK and other local community-based hubs which require food." 
Speaking about volunteering he says: "It's a thing you should do, I'm relatively fit, I can lift stuff, I've done charity work before. It just seemed irresistible from my point of view."
Michael has been impressed by the kindness and goodwill he's seen since the pandemic took hold. He says: "In FareShare, it's incredible. We've got all sorts of people who have probably never worked in a warehouse setting before, retired people, young people, cross-generational effort in a common purpose, it's incredible to watch. So far so good, it is very rewarding." 
Helping homeless people
Melanie, 29, from South London is a British Red Cross support worker embedded in the homelessness team at King's College Hospital. Her role is to get to know vulnerable and homeless patients while they recover from medical treatment and help them when they resume daily life. Her work helps free up hospital beds and provides vital support to those who need it most.
"Our aim is to help people cope and be more independent after discharge, so there's less of a risk they'll need to come back into hospital later," she says.
Her work takes the pressure off nurses and social workers and often means patients don't need as much medical or social care as they otherwise might have. 
Melanie starts getting to know people while they're recovering on the wards so she can find out what their needs might be: "I might bring them a TV card or a snack," she says, "Or invite them for a coffee and a chat. I try to give them a bit of encouragement and build some trust with them." 
"Once someone's well enough to leave, I offer to go with them to get the keys from their landlord. I might go and visit the new accommodation to make sure it's safe and secure," she says. "Often people don't have very many possessions, but I organise transport and help them to move and settle in." 
"There's a lot of anxiety about," she says. "The people I support are often dealing with a whole range of issues. Some are immunocompromised or living with HIV, which makes it even more important they avoid getting sick.
When government guidelines and social distancing rules made it difficult to see people, Melanie would speak to people over the phone. As a British Red Cross support worker, she said she was in a unique position to chat to people and hear them talk, without any judgement, agenda or boxes to tick.
As a British Red Cross support worker I'm in a unique position to chat to people and hear them talk, without any judgement, agenda or boxes to tick.
Helping people who are isolating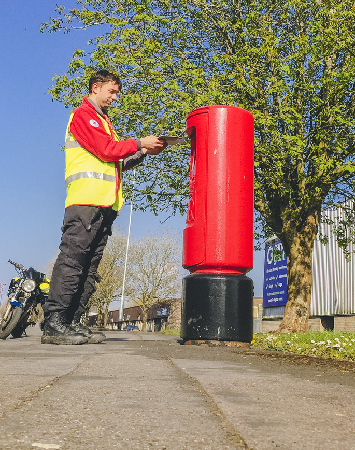 Postman Dan, 33, from Bristol, is also an emergency response volunteer with the British Red Cross and had been delivering food and other essentials to people self isolating from the virus.
This is Dan's story which he shared at the height of the pandemic.
"When the crisis started there was just so much to do. It's great to be able to give people help and reassurance at a time like this," says Dan.
While doing his rounds, Dan spoke to a woman who told him she desperately needed a birthday card to send to her sister: "I spoke to a lady with learning disabilities who was self-isolating because she's considered 'at risk'. 
"Her sister's birthday was coming up and she was in bits because she couldn't get to the shop to buy her a card. It was causing her a lot of stress," he says.
"It may seem like a small thing but wishing her a happy birthday was the most important thing in the world to her. I wanted to make it happen. 
"I called her from the shop and described a few of the cards they had on the shelves. She settled on one she liked, and I brought it back for her to sign. I posted it and took a picture, so she knew it was safely on its way. I'm actually a postman so I found the whole thing quite ironic. I thought - I'm probably going to be clearing out the same post box later in the day!" 
"The lady was so relieved. It seems small, but it was such a huge weight off her shoulders. It was great to be able to help in that way," he says.
He adds, "That's what's so valuable about the British Red Cross. We're able to have conversations by going out to deliver supplies. It's not just a case of dropping off a parcel and heading on our way.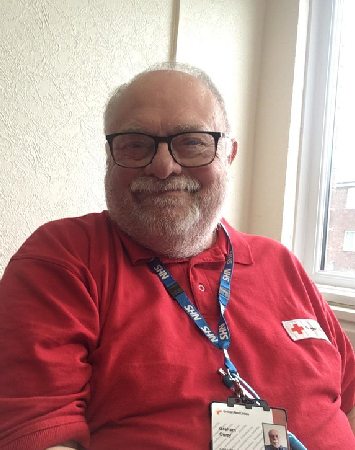 Driving and DJ-ing
Graham, 65, is a support worker for the British Red Cross in Blackpool. He drives discharged patients home from hospital and volunteers as a DJ.
Graham shared his story with us when we first went into lockdown.
After retiring from his job in the ambulance service, Graham took a job as a part-time support worker: "My role is to take patients home from hospital," he says. "I go on to the ward with a colleague, help them into a wheelchair and transport them home in a British Red Cross people carrier. The hospital will keep their bed free for two hours so occupational therapists can check the patient's home and make sure it is safe for them to be left," he explains.
"We meet the occupational therapists in the patient's home and hand our service user to them. If equipment is needed such as a frame or shower stool etc we go and collect these at that time. 
"It's rare that I've had to take a patient back to the hospital within the two-hour window, but it has happened."
I spent 40 years using a radio for emergencies, now I use it to cheer up patients!
Graham also volunteers on hospital radio in the Blackpool Victoria Hospital. He says, "While working at the hospital I saw an advert for a volunteer DJ." 
"During the coronavirus pandemic, patients need a distraction; they need a little bit of cheering up. It's amazing how powerful a song can be." 
"As soon as the Coronavirus crisis hit, the radio studio in the hospital was off limits, so I've had to set up a studio in my home." 
"It's more important than ever to keep patients connected. Visitors are no longer allowed in the hospital, so it is a way of keeping people connected to the outside world."
Interested in becoming a British Red Cross community reserve volunteer?
If you'd like to support your local community, why not sign up as a community reserve volunteer? No specialist skills are needed and you could make a very real difference to those who need it most. Find out more about how to sign up here.
For more information about British Red Cross and their Kindness will keep us together campaign visit their website.
Our donations
The community reserve volunteer programme is a joint venture between British Red Cross and Aviva. Read more about our donation and work with the British Red Cross.