Families more connected than ever, survey reveals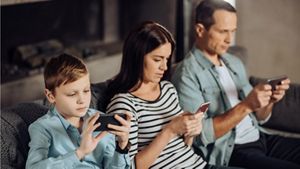 Almost half of us prefer to text family members in the same house instead of speaking face-to-face.
By Sarah Lewis
The abundance of tech owned by Brits could be changing the way families communicate with one another, according to a study commissioned by Aviva 1.
Almost half of us (48%) admit to texting family members who live in the same home, while we're in it. A further 45% make phone calls to them, 13% video call and 7% make use of voice-activated assistants.
Household tech takeover
The research, which maps changing possessions in UK homes, found that the average home now has 10.3 internet-enabled devices – such as computers, tablets, phones, games consoles and smart TVs – equating to more than 286 million nationally 2.
Children increase the number further. A home with three children typically contains 15.4 devices.
A similar Aviva study released in January 2017 revealed UK homes contained 8.2 devices, meaning the number of connected appliances per home has increased by 26% in the last three years.
The increase is perhaps owing to more devices – like security cameras and thermostats – having internet capabilities, and technology becoming more affordable.
A resurgence for retro
While tech is incredibly popular, it's not at the expense of more traditional pastimes like board games and reading.
Board games are owned by three quarters (75%) of UK homes, compared to two-thirds three years ago. The proportion of UK homes with packs of playing cards and dominoes has slightly increased too, by two and six percentage points over the last three years respectively.
While the average number of hard copy books has not changed since 2017, at 104 per home, the number of properties without a single book has fallen from 10% to 8%. More than 2 million 2 UK homes still have no books whatsoever.
It's reassuring to see that people are still enjoying traditional entertainments like books and board games.
Perhaps surprisingly, the average number of e-books has fallen slightly, with 28 per home, compared to 34 in 2017, while 52% of households have no e-reads.
"It's fascinating to see how home contents have changed in just three years, and no doubt will continue to evolve," says Gareth Hemming, MD for Personal Lines at Aviva.
"But while technology is developing and the number of connected devices is growing, it's reassuring to see that people are still enjoying traditional entertainments like books and board games.
"Whatever their possessions, it's important that people think about how they can protect them and make sure their cover is right for their needs. For example, if people have a lot of portable tech devices such as phones and tablets, they may think about cover which protects belongings outside of the home. People with a lot of tech devices may also consider taking out accidental damage insurance – particularly if there are children around."
He adds, "every home is as individual as its owners. We just want to make sure that should the unexpected happen, there's cover in place to help put things right."
Find out about insuring high-value items both in and outside the home.