Fighting with your partner? It's not you, it's lockdown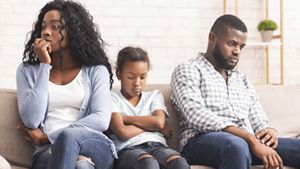 The number of coupled-up Brits unhappy in their relationship has soared during lockdown, Aviva survey reveals.
By Sarah Lewis
The survey 1, which questioned UK residents about life under lockdown, found the number of adults aged 25 to 34 wishing to end their a relationship had tripled in just six months, rising from 2% in December 2019 to 7% in May 2020. Smaller increases were seen in other age groups showing that many couples are feeling the strain.
And it's not just our partners we want to escape. The proportion of people wanting to spend more time with their immediate families decreased from 39% to 35%. The trend is strongest for those aged 25 to 34, with a drop from 40% to 27% in just six months.
Another increase was seen in people who desire for more time to themselves, and the number of people wanting to extend their property increased, revealing a need for more personal space.
Home improvements
While relationships are clearly suffering, homes are benefiting from lockdown rules.
More than four in five of us have tackled a home improvement task in the last six weeks with decluttering the most popular activity carried out by 56% of UK residents.
Gardening came a close second with 52% of people getting down and dirty, and more than a quarter (26%) of respondents said they used this time to redecorate.
Property aspirations
While the condition of properties has improved, for many the dream of home ownership is slipping further away for many.
Aviva research from December 2019 found 68% of non-homeowners hoped to buy in the future, this is now the case for just 52%. Under 25s are the least hopefulAmong under-25s, with just 27% hoping hope to get on the property ladder in the next five years. 
Your place, online
Finally, if you've used lockdown to fully embrace apps like Zoom, Houseparty or Tik Tok, you're not alone.
The study shows lockdown this time has accelerated the way we use online services and digital technology. Before the COVID-19 outbreak, just 30% of over-55s used video calls. This figure has risen to 58% in lockdown – an increase of 26%.  
While internet use to connect with friends and colleagues has increased, the number of people shopping online is on the wane.
With the exception of the over 55s, the number of people doing grocery shopping online has fallen considerably, reflecting the difficulty in obtaining a delivery slot.
Just 29% of people have shopped for clothes online during lockdown, compared to 69% under normal circumstance. Online takeaway orders have almost halved from 50% to 27% and online appointment bookings have plummeted from 50% to 10%.
Gareth Hemming, MD for Personal Lines, Aviva General Insurance says: "The impacts of lockdown are far-reaching, both practically and emotionally. Many people have been making great use of their time at home, maintaining and improving their properties and gardens. Others are embracing new technologies, working from home and keeping in touch with loved ones. But there have been challenges too, with people craving time for themselves and more personal space.
"As the lockdown begins to ease, its legacy is likely to continue as new behaviours become the norm. If people make significant changes at home - whether this means buying new technology, making substantial property improvements, or even changing one's living arrangements – it's important that people keep their home insurer informed so they have the appropriate cover in place."