Four insurance considerations to think about when you're working from home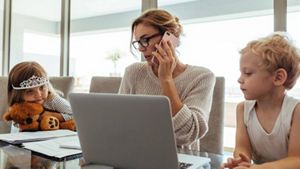 With home working comes convenience, ease and even lunchtime strolls. But there are some key insurance considerations to factor in when you're opting for the working-from-home life.
By Richard Pearson
You might think that working from home is a recent craze, but stats show that even before the pandemic more than four million people were already doing it – that's about one in seven UK workers 1. And even with employers eager to get their staff back in the office, during the period from July 2020 to October 2021 the percentage of people saying they wanted a role that allows for homeworking stayed steady at 10% 2.
Your homeworking insurance checklist 
Switching to a home-based work set-up can make life a lot simpler – no more scrabbling around to get ready in the morning, no more banging your head on the steering wheel in traffic jams – but what does it mean for your insurance? Here are four things you need to remember if you're making the move to working from home.
1. First stop – speak to your insurer
Your first port of call should be your own insurer. Speak to them to find out what your policies cover now, and what they need to cover when you start working from home. Yes, most of us have home and contents insurance, and building insurance – but this might not be enough. Your insurer can confirm what is and isn't covered, so make sure you check before you start installing expensive equipment or inviting staff or customers into your home.
2. Pricey work gear 
These could be specialist tools used for things like crafting jewellery, a hi-tech oven for a catering business, or stock stored in the utility cupboard. You might think these would be covered by contents insurance but due to their high value they often need a separate policy or an addition to an existing one.
3. Accident-prone colleagues and customers can be bad news in your home 
If your job involves other people working in your home, you'll need cover in case they spill hot coffee on themselves or trip over a printer cable. You could end up being sued if you don't have the right policy in place.
As with staff, customers in your home are your responsibility and could leave you in a pickle if not properly provided for. If your job involves inviting clients into your house, any slips, trips and spills to them need to be covered by an insurance policy.
4. There's a shedload to think about 
If you've got a lot of stock cluttering up the corridors of your home, it's natural to think of storing them in the garden shed or an outhouse. What you might not have thought of are the insurance implications of keeping this kind of equipment outside of your home. If business-related stock and equipment is in these buildings, it might not be covered if it gets stolen. 
Read stories from four people who are working from their sheds and outbuildings and how it affects their insurance.
Getting the right cover
If any of the above sounds like your situation, and you want to get the right cover, here are some things to think about:
Insure expensive items separately
If you're using hi-tech equipment or specialist gadgets it's worth considering tools, stock and business equipment insurance. It covers all those tools of the trade that are too expensive to replace under the terms of a normal home and contents policy.
It's what's outside that counts too
Contents insurance covers most of the stuff inside your house – and some of the things outside too. But here are some extra steps you can take to keep your work items in your shed protected:
Limit what you store in your outbuildings, sheds, garages and summerhouses, particularly if items are valuable.
Check your home contents policy wording and be aware of cover limits for items kept in external buildings. Pay particular attention to portable items, as tech devices can be stolen in a matter of minutes.
Check the access to your home and garden in case any would-be burglars are watching and if you've bought new office equipment, don't leave packaging where others can see it.