Working from home? Let us give you a little peace of mind that your home office equipment is covered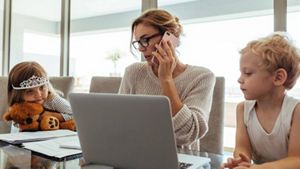 In light of all the changes we've experienced over the last year, we've extended our contents cover to include extra home office equipment, should anything go wrong.
By Remy Maisel
Working from home had become the norm for many before the coronavirus pandemic struck Europe. In fact, more than four million UK workers were already working from home – that's about one in seven UK workers 1.

Working from home can have a big impact on your life, as more people are seeing in the current climate. With kids and partners also at home, there's increased disruption to everyday life – as well as the mundane but important considerations, like home insurance.
More office equipment at home? 

Where home office equipment is owned by an employer, your employer's insurance should cover any damage, but we'll pay if employees are legally liable for any damage or the employer doesn't have cover in place, up to any policy limit for office equipment.  
Those home working from garages or outbuildings should also check their policy cover is sufficient as there may be limits on the cover provided, for example, on theft from outbuildings.
If members of your household are now working from home in a non-clerical capacity and you previously told us there's no business use at your home address, please contact us to discuss. 

More people at home = potential accidents
We know that 'accidental damage' home insurance claims rise during the school holidays, with Aviva claims in August 2018 almost a third higher than in June 2018. The most common claims included destroyed TVs, phones, and carpets 2.
"Our claims data seems to suggest a relationship between school holiday periods and an increase in accidental damage claims. It makes sense that having more people at home - particularly children - increases the risk of mishaps around the house," said Adam Beckett, Product Director.
It's worth making sure that you have enough home insurance cover for your needs and that you've looked into accidental damage cover for extra protection 3.