Floods, storms and extreme heat: homeowners unprepared for the impact of climate change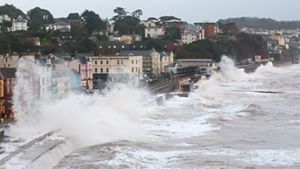 While many UK residents are worried about how climate change will affect them in the next one-to-five years, few are taking the action needed to protect their homes and businesses, report shows.
By Sarah Lewis
The report surveyed people about their feelings about climate change and sets out the steps homeowners and businesses can take to protect against extreme weather like heat, storms and flooding.
It found nearly two-fifths (38%) of UK householders believe climate change will have an impact on their homes in the next year, rising to 50% in the next five years.1
Of those who believe that climate change will affect their homes, nearly half (46%) say storms or wind is cause for concern, 42% worry about excess heat and 32% believe flooding will be an issue.
Some age groups are more concerned than others. Younger people are more anxious than older age groups, with 60% of 16-to-24-year-olds worried compared to just 21% of people aged over 55. Location also makes a difference with people living in Greater London (53%) and the West Midlands (47%) most concerned about the effects of climate change in the next year, with those in the East of England (34%), South West (29%) and Wales (27%) the least concerned.

Homes could be at risk

But while many people are concerned about the impact of climate change, the report suggests that they may not be doing enough to make their homes withstand extreme weather events.
The UK is predicted to experience a 59% increase in rainfall and a rise in summer temperatures by 7.4c by 2050 2, which is likely to lead to more floods, heat and subsidence issues.
...three in five people (60%) who live in areas at high risk of flooding haven't taken any flood protection measures.
And although almost one in five properties in the UK are currently at risk from surface water flooding 3, only 9% of people feel fully prepared for a flood, and 36% haven't thought about it at all.
Worryingly, three in five people (60%) who live in areas at high risk of flooding haven't taken any flood protection measures.  The biggest reasons for not taking action are the belief that their home won't flood (50% of respondents), an absence of action from others applying measures (17%), and a lack of awareness (15%).

This behaviour is echoed by small business owners. While more than half (57%) believe that climate change will have an impact on their business in the next decade, just 12% have a business continuity plan that includes climate change risks.
Urgent action to a real threat 
We're calling for urgent action to make sure UK homes and businesses are protected from flood and extreme weather events caused by climate change.
The Building Future Communities report calls for seven important steps that government, local authorities, developers, industry bodies and businesses can take to address the threats climate change poses to UK property, livelihoods and communities.
It also calls for more work to understand how to encourage and support home and business owners to take the necessary steps within their communities.
Our seven-step call for change includes:
Greater use of innovative, nature-based solutions that are adapted to the UK landscape – we should introduce site-specific solutions that can help to guard against multiple climate risks.

Ensure small and medium-sized businesses are protected against extreme weather – new commercial properties built today need to be fit for purpose, and for the government to better support them prepare for climate events.
Strengthen planning regulation to protect UK properties – since January 2009, more than 70,000 homes have been built in flood zones 4 and since 2016, more than 570,000 new homes have been built that will not be resilient to future high temperatures. 5 Strengthen planning and building regulation to prevent new properties from being built on floodplains, and to ensure that all existing and future properties have resilience and safety measures in place.
More collaboration and research across all stages of the building process – from design to build, all current and future materials should have both sustainability and safety in mind.
Improve access to home insurance and narrow the insurance gap to protect those most at risk – increase research into the affordability and availability of insurance, and targeted measures to close the insurance gap – particularly among renters – and protect those most threatened by climate change.
Encourage and incentivise property resilience to aid recovery – campaigns and incentives that drive preventative action against extreme weather impacts. These should include government grants to help return businesses and homes to a more resilient state after extreme weather events.
Collaboration across recovery organisations to strengthen crisis response – increase collaboration and support for communities through a more streamlined crisis response to climate events.
Aviva's Chief Executive Officer of Aviva UK & Ireland General Insurance, Adam Winslow, said:

"Severe floods and storms are an acute reminder of how extreme weather is already affecting people, homes and livelihoods, across the UK. And it's not just floods; subsidence and heat-related risks are likely to increase as temperatures rise, putting more homes and businesses under threat.  We can't stop the changes that are already happening, but we can act – now – to help reduce their impact in the future.
"At Aviva, we see first-hand the trauma that these weather events can have on our customers, not just in the immediate aftermath of an event, but the long-term effect on wellbeing and financial resilience.
"Our Building Future Communities report sets out the challenges that lay ahead for the UK, the solutions that could help tackle some of the problems, and a call for collaboration to bring about urgent, tangible actions."
Aviva is working with a number of partners on a range of projects to help trial new solutions to climate change. These include partnerships with the WWF to identify nature-based solutions to improve flood protection, and the University of Hull ' Mapping the Gaps' project to help communities in the aftermath of a climate event.