Households urged to take extra care as number of barbecue-related fires surge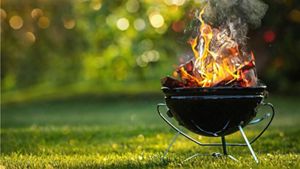 Warmer weather combined with lockdown conditions has resulted in a growing number of fire incidents, with barbecues and bonfires largely responsible for the increase, Aviva warns.
By Sarah Lewis
The influx of fire-related claims has included cinders setting fire to bins, explosions from gas canisters and even the heat from barbecues melting conservatories as households have entertained themselves in the sunshine.

Evidence suggest people are also resorting to burning household rubbish and garden waste on bonfires or in incinerators while local refuse sites are closed. When these fires get out of hand the damage can be catastrophic - in some cases damaging sheds, fences and garages of both residents and their neighbours. 
Aviva UK Claims Director Andrew Morrish says: "Thankfully fires are relatively rare and one of the least common causes of household claims. But their impact can be catastrophic, so any increase in fire claims is a cause for concern.

"Whether people are enjoying a barbecue with their families or tempted to get rid of their garden waste with a home bonfire, we'd urge caution, particularly during fine, dry weather. An unattended flame or a stray spark can quickly lead to a dramatic blaze, so it pays to take all possible precautions."
Garden fire safety
Planning a barbecue or bonfire? Here's how to keep your home and family safe:
Don't leave fires unattended. It only takes a few seconds for a fire to get out of control. Always have someone to keep watch over any barbecue or fire.
Be cautious with accelerants. If a fire is slow to start, it's tempting to use an accelerant to give flames a boost. But a small spark can quickly become a huge inferno so exercise caution if you need to use them.
Be mindful of weather conditions. If it's been dry, grass and plants are likely to catch fire much more easily. Windy conditions are also a hazard as they can quickly fan the flames over a large area in a small space of time. Be sure to pick the right conditions for your blaze.
Take it to the tip. Garden waste and bags of rubbish can be an unsightly source of clutter. But it's much safer to wait until you have access to a refuse site than risk a fire.
Know the rules. There are no laws against having a bonfire, but there are restrictions regarding the nuisance they can cause – for example, acrid smoke can be a health hazard to others. Neighbours can report you if they feel your fire is causing a nuisance, which could lead to a fine of up to £5,000.
Dispose of barbecues, cinders and matches responsibly. If your barbecue has gone without a hitch, it's still vital to pay attention at the end of the proceedings. Make sure coals are no longer glowing before you dispose of them and be careful where you discard matches or cigarettes
Never light a barbecue inside or on a balcony. Balcony fires can easily spread to adjoining properties with potentially devastating consequences.
Keep a bucket of water or sand on stand-by. It's good to be prepared so you can respond quickly if a fire does get out of hand.