Lockdown has had a significant impact on health and sleep quality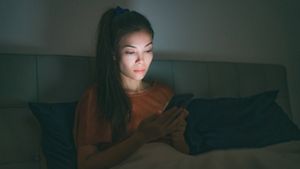 Whether you're continuing to work or you've been furloughed since the pandemic struck the UK, many aspects of your health have likely taken a hit – including your sleep quality.
By Remy Maisel
A survey of 2003 UK working adults 1, including those who had been furloughed by their employer, found that lockdown had a significant impact on all forms of health – increased stress while working, poor sleep quality, weight changes, unhealthy eating patterns, and broken exercise patterns. 

This seems to be caused by the disruption to routines like regular working hours, commutes, and access to gyms and other habits that people have relied on to stay before lockdown.
So although UK lockdown is easing and recent government guidelines have announced that we can expect some people to return to work, many people and companies may not return to business as usual, suggesting that some of these pressures could remain throughout this year or even longer.
Have a good night's sleep?
Survey respondents indicated that sleep has been a major problem since the COVID-19 pandemic began, with almost half of women (46%) saying their quality of sleep every week has been poorer compared to before the lockdown, and 34% of men saying the same. 
Four in 10 of those polled who are employed full-time rated their sleep quality as bad, and those who are furloughed fared no better on this front, with 47% saying the same. 
Aviva has recently put together seven tips to help employers and employees who are having trouble sleeping:
Seven tips to help you to sleep better
What people do when they're awake often affects how well they sleep. To help you make sure you're are getting a good night's sleep, here's some advice: 
 Keep a regular pattern of behaviour around the time you go to bed at night and when you wake up each morning. To promote a consistent routine this should include weekends.
Aim for seven hours a night – although it can be different for everyone, seven hours is the average amount of sleep people need to function well.
Cut down on caffeine in the afternoon and evening as its effects can have an impact on your sleep for five to seven hours after consuming it.
Set up a restful sleeping environment – create a calm, comfortable environment specifically for sleep. Make sure you keep exercise equipment and other personal or work activities separate from the bedroom. Modern technology, such as computers, mobile phones, and television emit artificial light which can disturb the release of melatonin – our natural sleep stimulus. A cool, comfortable and quiet space will provide the right environment for quality sleep.
Avoid food and alcohol just before bed – some foods and alcohol have been shown to create restlessness during the night and a disturbed sleep pattern.
Take regular exercise – this enhances health and improves sleep. However, avoid aerobic activities in the late evening as it can hinder sleep in some individuals. Activities that promote relaxation such as Pilates, yoga or meditation are more conducive to positive sleep behaviours.
Keep a pen and paper by the bed – this can help if you have an active mind prone to considering options for either work or personal commitments once the lights are out, as it provides an outlet for your thoughts to be penned.
Physical and mental health
Diet and exercise have also taken a hit during lockdown, with over four in 10 women and just over 3 in 10 men saying they have gained weight since lockdown began. Four in 10 women also said their exercise levels decreased since the lockdown, as did a third of men. This isn't surprising, because in the early stages of lockdown there were significant limitations on exercise. These have since relaxed, and gyms are set to reopen shortly.
It's not just physical health that took a toll – half of women reported a negative effect on their mental health, as did a third (36%) of men. Aviva has recently produced two guides as part of its Life after lockdown series, to help employers and employees adapt to their new working environments, and look after their physical and mental health 2.  
The gender health gap
You may have noticed there's a disparity in the toll lockdown has taken on men's and women's health. According to Dr Subashini M, Associate Medical Director, UK Health & Protection at Aviva, that may be because of emerging data showing that women have been more likely to take on the lion's share of housework and childcare while balancing full-time work or job insecurity.
A recent survey by Aviva also found that more females than males (38% vs. 29%) feel as if they have less money to spare at the end of the month than they did before the lockdown, which suggests another key stressor.  
"I would like to see employers review how supportive they are of their staff for flexible working and working around their caring responsibilities," added Dr M.