Who were the lockdown winners and losers?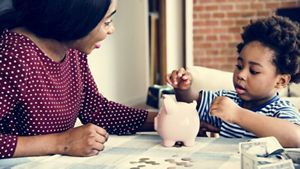 While more than a third of Brits are worried about their finances as a result of the COVID-19 crisis, others have experienced a significant boost to savings. We look at who's more likely to be left out of pocket and how people can update their household budget in times of change.
By Sarah Lewis
Inability to save, worries about economic volatility and the struggle to pay household bills are the top financial concerns of UK adults during lockdown, Aviva data suggests 1. But while many households are struggling, some have been able to save more than usual in recent months. 
Why? Perhaps because we're spending less.
A hold on holidays, cinema and eating out  
Unsurprisingly, spending on non-essential items fell as a result of government advice to stay at home. Typical UK households could be spending 29% less in lockdown compared to 'normal' times – equal to an average saving of around £171 per week 2.
Although spending on items like tea, chocolate, energy and TV subscriptions rose slightly (adding around 6% to weekly costs), this was likely offset by reduced outlay in other areas. These include eating out, holidays, new clothing, trips to the cinema and theatre, and hairdressing and beauty services. This reduced the average household spend by 35%, creating a net saving of 29% overall 3.
Furloughs and pay cuts
Regardless of how much we're spending, not all are able to save. By late May, some 8.4 million workers were being covered by the government's furlough scheme 4, which covers 80% of wages. A further 2.3 million claims had been made under the self-employed income support scheme.
The coronavirus divide
Women seem to have been affected strongly with 38% of women vs 29% of men saying they have less money to spare at the end of the month than they did pre-lockdown.
Young adults have also been hit hard. Almost a third of 25- to 34-year-olds (32%) are concerned about their ability to save. This age group is also the most worried about losing their job due to the impact of COVID-19 (28%).
Aviva Head of Savings and Retirement Alistair McQueen says: "Female savers look to have been disproportionately affected during the lockdown, as workers in sectors like hospitality and retail are more likely to be younger females 5. Younger people across the board also face a significant challenge. Those under 34 typically struggle to save under normal circumstances, but the current conditions have exacerbated this. For example, this age group typically spends a greater proportion of their budget on housing, and bills, which remains unchanged."
Rich town, poor town
Where people live, too, makes big a difference when it comes to lockdown finances. 
London residents were most likely to say an inability to save was their biggest concern (30% vs the UK average of 26%) and almost half (48%) of Londoners say they lack confidence in their personal financial situation currently. This perhaps reflects the volume of hospitality, leisure and tourism workers in the capital.
More than a third (39%) of Londoners reported saving much less than usual in recent weeks, only beaten by Brighton residents where 49% have experienced 'lockdown losses'.
If Londoners and Brightonians are the nation's lockdown losers, then Plymouth natives are the winners. UK adults living in Plymouth were found to be most likely (43%) to have saved more money than usual during lockdown.
Where are the lockdown savings and losses?
| Lockdown savers (% who have saved more than usual during lockdown)  | Lockdown losses (% who have saved less than usual during lockdown)  |
| --- | --- |
| Plymouth (43%) | Brighton (49%) |
| Sheffield (36%) | London (39%) |
| Nottingham (34%) | Southampton (39%) |
| Leeds (33%) | Manchester (37%) |
| Newcastle (33%) | Norwich (35%) |
Time to review saving habits
Alistair McQueen stresses that now's the time to review household saving and spending habits.
"As households continue to navigate through unforeseen circumstances, it's good practice to weigh up what we are spending each month, and how much more or less we are saving," he says. 
"If you have more cash to spare at the end of the month during this time, it's important to consider a good home for it. Maintaining or even increasing pension contributions could be an attractive longer-term option for savers who can afford to do so, so that money you would otherwise have paid in tax on your earnings goes straight into your pension. Providing you can access other funds at short notice, then small extra savings today could make a big difference tomorrow."
Five ways to update your household budget 
Invest the time. Many of us rush to plan financial budgets but spending more time could deliver rewards. Allocate a couple of hours to budgeting and prepare in advance by gathering the previous year's pay slips, bank statements and credit card statements.
Look back. Few of us know exactly how much we really spend each month, and on what. Go through your pay slips to understand how much money is coming in, and then go through your bank and credit card statements to understand how much is going out, and on what.
Look forward. Use the information you gathered in step two to estimate how much you may spend in the coming year, and in what areas. And remember that the coronavirus crisis will mean you're probably spending more in some areas and less in others. The government-backed Money Advice Service has a great online calculator to help you. 
Calculate the gap. With the above information, you'll have a better understanding of how much money is coming in, and how much money is set to go out, and where. If you're spending more than you're earning, you'll need to make changes.
Take control. Revise your budget. First, look at the top ten biggest areas of expenditure and see if there's a way of saving money, perhaps by shopping around and switching suppliers. Second, look at where any savings are going and think if that money could be working harder elsewhere – for example, by swapping to a bank account that pays more interest, opening an ISA, or paying more into a pension. Third, keep track of your monthly spending, and revise your budget as you go along. 
Find out how lockdown has affected people's homes, relationships and technology use.