Halloween and Bonfire Night: a frightening time for homes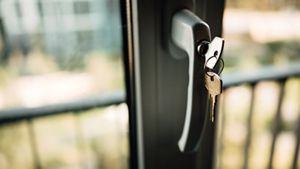 Spare a thought for your home if you're planning a seasonal celebration this autumn – theft claims rocket in late October and November.
By Sarah Lewis

Don't be "tricked" by opportunistic thieves. There was a 115% rise in claims for losses from theft on Bonfire Night and a 45% rise on Halloween last year 1.
The reason – events and parties. Two-thirds of people told us they leave their homes to go to festivities on 5th November alone, giving thieves ample opportunity to break into empty homes. 
Putting homes at even greater risk, 40% of people told us they don't check if windows are locked before they leave and 29% don't check doors.
Unsurprisingly, fire-related home claims also peak on Bonfire night. Last year, we saw a 160% increase in fire-related claims compared to a typical day.
Product director for Aviva UK General Insurance Adam Beckett says: "This is a brilliant time of year for celebrations, but as the clocks go back and the nights get longer, it's also a fantastic opportunity for burglars. The calendar is packed with social events, meaning homes are often left empty as people celebrate, while the cover of darkness gives thieves an added advantage." 
Don't let your stuff get spirited away, protect your property:
• Lock up. Thieves are opportunists and look for easy access, such as an open door or window
• Make it seem occupied. Use timers or leave lights on if you're out and aren't going to get back before dark 
• Install a visible burglar alarm and outside lighting – this can be a strong deterrent. Good lighting, particularly motion-detector lights, can make it difficult for burglars to hide while they try to break in. 
• Don't let thieves go fishing: never leave anything valuable – documents included – near doors, the letterbox or a window. Thieves can use coat hangers and fishing rods to hook them. Don't label house keys  
• Keep ladders and tools locked away. Most thieves don't carry tools with them – they use yours. Lock sheds and outbuildings 
• Keep your valuables out of sight. Hide them away from windows, especially consoles, games, laptops, mobile phones, and jewellery
• Password-protect devices. Don't write your passwords down where they can be easily found
• Don't store valuables in the bedroom. Thieves know that's where most people keep their precious items. Stash them away in different spots around the home
• Security mark property. You can buy kits to mark or etch your belongings. Using your postcode with your house or flat number, or the first three letters of the name of your home, will increase the chance of your property being returned to you
• Swap glass for something else. Glass panels on doors can be a real weak spot. If you think glass could be a problem in your home, think about replacing it with laminated glass or using a film that sticks over the glass to make it harder to break
• Don't invite burglars back. One of the things thieves look for when they break-in, is a calendar. By marking out when you'll be on holiday, they'll know exactly when to come back for heavier items