Where to hide your Christmas presents to beat the burglars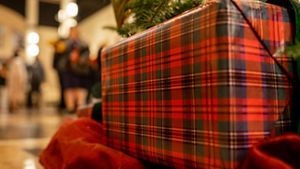 New survey data reveals that keeping your Christmas presents under the tree might not be the best place to protect them from burglars.
By Maxine Hewstone
Putting gifts underneath the tree could be an invitation to any passing opportunist. Especially when nights are longer and houses are empty during the festive season.
Fortunately, a crafty hiding place and a few security tips can help you protect your presents.
Hiding the goods
In our recent home security survey 1, a third of people (33%) said they kept presents securely locked away. For 29%, cupboards or drawers were the go-to hiding place, while 26% opted for the spare bedroom.
Below are a few other good places that could also fend off snooping children.
1. The loft or basement
Always a good bet – and 15% of survey participants agreed. Be careful if your loft isn't boarded as falling through the floor could leave you with a big bruise and an even bigger bill if you don't have accidental damage cover. 
2. Under beds
Think about the dust that gathers there. Proof that nobody goes under beds. It's also a favourite for 17% of our respondents.
3. On top of/in wardrobes
Another good choice. I once found a present from the year before that I'd forgotten about. I wrapped it up and my daughter was none the wiser. Bonus.
4. In the car/garage
The boot of the car or the garage is tempting too and in our survey, 6% of people stored their gifts in the garage. But policy limits for items stored in these places are often lower than the home, so there are probably better places to hide any valuable presents.
5. At a friend or relative's house
The top spot for 10% of survey respondents. Let's hope those friends or relatives have a good hiding place too.
6. Suitcases 
They're great. And suitcases in suitcases are even better.
7. The unexpected
Sharon Myler from Ormskirk in Lancashire has three grown-up children and, over the years, has mastered the art of seasonal stashing. "Choose somewhere that's chaotic or completely unlikely," she advises. "I've hidden presents behind piles of coats in cupboards, in laundry baskets and even in bags of dried dog food."
Securing your home
There were 9,347 more burglaries between October and December 2018 than during the three months before that. Aviva also experiences a spike in theft claims, according to Office for National Statistics figures 2.
I've hidden presents behind piles of coats in cupboards, in laundry baskets and even in bags of dried dog food.
Susan Sansom, Head of Operations, Aviva UKGI Claims, says: "We see an increase in home theft claims when the nights become longer – it seems that thieves take advantage of the cover of darkness. However, we also know that even burglars tend to take a day off for Christmas. Our data shows that theft claims on December 25, 2018, were 95% lower than on a typical day during the year." 
The poll also revealed:
More than half (56%) had no external or internal security fitted
70% of women and 63% of men agreed a home security system would provide peace of mind
Just under three quarters (74%) expected it would have positive implications on their home insurance
39% wouldn't consider their neighbourhood safe enough to keep back doors or windows unlocked or open even if they were inside their property
Some people are embracing the digital age and turning to tech. A total of 11% have internal CCTV or webcam/laptop cameras, 10% rely on smart external systems (e.g., Ring) and 7% have similar technology (e.g., Neos and Arlo) inside their home. Of those who don't have smart protection, 65% would consider it.
Insure valuable gifts
According to the Association of British Insurers (ABI), in December 2017 insurance providers dealt with the equivalent of 435 domestic burglary claims every day, paying out £30 million to victims of Christmas crime. That worked out at nearly £2,250 for every domestic burglary.
But there's reassurance for customers. Sansom explains: "Under standard Aviva home contents insurance, where a policy limit has been selected, we automatically increase contents cover by an extra £3,000 over the festive period. 
"As a general rule, if a customer buys an item of significant value, such as a piece of jewellery or work of art, it's a good idea to check with their insurer, in case there's a policy limit for a single item."
Festive home security tips
So, your gifts are safely stored and you're thinking about an alarm – what else can you do to ramp up the security this Christmas? 
In our survey, 9% of people put up 'beware of the dog' signs, while 13% fitted extra locks and 10% opted for security cameras. 
We automatically increase contents cover by £3,000 over the festive period.
You can also make sure your home looks lived in, so lock your doors and leave the lights on if you're going out. Taking a trip? Ask a trusted neighbour to keep an eye on things and give them a key. 
Never share your seasonal plans on social media and, for those who want festive outdoor lighting, avoid running cables through open windows.
Chances are the holidays will be merry and bright – only 10% of survey respondents had a security-related incident in the previous 12 months.