Ten key safety tips when you're building bonfires and firing fireworks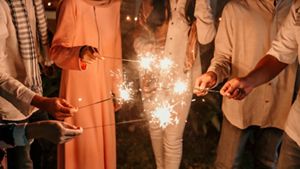 'Tis the season for sparking up the sparklers and ohhing and ahhing at loud bangs in the sky. But it's important to be extra careful if you're choosing to celebrate from your own garden.
By Remy Maisel
Bonfire Night celebrations can, of course, be dangerous – even more so – if you're choosing to celebrate at home. So if you're opting a more intimate affair in your back garden instead of joining the community shindig at your local park, it's important to be mindful of your surroundings and take extra care.
People have previously claimed for damage to fences, sheds, and garages caused by bonfires that got out of hand, and fireworks burned trampolines, artificial grass, and even the inside of homes when they crashed through windows or were maliciously put through letterboxes. One firework cracked a patio door pane just because it was so loud.
Our ten important tips to keep everyone and everything safe
Make sure your fireworks carry the CE mark if you plan to have a display at home.

Be careful where you aim fireworks, particularly those which shoot into the air, like rockets. Make sure they're directed away from people, trees and buildings, and never throw them.
Keep fireworks in a closed tin and never carry them in pockets. 
Don't leave your bonfire unattended. Fires can get out of control in seconds, so make sure someone is watching over your blaze at all times and go easy with accelerants.
Be careful what you burn. You should only burn dry materials such as wood and dry leaves. Bonfires should never be used to get rid of household waste such as plastic packaging and you shouldn't burn aerosols, tyres, painted or treated wood, or anything containing paint or foam.
Watch the weather. Windy conditions can spread fires quickly over a large area. Flames and embers can stray into neighbouring properties and our data shows fires can often start at a different address.
Take care when disposing of cinders and matches. Ashes can stay hot for hours after a fire appears to have gone out. We've seen numerous claims where a fire has ignited after embers have burnt through a bin.
Think of others. While it's not illegal to have a bonfire, neighbours can report you if they feel your bonfire is causing a nuisance. Be considerate about the time of your event too and keep the noise down. You could also face a fine if smoke blows across a road and hinders visibility. 
Check your stack for wildlife. Before you set light to your bonfire, make sure there are no inhabitants, such as hedgehogs or nesting birds. A pile of sticks and leaves can make a cosy home for wildlife.
Be prepared. Keep a bucket of water or sand to hand, just in case.
Sky-rocketing claims in November 

"Our records show that we tend to see an increase in home insurance claims for fire damage at the start of November," says Sarah Applegate, Data Science Lead at Aviva. "And it's not just during the bonfires or firework displays where the risk lies. A number of claimants report disposing of ashes, only to find they were still hot enough to burn through bins or refuse piles.
"We also see quite a few claims where sparks have flown into neighbouring properties and gardens, so be sure to keep a watch on any stray embers. If people are planning to have a bonfire or fireworks, we'd urge them to do it with caution and stay on their guard."