Six ways to support your local community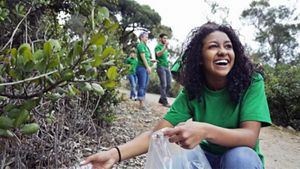 At the heart of every community is the people in it. All across the UK, strong communities are built from fresh thinking, collaboration and, most importantly, great relationships.
It's these connections that allow us to feel supported and like we belong to the place we make our home.
Today, being part of a community has never been more important. There aren't many positives to a global pandemic, but there's something empowering in seeing all the ways we've come together at such a difficult time – both virtually and in person.
More than simply bringing like-minded people together, communities help to build local businesses and charities, and offer support to those who need it most. If you're thinking about ways to get more involved in your local area, this helpful guide will highlight six of the easiest ways you can support your community for a brighter future.
1. Donating to local charities
While larger charities often command greater awareness thanks to renown and resources, donating what you can to lesser-known, smaller charities can make a huge difference. Finding a cause that's close to home means you're giving back to your local community and helping to improve the lives of those around you.
Unsure which charities are in your local area? The Aviva Community Fund helps to support thousands of local charities and community interest groups across the UK by driving sustainable fundraising, building upon capabilities and helping get bright ideas off the ground. You can explore Aviva Community Fund projects in your local area.
When you donate through the Aviva Community Fund, your money goes to a charity or community interest group that is supported by Aviva. Aviva colleagues donate to small, registered organisations to help push their cause forward. These causes fall into one of three key areas:
Building back better: championing communities to rebuild after the pandemic by addressing the health, wellbeing and economic impacts on individuals and communities throughout the UK.
Climate champions: helping communities to prevent, prepare for and protect against the impacts of climate change.
Financial empowerment: supporting financial inclusion and giving people the tools to become more financially resilient and independent. 
2. Fundraising 
If you want to help generate a sense of community spirit in your local area, a fundraising event is one of the best ways to get everyone involved. As well as contributing to a great cause, fundraising events are a fun way to build teamwork skills and boost morale in your community. Fundraising doesn't have to be difficult either – organising a bake sale, sponsored walk or a raffle are just some of the ways you can begin fundraising for your community.
Since 2019, the Aviva Community Fund has invested over £1.7 million in over 1,800 causes 1.  In addition to funding, it has provided valuable causes with the knowledge, tools and expertise they need to build a brighter future.
By working with Crowdfunder, Aviva has helped causes to raise a further £1.6 million from the general public, doubling the funding and expanding the impact of small charities across the UK. Thanks to this support, 65% of these causes believe they have a stronger public profile, and 48% feel more financially stable as a result.
You can find answers to any questions about crowdfunding through the Aviva Community Fund's free crowdfunding guides, available at the bottom of the Learn page on the ACF website.
3. Shop small
When it comes to supporting your local town, shopping locally is one of the easiest and most important things you can do. This is especially true this year. Following several lockdowns and continued financial uncertainty, many smaller businesses have suffered from lost revenue and have even faced closure.
Shopping small is a great way to give back to your local community. Not only are small businesses important for our economy, but they also create jobs for locals for years to come. What's more, shopping locally can often be better for the environment, particularly if goods are produced locally and therefore travelled a short distance to the point of sale. Independent shops add colour, variety and character to small towns and villages, and lend a unique charm to communities.
4. Volunteer 
If you find yourself with a few hours to spare each week, volunteering is a rewarding way to make a positive difference to your community. Volunteering is important to the running of many non-profit organisations, with many charities relying on volunteers to support their vital work. It also offers many benefits for personal development too – from learning new skills and enhancing your CV to meeting new people and making connections.
Before getting started, there are a few things you need to think about:
Decide which causes you care about most
Identify what skills you can offer
Determine how often you can volunteer
Common places that offer volunteering opportunities in any community include food banks, homeless shelters, animal shelters, retirement homes and libraries.
5. Share local businesses on social media
Thanks to the rise of digital media and social platforms, expanding your local community's reach is far easier to do than ever before. Whether through Facebook, Instagram, Twitter or TikTok, social media can help elevate a community or campaign.
Showing support for your community can be as simple as sharing pictures and positive experiences in your local area and tagging them in posts. Follow accounts for local efforts and share their work, as this helps communities to find broader support. Through the Aviva Community Fund Explore page, you can easily search for and share causes that are close to your area on social media in order to spread the word and help them meet their fundraising targets.
6. Be a good neighbour 
Loneliness has increased for everyone in the last year, with more and more people shielding or isolating due to the pandemic. By befriending or offering companionship to the more vulnerable in your area, you can help foster a real sense of community and connection. What's more, helping someone else will help to increase 'social capital' in your area by creating a network of support for people to draw on. If you're able to do so, this could mean offering to collect medication from the pharmacy for elderly neighbours, walking someone's dog, or simply having a regular chat with nearby friends and relatives.
These simple actions can make a world of difference to those around you. It takes people coming together to create a strong community spirit. And it takes a partner who'll support you to get through the tough times. It takes Aviva. 
Looking to support a cause in your local community? Explore the Aviva Community Fund page and search for charities in your local area.