Cycling is booming, with no small thanks to the pandemic. According to the Bicycle Association, retail bike sales grew by 60%* between March and December last year and the UK cycling is now worth £2.2billion. During that time e-bike sales more than doubled, with £1 in every £5 of bicycle spend going on electric versions.

The past 12 months have seen rising participation in cycling among adults and children — there's even been a huge increase in home-exercise bikes. According to the Department of Transport, we're seeing the highest level of cycling on the public highways since the 1960s 1. Aviva's research* suggests that almost three in five bike purchases were influenced by the pandemic and its restrictions, particularly in Greater London. But how can you make sure you get the most out of your cycling?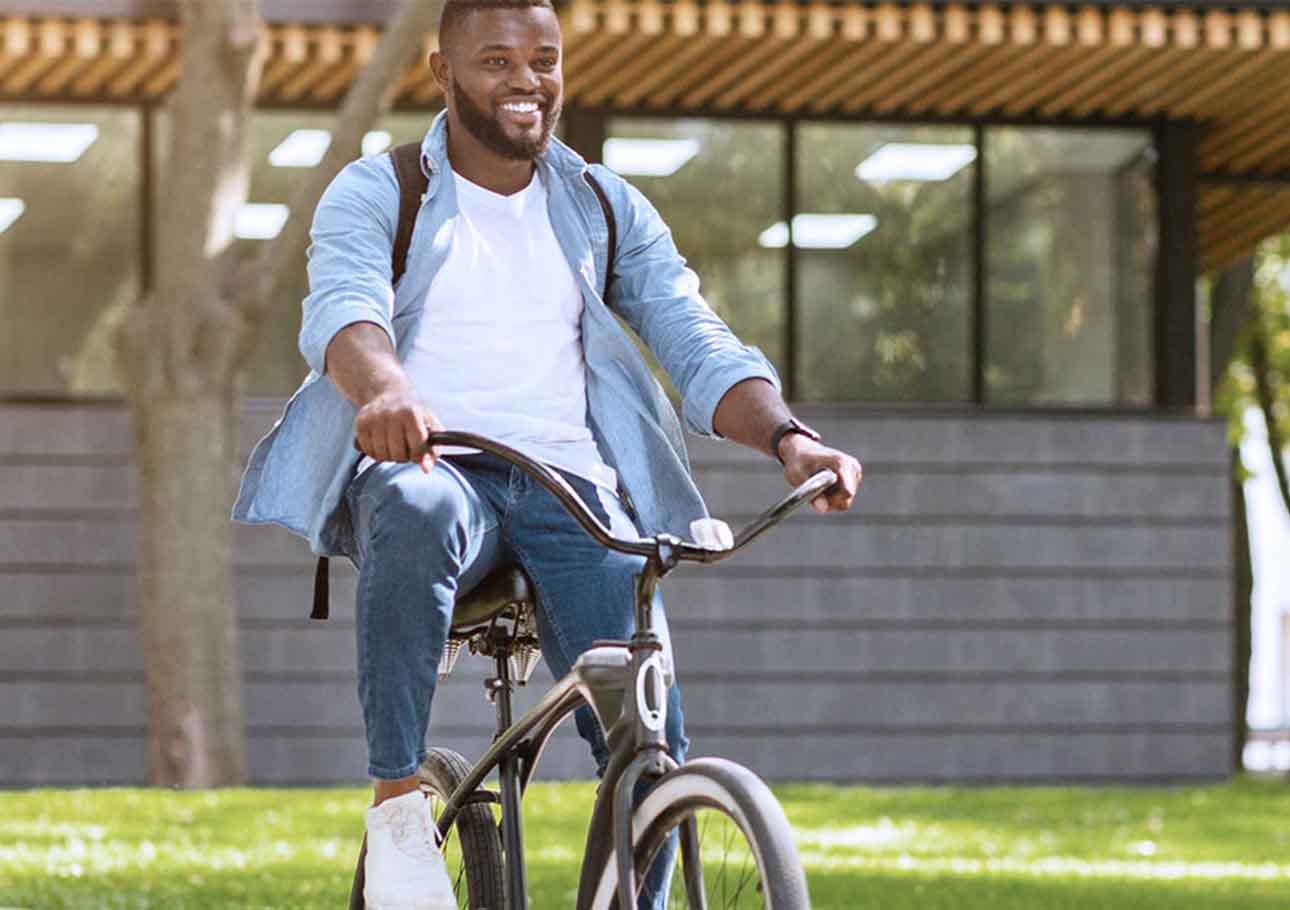 E-bikes are the big winners

Aviva research shows that electric bikes (e-bikes) accounted for almost a third of sales, with men almost twice as likely to buy one than women. Mountain bikes (electric and non-electric) are the most popular style choice, followed by road bikes and then hybrids. There were also strong sales for adventure and folding bikes — showing that all tastes are being catered for, from cyclo-cross and gravel racers, to commuters who want to cycle on either side of a train journey.
But e-bikes divide opinion

On the one hand people like e-bikes as they allow them to cycle further without getting tired and to get up hills more easily. However, the cost is a significant barrier. More than a third of respondents said they were too expensive. Similarly, more than a third argued that it 'feels like cheating'. The recent emergence of e-bikes also meant that 11% of respondents didn't know what they were.
Money is no barrier for men

People had widely ranging budgets for their bikes with an average spend of £834.57. Entry-level bikes (less than £500) accounted for a third of sales, with respondents aged 35-44 likely to spend the most, while those aged 16-24 were likely to spend the least. In line with men being more likely to buy an e-bike, they were much more likely to spend more than women. Male respondents spent just over £1,000 on a new bike on average, compared with £666 for women.
Health, fitness and lifestyle choices

Half of Aviva's respondents bought a bike to increase their fitness levels and a similar proportion bought with the intention of going for family rides. For almost a third, a bicycle was a route to enjoying a more eco-friendly lifestyle and to reduce their reliance on public transport or cars. More than a quarter of survey respondents intended to use their new bike to commute.
Loss and damage

Aviva's research shows that people commonly store their bikes in garages, sheds, their homes and in public bike racks. However, as many as one in eight people who bought a bike in 2020 have had it stolen. According to the Office for National Statistics 2, the most common emotional responses experienced by those who have had their bikes stolen are annoyance, anger, shock and a loss of confidence or feeling vulnerable. Furthermore, one in seven Aviva respondents said their bike had been damaged while parked and one in six said their bike had been damaged in a fall. All of which highlights the value of insurance — two in five survey respondents didn't have any. 
Always wear a helmet

A 2017 study 3 found that bicycle helmet use is associated with odds reductions of 51% for head injury, 69% for serious head injury, 33% for face injury and 65% for fatal head injury. However, only three in 10 respondents said they always wore a helmet when cycling and one in six said they never do. This may not be wise as Aviva research shows that almost a fifth of respondents had fallen and been injured since their bike purchase. This was particularly the case for younger riders — a quarter of those aged 16-24 had been injured.
Regrets? There's been a few

Is cycling a lockdown passion that will go the distance or merely a passing fad? While a third of respondents have used their bike less than they expected, it's balanced to some extent by almost a quarter using it more than they thought they would. This is particularly the case for those aged 25-34. Sadly, Aviva's research suggests that one in five regret buying a bike. This is sometimes because the weather hasn't allowed them to use it as often as they'd like or because they felt they had spent too much money on it, or it was difficult to store. 
Get back in the saddle

The overall message from Aviva's research, however, is that four out five people who bought a bike in the past 12 months have no regrets whatsoever. That's an 80% success rate. It's also worth remembering that insurance will help to soften the blow of theft and damage. With Aviva, both pedal cycles and e-bikes are covered for theft and damage under home contents insurance when stored in the home, shed or garage.