We interviewed more than 2,000 individuals at the end of August 2020 1 to find out how the pandemic has changed the way they feel about their physical and mental health.
Looking after ourselves during the pandemic
Our research suggests that people are being affected by the pandemic in different ways. Although people are generally trying to look after themselves, some are finding it easier than others to maintain healthy lifestyles.
Exercise and healthy eating are the most common ways people are taking care of themselves. 
More than a third of both men and women have made changes to their lifestyle since the pandemic began, with the 16-24 age group leading the way. Although those aged 55+ are most likely to eat healthily.
Overall, nearly 90% of respondents believe they'll continue their new healthy habits into the future, and it's the 45-54 age group who are most confident about this. Less than a quarter of the 55+ group have made changes since lockdown began, but an impressive 93% believe they will be able to keep up these habits. Younger respondents felt their lifestyle changes were least sustainable.
We're more worried about our mental health
Over half of respondents feel that Covid has either significantly or somewhat impacted their mental health. Although women had more mental health worries than men, when asked about their biggest non-COVID health worry, 27% of all respondents said it was their mental health. The most worried-about issues were stress, followed by sleep quality, financial worries and concerns over physical health.
| Concern | Percentage |
| --- | --- |
| Overall stress | 58.41% |
| Sleep quality | 53.89% |
| Financial worries | 42.13% |
| Physical health | 36.62% |
| Juggling work and home life | 22.51% |
Again, the younger generation were more affected, with twice as many as those aged 55+ citing mental health concerns. Four out of ten people find that exercise helps their mental health, but nearly the same number do nothing at all to take care of their mental wellbeing.  
People were also more concerned about other areas of their health since COVID-19. Respiratory health is one of biggest areas of concern, which may not be surprising given the respiratory aspects of COVID-19. However, across all age groups, it's mental health worries that are most prevalent.
| Condition | More concerned |
| --- | --- |
| Diet & Nutritional health | 32.36% |
| Mental health | 39.16% |
| Heart health | 21.84% |
| Respiratory health | 31.66% |
| Diabetes | 16.23% |
| Cancer | 15.98% |
Respondents are also worried about family members, particularly their parents, with nearly a third expressing concern for their parents' health. Those in the 35-44 age group expressed the highest level of concern. One in five also had worries about their children. 
Across employment sectors, those identifying as homemakers seem to have a greater degree of worry about all members of their family, whereas those in full or part-time work are more specifically concerned about their parents. 
Medical waiting times could become longer
With health services working to capacity to handle COVID-19 cases, it's no surprise nearly 84% of survey respondents believe there will be increased waits for diagnosis and treatment for non-emergency issues.
The 55+ age group were more likely to answer yes to this question, but it's the 16-44 year olds who are more worried about it.Of those who believed waiting times will increase, a quarter agree to being "very worried" about such potential delay, with another 53% being "a bit worried".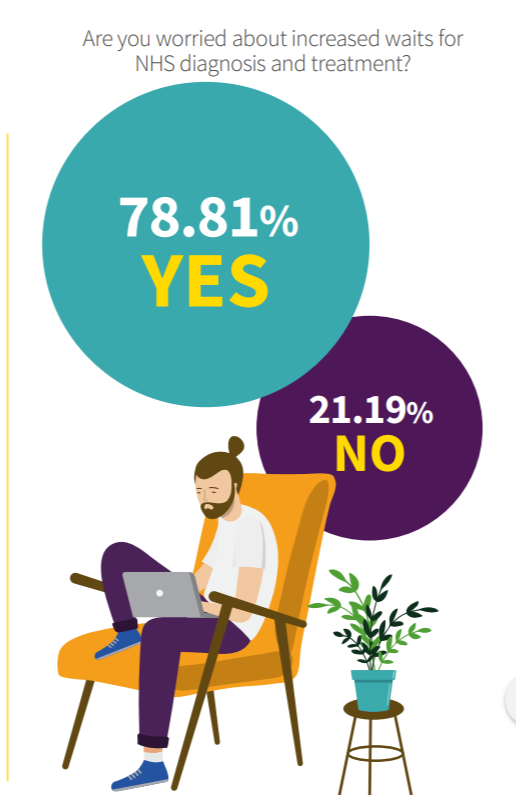 How has the way we access medical help changed? 
Nearly half of our survey users say the pandemic has changed the way they access medical services, with the biggest change being in holding video or telephone appointments with their regular doctor, instead of seeing them in person.  
Forty-three percent of people said they'd be willing to use a health app in the future, with current usage up 9% since before the pandemic.
Prevention is the best medicine
In June 2020 we asked our customers about a range of potential health services that might appeal to them. A health check came out on top, with 69% saying it was the benefit they liked the most 2.
We found 60% of our survey respondents haven't had a health check in the past 12 months. Of those who have had one, this number was greatest in the 16-24 age group, indicating that this age group have a keen interest in prevention when it comes to their health.
Nearly half of respondents say they are more likely to take up the opportunity for a health check than if they were offered one before the pandemic.