One of these women is Zoe Dawes, from The Quirky Traveller blog. From spending time with gorillas in Rwanda to snorkelling with sea lions in the Galápagos Islands and dining in a millionaire's mansion in Greece, Zoe has seen it all.

So if you're weighing up the worry of travelling solo with the joys of wandering the bustling souks of Marrakech, fear not because Zoe has 5 tips to help you leave your worries at home.
Tip 1: Plan ahead
Zoe says: "I always plan routes very carefully, especially the public transport. I got all the jabs and took a medical kit. I let people know when I was due to arrive and phoned to say I had got to the nearest village."
As you plan, keep an eye on Foreign Office warnings to make sure your route is safe for tourists. And don't get caught out by a low phone battery after taking too many snaps – carry a portable charger with you so you're always contactable.
Tip 2: Get social
Zoe says: "I use social media to keep in touch and Twitter is great for getting up-to-date info on where people are meeting, or help with avoiding anywhere there might be trouble. I'm a member of a number of Facebook groups that are helpful for tips and advice."
Facebook is a great way to keep in touch with the family and update them on your journey while you're away, but Instagram and Twitter are best for travel inspiration. Just search the places you think you might want to visit and see what other intrepid adventurers have made of them. There may be an opportunity to meet some new friends along the way.
Tip 3: Insurance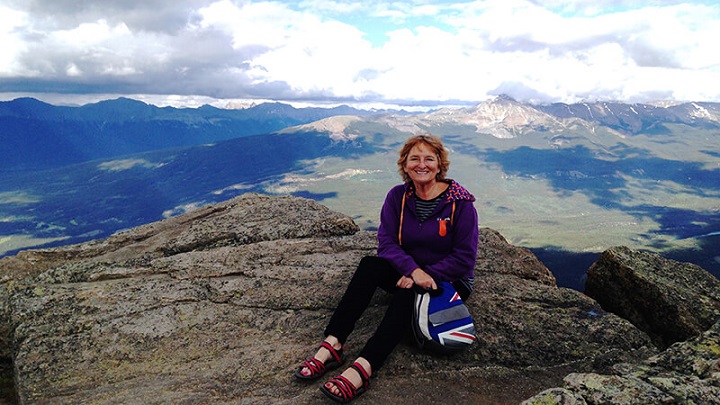 Zoe says: "Plan as much as possible: prepare, book in advance at the start of the trip, talk to those who have done it and get good insurance!"
Single or multi-trip? Make sure you take time to choose the right travel insurance for you. Take a copy of your documents just in case you need to contact your insurer while you're away.
Tip 4: Protect your documents
Zoe says: "I keep money and documents (like my passport) in a hotel safe whenever possible. But I have to leave myself a reminder to take them when I leave. Once I got all the way to the airport before realising I'd left my passport in the hotel safe! I also use special compartments in luggage and, if using a backpack, make sure it has reinforced panels if I'm going to more hazardous areas. A cross-body bag is helpful, as it's easier to keep hold of."
A travel wallet, or a reinforced bag like Zoe mentions, can be an investment, but one worth having if it means you can enjoy the beautiful views stress free.
Tip 5: Common sense
Zoe says: "Avoid eye contact in dodgy areas. This also works in bazaars when you don't want to be pestered. It's also very important to trust your intuition. You can sense some places feel less safe than others."
Making friends with other like-minded travellers or joining a group can help alleviate the concerns of travelling alone, and also provides safety in numbers, so keep an eye on social media for possible meet-ups with fellow travellers.
Zoe's best solo travel experiences
Spending the day alone on a forgotten Spanish beach
Meeting one of the loves of my life in Hong Kong
Attending a Thai wedding
Getting a private view of the art exhibition in Ottawa
Watching the sunset with a Buddhist monk in Nepal
Feeling more confident to take the trip of your dreams? Discover some of the ways you can free up your finances to fund your trip, as well as ways to protect your health while away.