An honest look at student finances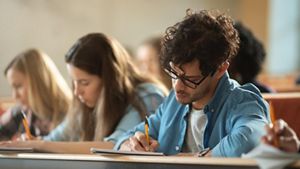 Part 1 of our guide to the cost of going to university, from funding it to paying it back.
By Alistair McQueen
This autumn, it's estimated that more than 2 million 1 undergraduate and postgraduate students will either return to their courses or begin their higher education studies. In the meantime, the cost of financing further education has become an important topic for parents and potential students alike.
Tuition fees alone are now around £9,000 a year in much of the UK, and that's before accommodation and living costs. This is why we're taking a look at student finances, from budgeting to borrowing. Even if your children are a long time away from further education, the earlier you get on top of how it all works, the better prepared you'll be when you're in the thick of it.
The 3 main elements of cost are:
Tuition fees
Accommodation
Living expenses
Tuition fees
Fees typically fund the delivery of university education, including costs such as lecturers' salaries and the maintenance of university buildings.

Fees depend upon the student's home country and the country in which they're studying. Here is the fee structure for courses starting in 2019 2.
| Student's home country | Studying in England | Studying in Scotland | Studying in Wales | Studying in Northern Island |
| --- | --- | --- | --- | --- |
| England | Up to £9,250 | Up to £9,250 | Up to £9,000 | Up to £9,250 |
| Scotland | Up to £9,250 | No fee | Up to £9,000 | Up to £9,250 |
| Wales | Up to £9,250 | Up to £9,250 | Up to £9,000 | Up to £9,250 |
| Northern Ireland  | Up to £9,250 | Up to £9,250 | Up to £9,000 | Up to £4,160 |
| EU | Up to £9,250 | No fee | Up to £9,000 | Up to £4,160 |
| Other international | Variable | Variable | Variable | Variable |
The table shows the maximum charge that can be levied. Universities are free to charge less, if they wish. These figures were frozen at the same level as 2018/19, but it's expected that fees may rise annually in line with inflation, so it makes sense to budget for some increases over the length of a course.
For Scottish and Northern Irish students, the financial benefit of studying at a university in their home country looks like a 'no-brainer'. For them, they cost much less than English and Welsh universities. But sometimes that's easier said than done. 
Scottish universities, for example, receive money every year from the Scottish government to cover the fees that would otherwise be paid by students from Scotland. However, 'free' places for Scottish students are limited at Scottish universities. If Scottish students want to study in a competitive field such as medicine, dentistry or veterinary, then studying outside Scotland may be the only choice available.
You can read about paying back university debt here.
Accommodation 
Students have a wide choice of accommodation beyond the family home, and the costs vary.
Halls of residence. Purpose-built student flats and houses, some of which provide meals, and are owned or operated by the university.
Privately owned student accommodation. Developments where all tenants are students. They're owned by private companies specialising in this type of accommodation.
Privately rented flats and rooms. Sources of private accommodation that are available on the wider residential property rental market, whether you're a student or not.
Halls of residence 
Prices vary across the country. For example, at the University of Dundee, they range from about £4,800 to £6,000 per academic year 3. Meanwhile, equivalent accomodation at University College London could easily cost towards £10,000 per academic year 4.
Halls-of-residence contracts are typically for the academic year only – usually a period of about 40 weeks, from September to June. 
Many halls offer accommodation with catering provided. Typically, these are more expensive, but they could be good value for money. 
Contents Insurance
From headphones to hoovers, our Contents Insurance helps protect your possessions.
Private student accommodation
The increase in the number of students in the UK has driven an increase in the number of private companies providing student accommodation. However, it would be incorrect to expect privately rented student accommodation to be cheaper than halls of residence. In fact, the opposite is likely to be the case. The going rate for private student accommodation in London, for example, could easily rise above £10,000 for an en-suite room. And a studio flat in one of these purpose-built developments could cost more than £20,000 5.  
Private rented flats
Renting somewhere that's not exclusively for students can sometimes offer the cheapest accommodation. However, it may be situated further away from the university or in less desirable areas of town. It may also distance the student from the wider university community. As an example of costs, 2-bedroom flats in central Dundee start at around £450 per calendar month 6. Two students sharing such a flat would pay £2,250 each for the academic year.
However, private rented accommodation can also be considerably more expensive than halls of residence or private student accommodation. For example, a 2-bedroom flat near Kings Cross station in London can cost upwards of £1,500 per calendar month meaning that 2 students sharing would be paying around £7,000 each for an academic year 7. 
In summary, a reasonable assumption would be that accommodation costs will usually be somewhere between £3,000 and £10,000 a year, depending on the place of study.
Accommodation tips
Party lifestyle: Halls of residence may not suit all peace-loving students who like an early night. Once the contract for halls has been signed, it is very difficult to back out.
Staying at home: If they 're studying close to home, the student could continue to live with their parents. While this has financial attractions, tensions may arise and the student could find it harder to forge university friendships.
Beware scammers: When renting a private flat or a room in private accommodation, watch out for scammers – particularly with rooms advertised on free listings sites.
Safety and security: When deciding on accommodation, also consider issues such as location, safety and security. It's always a good idea to protect belongings with contents insurance. 
Living expenses
Like accommodation, other living expenses vary from city to city. Not only is a pizza more expensive in London than it is in Leeds,  the cost of getting around a large city is costlier than, say, St Andrews where you can cover the whole town on foot. A zone 1-2 student Oyster Card for London transport costs about £100 a month 8.
It is a good idea to estimate a realistic budget to cover the costs of:
Food
Laundry and toiletries       
Travel
Nights out
Clothes
Books and other study materials
Added together, these could easily amount to between £3,000 and £7,000 a year. 
Going to university is a major life change, and it comes with dozens of decisions that can have a major financial impact a student's life – and, if you're a parent who is supporting your child, on yours as well. Like any serious financial decision, it's best to plan ahead for how you'll fund your choice, and if you do take on any debt, make a strategy for how to repay it in our student finances guide.