Saving for your child's education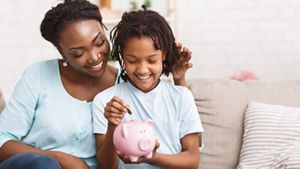 With more than half a million children in private education and houses close to outstanding state schools selling at a significant premium, it pays to start early and invest wisely.
By Steve Smethurst
For writer and editor Carol Lewis, the expense of educating her daughter, Natasha, started early. "She went to nursery for a day a week from a year old. Then we had an au pair, and then came school fees. She was at a day school initially, then she switched to a boarding school at 11. She's 17 now and I'm hoping university will be a lot cheaper," says Carol, who lives in South London.
Independent school fees

The Independent Schools Council (ISC) reports that the average annual fee for a day school in the UK is £15,000 a year and boarding fees are typically more than twice that 1. Even so, it's an investment many parents are willing to make. There are more than 530,000 pupils at independent schools represented by the ISC with approximately 70,000 (13%) at boarding schools.
Average fees range from just over £3,700 per term for day schools in the North West of England to close to £6,000 per term for day schools in London. Fees also tend to rise by above the rate of inflation each year. Carol says that Natasha's fees for a senior boarding school in Hampshire are £12,400 per term, a figure that doesn't include any extras.

"The biggest extra is train tickets as she comes home at the weekends and the school buys their tickets. There's also coach fares, taxis, pocket money, trips to the theatre, pizza deliveries and things she buys at the shop on site.

Extracurricular activities are also a factor. "There's usually a ski trip, which costs around £1,500 (all inclusive - including travel, food, equipment and insurance). She was due to go to Africa this autumn to help at a school and work on environmental projects, that was around £2,000, but it has been cancelled due to the coronavirus pandemic. 

'Likewise, her Duke of Edinburgh Gold Award trip to Scotland was called off. It met the same fate as a trip to Russia, as she studied the language at GCSE. They're missing all these wonderful experiences but, from a finance point of view, we've saved quite a lot of money," says Carol.

The cost of catchment areas

The need for substantial funds isn't exclusive to independent schools, of course. Many parents choose to move house to secure a property in the catchment area of a desired state school. Mortgage broker Trussle noted in 2019 that there were 703 'outstanding' rated state secondary schools, academies and colleges across England. The average asking price in the same postcode areas as these schools was £427,000 – a £180,000 premium on top of the average English house price of £247,000 2.
State schools have running costs too, with everything from uniforms and PTFA fundraising to school trips and extra-curricular activities. 

Similarly, if you want to arrange private tuition in maths or for your child to learn the piano, it could easily cost £30-50 an hour. A report from the Sutton Trust in 2019 reported that 27% of secondary age pupils (41% in London) have used a private tutor 3.

Focus and persistence

Some parents can finance their children's education through their salaries, but when you have more than one child or simply don't have that kind of disposable income, it pays to plan your finances in advance.
Chartered financial planner and wealth adviser Jonathan Davis (www.jonathandaviswm.com) says that most parents will need to plan for the costs unless they are in the fortunate position of being able to pay from income and/or accumulated or inherited wealth.

"One of the tricks to saving for the future is the simple matter of compounding – reinvesting the interest you earn and earning interest on that too. Likewise, starting to save and invest early is often the most efficient method of ensuring funds are available when needed."

Parents should also use their tax allowances to the maximum available. For example, £20,000 per parent each year to ISAs.

"Remember," says Jonathan, "the target date for investing is not the first year of the education. It is the last year. So, accumulated funds will continue to accumulate during the years of education. Thus, the investing timescale may be for 18 or 21 years, if started at birth. 

"This is an extremely long term for investing. It's sufficient, normally, to not be concerned with downturns in stock markets, like March 2020, which will happen from time to time. In fact, it pays to welcome downturns as they offer the opportunity to buy more shares with your regular investments at lower prices.

"By allowing for high cost-inflation and the age of your child you can, without much difficulty, work out how much you need to invest, annually and monthly, in a disciplined manner. Focus and persistence are important in targeted investing." 

He adds that it's also important to factor in portfolio charges. "Investment portfolios can add around 2% a year in overall costs," he says. "On the plus side, there are likely to be years when your living costs fall as your career progresses and you earn more. So, some of the costs you will be able to pay out of future surplus income when needed."

Finally, he says that as well as for planning for education costs, don't forget to ensure your income continues or your wealth is unharmed, no matter what happens to your health. "Check you have sufficient Income Protection Insurance and life insurance in case bad things happen. Should you fall seriously ill, Income Protection Insurance will pay you an income until the contract age or you recover and return to work."

Safeguard their schooling

Aviva's digital customer-experience journey manager Eleanor Baggaley agrees: "Predominantly, people take out life insurance to protect their loved ones. If they should pass away, it allows the family to continue to fund their everyday lifestyle – to cover the loss of a wage and to pay their mortgage off. 
"People tend to take it out when they buy a house or have children. It's the same for policies like critical illness, so if a parent does become critically ill, your children's schooling isn't jeopardised just because you're unable to work."

Carol's education expenditure should certainly drop soon, although UK tuition fees do vary depending on your home country. For home students, Scottish universities don't charge at undergraduate level, for example, while English universities can charge up to a maximum of £9,250 per year for an undergraduate degree. 

And if anyone is reading this from outside the UK, better tighten your seatbelts now. International students can expect to pay between £10,000 and £26,000 each year for lecture-based undergraduate degrees. An undergraduate medical degree, meanwhile, could set overseas students back by up to £58,600 per year. 

Whatever education route you choose, always seek independent financial advice and remember that the value of investments and the income from them may go down as well as up. and you may not get back the amount you invested.

Average school fees
| Age group | Boarding fee | Day fee (boarding schools) | Day fee (day schools) |
| --- | --- | --- | --- |
| Sixth form | £12,329 | £7,331 | £5,421 |
| Senior | £11,609 | £6,895 | £5,248 |
| Junior | £8,621 | £5,442 | £4,604 |
| Overall | £11,763 | £6,636 | £4,980 |
Source: ISC calculated per term
Education in numbers
£15,000 – the average annual fee for an independent day school in the UK £427,000 – the average asking price of a home in the catchment area of an outstanding state school
£9,250 – the maximum cost per year of an undergraduate degree at an English university
£30-£50– the cost per hour of private tuition