By Alexander Brownlie
While there's no escaping the grieving process, there are different ways to manage loss, both financially and emotionally.
Different cultures have different attitudes around death. In the UK, the typical remembrance service is a bleak affair with black garments and tears. 

In other places, though, memorials are celebrations, coffins decorated out like parade floats and the dead themselves dusted off (literally) and given something to smoke.
Here's a look at the places around the world where death is not only a sad and necessary part of life, but also a celebration.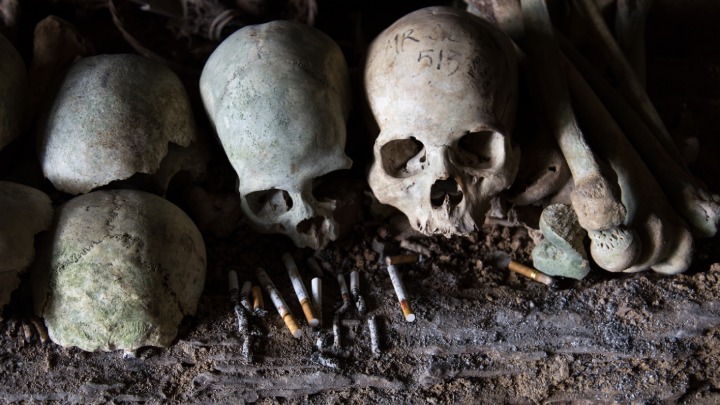 Tinguian funeral – Philippines 
Let's not mess around, let's get straight into the cigarettes. 
The mountains in the northwestern provinces of Luzon in the Philippines are home to the Itneg people. Another name for the Itneg is Tinguian, and they have a belief system that might be best described as pagan. 
Upon death, it's custom to wash and dress the body of the deceased in fine clothes before being placed on a chair outside their home. The corpse is then blindfolded and bestowed with a lit cigarette and left to chill for a few weeks where friends and relatives can swing by to pay respects. 
The dead are blindfolded, so they don't have to see the suffering that remains in the world. From all accounts, the departed are celebrated with friends and relatives, often offering alcohol to toast to the body.
Fantasy coffins – Ghana
More in keeping with what UK traditions, the 'fantasy coffins' and carnival-like funeral processions made famous in Ghana resemble Tinguian funerals as the service is both a celebration as a memorial. 
Each fantasy coffin design is supposed to be representative of its passenger, perhaps taking the shape of a 747, a Nike-branded sneaker, or simply a naked figure. 
The idea is that the coffin epitomises something the person was known for in life. By being buried in the form of their passion, it's taken with them in the next life. 
Coffin making in Ghana is an art and the designs are purposely brash and colourful, so they stand out as the dead are partied to their resting place, with some funerals lasting as long as two or three days. 
While your relatives (and the neighbours) might not thank you if you leave a request to be put on display for a Tinguian style funeral, a Ghanaian-style coffin might be a positive statement to consider.
Although unless you are able to find a domestic producer then  there are no doubt some hefty import/export fees to consider should you want to have a fantasy casket for a funeral in the UK. 
The New Orleans jazz funeral – United States of America
We end here with the New Orleans jazz funeral, perhaps the best known of these death celebrations. 
Though commonly referred to as the 'jazz funeral', the pioneers of the service preferred to describe it as a 'funeral with music' as the genre was not limited to jazz 1 when the custom became widespread in the early 20th century. 
The funeral with music is a procession across a few blocks, from the service to the resting place. It traditionally begins with close friends and family following the band and starts by playing sombre hymns.
As the procession proceeds, the tempo becomes more upbeat and anyone is then welcomed to join as a second-line procession and dance along with the parade.
While the parade itself can be bombastic and joyful, it can easily mesh with more standard funeral and burial customs in the UK, such as a church service.
The financial cost
At this point, you might be thinking about your own send-off.
Having read about a Tinguian funeral, you might want to ensure that you're able to enjoy one last smoke upon your passing, or you may wish to begin planning your after-party. 
Alternatively, having seen the beautiful craftsmanship of the fantasy coffins or having seen a quote for a jazz band, you might be thinking about the finances… 
If so, it's worth knowing that Aviva has partnered with Dignity to offer four funeral plans. Buying a funeral plan lets you sort out and pay for the services included in ahead of time – so your family won't have to worry, or foot the bill. You also get the goodbye you want. 
For something less specific, that's about leaving a cash lump sum behind, you may want to consider an over-50s policy or life insurance.
Finally, you'll want to make sure your loved ones are aware of your wishes in your will. And if you buy a funeral plan, talk to them about your choices, and let them know you have a plan in place.