The dad-friendly parental leave policies changing family life for the better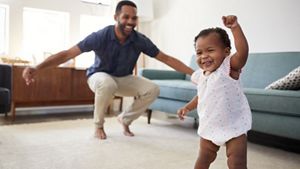 Most people agree children benefit from having parents around, especially in the early years. But when it comes to parental leave, evidence shows dads may be missing out.
By Sarah Lewis
Just 1% of UK fathers took shared parental leave in 2018 1. At first glance, this figure seems staggeringly low, but when you look at the conditions of taking statutory shared parental leave in the UK, it's not surprising.
Mothers in the UK can transfer up to 37 weeks of parental leave to their partner. Great. But they lose this from their own entitlement meaning both parents can't take it at the same time. Not so great.
Also, couples can struggle to manage on the drop in income. The statutory rate is often less than earnings (£151.20 a week or 90% of earnings, whichever is lower) 2 and is not available to parents on zero-hours contracts or in other insecure employment. Not so great at all.
In short, it's difficult for fathers to take time off to care for and bond with their child beyond the standard two weeks of paternity leave (and many don't even take that). It also means mothers may not get as much help and support – both physically and emotionally – in the challenging early months of life with a new baby. 
What if both parents could take an equal amount of paid parental leave?
Aviva is one of the growing number of UK companies offering employees equal parental leave. Employees are entitled to six months' parental leave on full pay, irrespective of gender, sexual orientation or how they became parents, making the policy one of the most generous in the UK. If both parents work at Aviva they can take six months of paid leave at the same time. 
The policy has proved popular. More than 1,380 parents have taken the leave since its launch in November 2017 3.
The chance to bond
Father and Digital Marketing Performance Executive Keith Hunter, 37, took shared parental leave in 2018. He believes being able to take six months of parental leave followed by a month of annual leave helped him bond with son, Arthur, 2, and help his wife Kelly develop her career. 
"Me and Kelly have a very equal partnership. We both wanted to do lots and get involved. Taking parental leave meant we were both able to build that bond early on and now we both have a great relationship with him," says Keith.
"Kelly went back after four months which was good from a career perspective, but in hindsight, she would have taken more time off. After then I looked after Arthur while Kelly was at work. I took him to a weekly library group, a music class and we spent a lot of time out and about doing activities."
Being able to take leave on full pay helped too. "It gave us more flexibility," says Keith. "We were less worried about the financial side of things. 
Aviva website producer and father to 9-month-old Olivia, Jonathan Hampton agrees that paid parental leave makes a big difference financially. After taking two weeks immediately after Olivia's birth, he deferred 10 weeks of parental leave to take in spring 2020.
"I wanted to take some leave later so we could delay Olivia going into childcare for as long as possible," he says. "Childcare is really expensive and [my partner] Philippa's workplace only gives nine weeks' maternity leave on 90% pay, the rest is at the statutory amount."
No longer a 'woman's job'
Rather than there being a stigma attached to taking on a caring role, Keith says he experienced the opposite.
"If anything, there was envy," he says. "Most dads I met would have liked to be in my situation as well. It felt a bit awkward when talking to self-employed parents, for example, and not able to take much time off."
Attitudes at work were supportive too. "My manager encouraged me to take full advantage of the leave. Everyone [in my team] was family orientated." 
Aviva employees can take five hours a week off for the first 12 weeks of work following parental leave and are then welcome to work part-time or flexibly. Keith says, "The five hours a week worked really well. I considered dropping hours but instead I now condense my hours – working more hours Monday to Thursday so I can finish early on Fridays."
A "supreme lack of awareness"
Keith would like to see more employers offer equal, paid parental leave. "We kind of accept, as a society, two weeks of paternity leave as the norm. But the chance to take extended parental leave helps you be an active father and build a good relationship from the start."
Jonathan notes he was surprised by the confusion surrounding parental leave, for both mothers and fathers, in some workplaces. 
"I found there's a supreme lack of awareness around parental leave in general," he says. "I was able to get information from Aviva's HR department that was clear and helpful, but Philippa's workplace was completely different. There's no flexibility to change her return to work date and no option for her to work part-time. I think Philippa would have liked longer off." 
Take full advantage of leave
Not all Aviva employees take the full six months of parental leave – the average is five 3 – but this is changing. Jonathan is grateful for the extra time he's able to spend with Olivia but says if he were to have another child he would take full advantage of the parental leave policy: "If we were to have another child, I'd probably take the six months' leave on full pay Aviva offers at the start, to spend as much time with the baby as possible. As first-time parents it's hard to know how much support the baby will need," he says.
Keith is already planning another six months' leave in September when his second child is due.
"This time Kelly will take a whole year off and I'll take six months," he says. "It's hard to imagine life with a baby before it arrives, but we know what to expect this time. If you want to share experiences and get involved, there's no better opportunity."
About Aviva's parental leave policy
Aviva offers six months' parental leave on full pay to all employees. It's irrespective of gender, sexual orientation or how people became parents.
Between November 2017 (the policy's launch date) and January 2020, 1,380 Aviva employees took a period of extended parental leave, taking an average of five months off 3. 
The main reasons given were to bond with their child (76%), followed by being able to support their partner.
More than half of those who took extended parental leave (55%) changed their working pattern when they returned to work at Aviva, either by working part-time or by condensing hours.