Giving fathers equal parental rights is good for women too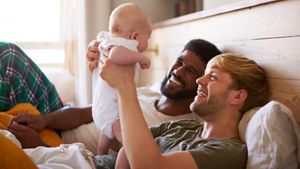 There's no denying that when it comes to having children, mothers take the physical toll. But by not including fathers equally from the start we reinforce the harmful gender stereotype that childcare and caring is 'women's work'. Equal family leave policies like Finland's look to change that.
Sarah Lewis
Under Finland's new family leave system, each parent will get 6.6 months' paid leave with pregnant women getting an additional month's allowance. Single parents will be allowed to use both allowances.

This policy has been applauded by women and men alike and for good reason.
Unequal parental leave excludes fathers and same-sex partners who'd like to take time off to bond with their children but can't afford to. It also denies the mother help and support they may need, physically and emotionally, in the challenging early months of life with a new child. 
Does statutory paternity leave exclude fathers?
In the UK, paternity leave is just two weeks at £148.68 or 90% of earnings, whichever is lower. Mothers can transfer up to 37 weeks of their 39 weeks of maternity leave to their partner as shared parental leave, but this means they lose some of their entitlement. Shared parental leave is not available to fathers on zero-hours contracts or in other insecure employment. 
Unsurprisingly, just 1% of parents used shared statutory parental leave in 2018 1.
This unequal approach to childcare commonly extends beyond the first year and can have a damaging effect on the future income, career prospects and pension of mothers. Despite earning similar amounts early on in their careers, a significant gender pay gap opens up between women and men in their 40s. This is partly attributed to motherhood 2.
Mothers are far more likely to work part-time or not work at all 2, which curtails savings and pensions. The average woman in her 30s has around £1,000 of savings, but women with three or four children have just £100–£200 .
The benefits of equal parental leave
While many families prefer a traditional setup, unmarried parents who don't work are in a financially vulnerable position, should the relationship break down. And for the parents who both wish to return to work, sharing childcare responsibilities means that neither party sacrifices career, pension and earning potential.  
Most importantly, numerous studies show children benefit from having both parents around 3. 
While the UK's statutory shared parental leave policy has its limitations (see above) some employers, like Aviva UK, now offer enhanced parental leave packages to employees where they 'top-up' the statutory amount to match the individual's full rate of pay for weeks or months. 
Similar to Finland's family policy, Aviva offers both parents full pay for six months irrespective of gender, sexual orientation or how they became parents. This means both parents get the opportunity to take paid time off to care for their child and share responsibilities. The impact on parents' careers and finances is more equal from the start, and both parents are welcome to work flexibly or on a part-time basis when they return.
It's proved incredibly popular. Since the policy was launched in November 2017, 1,380 Aviva employees took a period of extended parental leave, and nearly half of those were men. The main reasons given were to bond with their child (76%), followed by being able to support their partner 4.
Jonathan's story
Aviva website producer Jonathan Hampton welcomed his baby daughter in October 2019 and took two weeks' parental leave at the time. He plans to take a further 10 weeks of parental leave on full pay when partner Philippa returns to work.
He says, "Initially, I was elated to learn about the six months' paid parental leave on full pay offered by Aviva. Our original plans were that Philippa would do the first six months and I'd do the second. But then I found out that I could only delay the start by six weeks, not six months. I spoke to Aviva and they agreed I could take 10 weeks of delayed parental leave on full pay, which is still far better than the statutory amount offered to most fathers.  
I found there's a supreme lack of awareness around parental leave.
"I wanted to take my leave later so we could delay her going into childcare for as long as possible. Childcare is really expensive and Philippa's workplace only gives her nine weeks' maternity leave on 90% pay, the rest is at the statutory amount."
Jonathan was surprised by the inflexibility around parental leave that exists in some workplaces. 
"I found there's a supreme lack of awareness around parental leave," he says. "I was able to get information from Aviva's HR department that was clear and helpful, but Philippa's workplace was completely different. There's no flexibility to change her return to work date and no option for her to work part-time. I think Philippa would have liked longer off and is anxious about leaving our baby, and how she will cope emotionally." 
He's most looking forward to spending time with his daughter when he takes parental leave this summer, as well as Philippa, as their leave will overlap for three weeks: "I'm looking forward to experiencing the new things she can do and watch her grow," he says. "Philippa is also thankful that I can support her and spend time with the little one."
Even though 55% of Aviva staff who took parental leave return to work on condensed or part-time hours, Jonathan worries about how it might be perceived. 
"I'd love to work compacted hours and work four days a week in the future, but I haven't asked yet," he says. "The apprehension is that I don't know how it would be received by colleagues". However, he is certain that if he were to have another child, he would take full advantage of Aviva's parental leave policy.
"If we were to have another child, I'd probably take the six months' parental leave on full pay Aviva offers at the start, to spend as much time with the baby as possible. As first-time parents it's hard to know how much support the baby will need," he says.
Becky and Kelly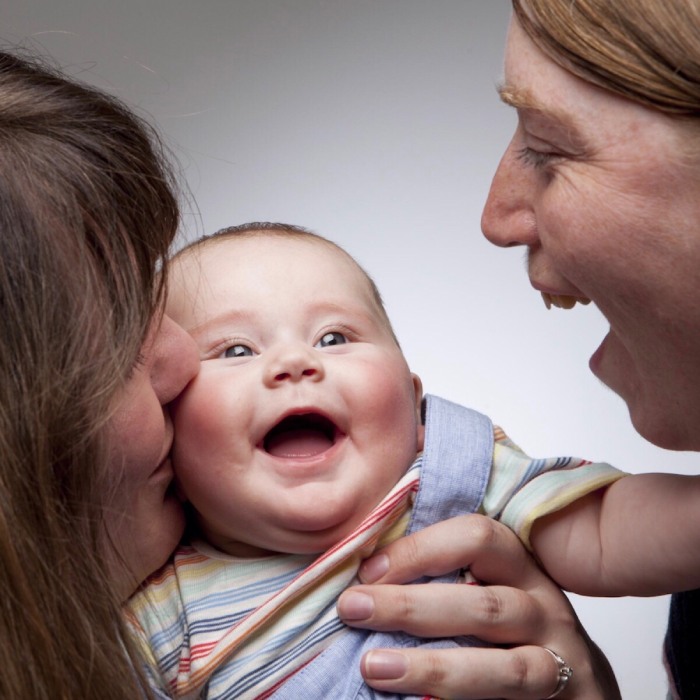 While Jonathan was unsure about taking the full amount of paid parental leave, Aviva employees Becky and Kelly Rolfe both took full advantage of six months' paid parental leave following the birth of their baby, Ruby. 
As well as being able to support Becky, who had to stay in the hospital for a week owing to complications, Kelly used the time to bond with Ruby. 
She says, "As the 'other mother' in a same-sex relationship, my biggest worry was being able to bond with our baby. Being able to spend the first six months with her has allowed me the time to really bond and for us to become a family together." Without Aviva's equal parental leave policy, Becky and Kelly would have been eligible for vastly different amounts of leave (39 weeks and two, respectively) unless Becky sacrificed some of her paid parental leave by transferring it to Kelly.
Kelly feels the opportunity for both parents to take paid leave has been beneficial for the whole family. "I've seen the stresses that both parents can face when having to either go back to work or being left home alone, so I'm grateful we've been able to share all the responsibilities, firsts, and learnings together. I feel like our relationship is stronger for this time together bringing up our daughter," she says.
As the 'other mother' in a same-sex relationship, my biggest worry was being able to bond with our baby.
Becky was also grateful for the time spent as a family. "I was constantly grateful that we got to spend so much time together for that first six months, especially when speaking to other new mums whose partners had gone back to work. I believe my mental health would have suffered not having Kelly there. 
"It meant I was never lonely, that I could take a break when I needed one and that I could spend time looking after myself as well as my new baby."
Statutory parental leave in numbers

39 weeks – how long mothers are entitled to statutory maternity pay
37 weeks – the amount of paid statutory maternity leave that can be transferred as shared parental leave
Two weeks –the amount of paid paternity leave fathers are entitled to  
£148.68 or 90% of earnings, whichever is lower – the amount at which statutory maternity, paternity and shared parental leave is paid
1% – the percentage of UK parents who used statutory shared parental leave in 2018
Aviva's parental leave in numbers
1,380 – how many Aviva UK staff members have taken parental leave since November 2017 

Five months – the average number of months paternity leave male staff take
76% – how many parents said their main reason for taking parental leave was to spend time with their child
55% – how many people said they changed their working pattern when returning to work after using Aviva's parental leave, by either working part-time or condensing hours
A new baby can strain finances, find out about Aviva's free life cover for new parents.