How an independent financial adviser can help you pick the right cover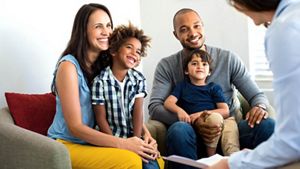 An expert can make all the difference.
With new life events come new questions  
The idea of needing some sort of cover — a safety net, just in case — might only pop into your mind when you reach a new milestone.  
A milestone like buying a new house. As one of life's biggest investments, it makes sense to take out insurance on a mortgage. 
Or maybe a new, tiny member of the family has made you see things differently — like thinking about how you'd take care of this little arrival if you couldn't work, or even if you weren't there. It's during times like these when you might see protection cover — life insurance, critical illness and income protection — as must-haves, rather than nice-to-haves.
These big events raise even bigger questions. Speaking to an expert, like an independent financial adviser (IFA), might help to answer them. 
Of course, if you feel confident about making these financial decisions on your own, there's no need to speak to an IFA. You can speak to us directly about buying the cover that's right for you. But if you're a little unsure about the sort of protection you need, speaking to an expert can help.  
An expert voice can help you go from confused to confident 
Speaking to someone who has financial know-how might help you feel more confident when making decisions about what cover you need.
An IFA lives up to the name —  their role is to find the product that best suits you. 
Some of the things an IFA can do: 
Explain the different sorts of products on offer 
Take you through the levels of cover that are available
Help you to understand any confusing terms and conditions
Talk you through an analysis of what will be most appropriate for your circumstances
Research products from a range of different insurers
Recommend a tailored suite of life protection, critical illness and income protection specific to your needs
Financial advice isn't free, but an IFA will explain their charging structure to you upfront. The charges you'll pay will vary depending on factors including the type of product and the complexity of your needs.
Comparison sites may give you many of the options; an independent financial adviser gives you the options just for you 
Comparison websites claim to take the guesswork out of choosing the right product, but even the most complex algorithms can't take your personal needs into account. You might have some specific health needs or working arrangements which you can't explain with a simple checked box or in a few characters. That's when it helps to speak to an expert, who can take your circumstances into account. 
Pick an adviser that's just right for you 

You might already have an adviser in mind. But if you don't, you can try asking friends if they can recommend anyone. If you go with a large company, you'll have a greater chance of being matched to the right person. Or you might want to go for an adviser who has a smaller number of clients — so perhaps more time to focus on your needs.
To help you find the right adviser, you can visit unbiased.co.uk. You can pick from locally based businesses to online specialists. As the name suggests, the advisers aren't connected with any other companies or insurance providers so you can be confident they'll give impartial recommendations.
Finding the right adviser can lead to a long and fruitful client/adviser relationship. Good IFAs will want to develop and build on that relationship over years and years — the potential benefit to you can last just as long.