Why is no one safe? An in-depth look at financial anxiety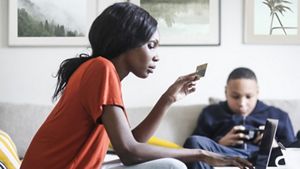 With money worries adding to our health concerns, it's no wonder our wellbeing is being so severely affected.
By Shilpa Ganatra 
The Office for National Statistics report that one in five of us have experienced some form of depression during the Covid-19 pandemic, almost doubling pre-pandemic figures 1. But recognising our concerns is the first step to alleviating them, which is why it's important to understand the rising problem of financial anxiety.
What is financial anxiety? 
It's more severe than getting stressed about everyday money woes. Of course, that's no fun either, but it's a normal response when we try and budget under difficult circumstances.
But when we start being unable to cope, that's when we should take notice and do something about both our wellbeing and financial situation, says Suba Mm, Medical Associate Director at Aviva.
"You might not be sleeping well, or you can't concentrate, or you develop unhealthy coping mechanisms like drinking too much. You might stop looking after yourself, and fall out of your routines. You might even completely shut down and close off any dialogue on the topic," she says. "Whenever it starts dominating your thinking and interfering with your daily functioning, you then have to think, 'okay, maybe something is wrong'."
The link between money and mental health
Pressures like the fear of losing your job or home, unrelenting final demands and having to sink into more debt to pay off other debt are all stresses that can stray outside the normal level of response and lead to issues like anxiety and depression. 
We know this lack of financial security is increasing: redundancy figures have been the highest since 2009 2. Even those who've kept their job face reduced hours, plus businesses in industries like travel, retail and events have finite funds to carry on while demand dips 3. And all this takes place with the potential economic impact of Brexit too.
We're starting to feel the individual effects: our new research showed that in February 2020, 10% of employees felt fully prepared financially for unexpected events such as serious illness or redundancy, but this dropped by a third in August 2020. And among 18-to-24-year olds, back in February 2020, nearly five in 10 respondents thought they'd have to work longer until they retire, but that figure jumped to seven in 10 people come August 4.
The link between money and mental health is also a two-way street: those affected by mental health issues are more likely to have money problems. During the pandemic, they're three times more likely to run out of money within a week if they lose their main source of income 5.
That explains why recent events have led to a perfect storm for financial anxiety, and its effect will roll on into the future. "The Centre for Mental Health is predicting that half a million extra people will need support for a mental health problem in the next few years," says Katie Alpin, interim CEO at the Money and Mental Health Policy Institute. "So definitely, people becoming aware and experiencing real challenges with their mental health because of the situation."
Financial anxiety can affect anyone 
There's a key difference with this economic turmoil than previous recessions. Because the cause is rooted in the pandemic that came from nowhere, financial anxiety may well affect those who were previously in thriving jobs. 
Understandably, it's caught many by surprise. Says Katie: "The economic impact has affected all sorts of professions including people who were reasonably financially secure.
"There's been a huge surge of people claiming Universal Credit for the first time around the start of the pandemic. There's also the case of people who were earning nice incomes before and find the shift in their income on benefits is very dramatic, and it's difficult to make the necessary lifestyle shift. That can be very hard to deal within a short amount of time."
Already that's having an impact on mental health. Six out of 10 people who unsuccessfully claimed for benefits during the COVID – most often because they or their partner had savings or were earning over the threshold – said they were experiencing poor mental health, a figure that's almost double that of the general population 6.
Sarah Murphy, Associate Director for Advice, Information & Training at Rethink Mental Illness, agrees that financial anxiety doesn't just affect the previously cash-strapped. "Everyone lives within their means, so whether you're used to getting £73 a week or £73,000, you've still got bills to pay. Having a high salary doesn't mean you don't face money worries, and then mental health issues."
She adds that until now, economic schemes like furlough, mortgage holidays and the self-employment grant have helped limit the blow of the pandemic for many, "so nothing's actually hit yet, and the numbers of people seeking help are pretty constant. But soon, those fears are actually going to become realities. Both financial and mental health concerns are going to increase. In the debt sector, it's recognised that 2021 is when a tsunami of people will need advice."
Speak to someone if you need help 
It's important to remember that those in financial despair won't be alone. Just as the NHS responded to the health impact of COVID, so too are money advice organisations and mental health organisations gearing up to provide support. And there's plenty that can be done to help.
The people who are feeling this way aren't the first to experience it, "even though they might feel like that at the time," says Sarah. The sooner you find ways to regain control of your financial anxiety and seek support to address the issue, the better. 
Sarah says "People should look for independent help, not only for the money issues, but also any kind of mental health issue. There are lots of agencies out there who can support one or the other, if not like ours, which can support both." Remember, if you have health insurance with us, you can call our 24-hour stress helpline too.
Even if it's not affecting you now, knowing that help is out there means that if your situation changes, you can look for support early on and stop any problems from spiralling. "With these issues," says Sarah, "a problem shared is a problem halved."