Funding the total cost of university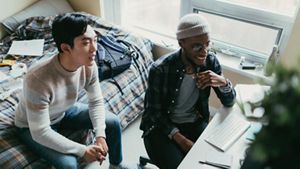 Part 2 of our guide to student finances, from funding further education to paying it back.
By Alistair McQueen
Attending university is an expensive proposition. As outlined in Part 1 of this series, costs vary depending on where the student is from, where they live, and their lifestyle. For a Scottish student living at home, total annual costs might be as little as £3,000. For any student living away from home in London, the annual cost could be beyond £20,000.

This can sound overwhelming, especially for students who've never handled such sums of money before. But they are not alone. More than two million students navigate these choppy financial waters every year, and help is available in the form of loans and other funding sources.

Tuition fee loans

These loans typically cover the full cost of tuition fees (up to £9,250) for UK students studying at UK universities. They usually cover the full duration of the course and may also allow a repeat year if necessary. Most students will be eligible for these loans and avoid the need to pay any tuition fees upfront. If granted, the loan is paid directly to the university or college.
Rules for who can borrow, how much and for how long can be complicated, so it's wise to do some homework in advance rather than assuming full entitlement. Each university should be able to help.

And it's the job of UCAS, the Universities and Colleges Admissions Service, to help students prepare for university. They provide a helpful guide to tuition fees and how to apply. You can read it here.
Maintenance loans

Other costs, like living expenses, can be all or partly covered by maintenance loans. They'll typically be paid directly into the student's bank account in three instalments over each academic year. 
As with tuition fees, the possible size of maintenance loan varies from country to country and the amount granted will depend on the student's personal situation and the university they're at. For example, in England, a student living at home could receive up to about £7,500 for the 2019/20 academic year. But this could rise towards £9,000 if they're living away from home outside London, or beyond £11,000 if living away from home in London 1.

The government provides an online tool to help students identify what loan they may receive, and it also explains how to apply. 

And as with tuition fee loans, UCAS can help answer your questions too. 

Students can apply for tuition fee and maintenance loans as soon as they're considering a place at university. And they can normally apply up to 9 months after the beginning of the academic year. 

Other help

Other sources of financial help include:
Grants and awards: Other state grants and loans may be available for lone parents, disabled students and those caring for another person. Students studying certain courses such as nursing, social work, dentistry and medicine may also be eligible for extra funding. 
University or college bursaries: Some universities may have their own funding schemes to help students cover costs 
Employers: Some employers may help fund study as a means of securing the student's employment when they graduate.
Educational trusts and charities: Some independent trusts and charities exist to provide financial help for students. 
Armed forces educational grants: The military may provide financial help for those considering a career in the armed forces.
The bank of mum and dad

Student maintenance loans vary considerably based upon household income. The more parents earn, the less maintenance loan may be available. Implicit in loan award calculations is an expectation that students who have better-off parents should expect more financial support from their parents.
Saving in advance

As with any big expense in life, it may make sense to save in advance. The longer you can save and invest in advance, the smaller the eventual financial burden may be. This is thanks to the power of compound interest. As an approximate example, if your goal is to amass £10,000 by the time a child reaches university, this could be achieved by saving or investing as little as £30 per month from your child's birth until age 18. 
The above figures were generated using our investment calculator which may help you consider how much you might want to save every month to achieve a target amount of money. As with all investments, this estimate comes with no guarantees as the value of investments may fall as well as rise.

Working while studying

Many students work to help fund their studies. Even working one day at the weekend could cover many day-to-day living expenses. The maintenance loan can then be used to partially (or wholly) cover the cost of accommodation. Earning while studying also means that when a student graduates, the final level of debt will be smaller. 

Despite your best planning and hard work, you may still end up with debt when you graduate. If so, are you prepared with a strategy for how you will repay it? Do you know when your first student loan payment is due? Many people don't know what makes student loans different from other debt, but the more you know, the more empowered ou will be to make wise decisions now.