Give your kids a financial head-start, whatever their age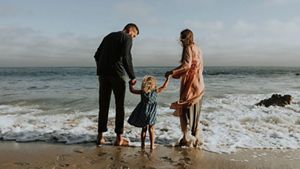 We can't all hand over a deposit, but there are some easy ways you can help them, whatever their age.
By Sarah Lewis
The kids are not alright. With 1 in 4 young adults living with their parents 1, the average house costing around eight times the average salary 2 and life post-Brexit uncertain – it's never been tougher to be a young person in Britain today.
For parents, it's disturbing news. We all want to see our children lead successful, independent lives in adulthood, but it can seem like the odds are increasingly stacked against them.

It's unsurprising, then, that more young people have no choice but to go to their parents for financial help. Of the first-time buyers who managed to get on the property ladder last year, more than a third received some sort of financial help from the bank of mum and dad .
From birth to 18

Start small
If you haven't started a savings account for your child – think about starting now. Even if you can only save small amounts here and there, it's well worth doing.
Junior ISAs – or JISAs – are tax-efficient savings accounts specifically for children, which neither you nor your child can touch until they turn 18. You can start the account with a small amount or transfer money from an existing JISA or child trust fund.
JISAs can be either cash JISAs (similar to savings accounts) or stocks and shares JISAs.
Invest to impress
"One of the mistakes parents make is to overlook investment accounts like stocks and shares JISAs", says Michelle Pearce-Burke, co-founder of our partner investment platform Wealthify. 
"Investment accounts are definitely for the long-term. But, if you start early and you won't need to access the funds until they turn 18, they are well worth considering.
Although the value of your investment can fall as well as rise, and you could lose more than you invested, historically, they often offer better returns than regular savings."
Try Wealthify's JISA calculator to see how much you could save.
Use it or lose it
Under 18s are entitled to £9,000 of tax-free savings this year, so if you've not used their allowance for this year, think about investing money into their JISA before 5 April.
Cheque up
And if you have been saving into a JISA, when was the last time you reviewed the account? Many parents are tempted by a healthy interest rate when they open an account, but this can fall to something less impressive later on. The result? Your hard-saved cash isn't growing as much as it should.
Don't be afraid to move your investment around.
Protection for parents
If not top of most new parents' to-do lists, life protection is definitely up there. It means that if something should happen to you or your partner, your insurer can pay a sum of money so that your family won't have to worry financially.
If you're a parent of young children and thinking of getting some sort of life insurance, shop around for one with benefits for new parents. We offer each parent with a child under the age of 4 a year of free life insurance worth £15,000.
Child benefits you
If you or your partner earn less than £60,000, you're entitled to receive child benefit – consider claiming it.
Child benefit amounts to £20.70 a week for your first child and £13.70 a week for your second. That's almost £1,800 a year. If you can manage without it, try to save the money for them for when they'll need it most.
Parents who earn between £50,000 and £60,000 will need to pay some of it back via their tax self-assessment. Find out more about child benefit.

If they're over 18
They're old enough to drink, smoke and vote, but it's not too late to support them financially.
Savings that last a lifetime
Once young people are over 18, they'll no longer be entitled to a JISA. The good news is that these are usually transferred to an equivalent adult ISA automatically.
If saving for a property, most experts recommend saving into a Lifetime ISA – or LISA – which can be used to buy their first home or save for later life. You can save up to £4,000 and the government will add a 25% bonus to your savings, up to a maximum of £1,000 per year.
If the money is needed for any reason other than buying a property or to fund retirement, there's a charge for withdrawing funds early.
Life for rent
If you're a parent with a 'boomerang' adult – that's a grown-up kid who's returned to the family home – you may be concerned about when they'll finally fly the nest. Although most parents enjoy having them around, it comes at a cost with some experts estimating boomerang parents are out of pocket by as much as £5,000 a year 3.
Although many of us struggle to have conversations about money with our kids, charging rent can not only help you cover additional costs, it could help them become financially independent sooner by teaching healthy habits around budgeting. Experts suggest saving some rent money on their behalf, if you can afford to.
Read more about how much rent you should charge your adult kids.
Forget student debt

It's become the norm for young people to reach early adulthood already saddled with considerable debt. But if you're tempted to pay off their student debt, think again.
John Lawson, Head of Financial Research at Aviva, says: "In most cases, it's not worth paying it off as most student debt will eventually be written off. Think of student debt as a graduate tax instead of loan that needs to be paid back. In most cases, your money will go further invested in a LISA instead."
Equity release
Usually considered a last resort, some parents choose to release equity from their homes to help get their children on the property ladder. This is a serious decision and one you'll need to research thoroughly, as well as take legal advice, if you decide this is for you.
Only consider equity release if you're confident you won't need to move home or release funds from the property for yourself in the future.