Four things we can learn from the green gen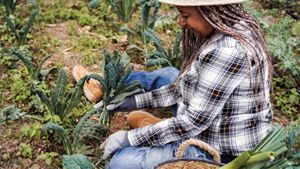 Thought millennials were leading the way with saving the planet? Think again. Research shows people aged over 55 – the 'green gen' – are more likely to carry out environmentally friendly actions like recycling waste, buying seasonal foods and avoiding single-use plastic.
By Ann Storr
At a time when reducing our carbon footprint is more crucial than ever, we look at the habits we can borrow from those older, wiser and greener.

Sustainable choices don't have to have a green label, a high price tag or even be something new, after all, "make do and mend" is the mantra many over-55s grew up with.
We spoke to four inspirational over-55s and asked them to share their best life lessons in sustainability.
Why spend when you can mend? 

"I've never wasted fabric – I've always made new things with it," said Yvonne Fuchs, 76, whose trade was textile design, as well as teaching at the Royal College of Art.
"My parents were immigrants – dad was a refugee – so there was a big need to save money. My grandmother taught me to darn socks and replace buttons when I was eight! There were certainly no £5 fast fashion dresses, so we had to look after everything."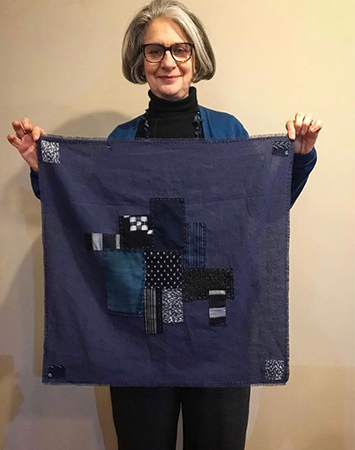 By helping people learn to value fabrics through mending, Yvonne – who's also trained in meditation and mindfulness – teaches young people to mend, darn and fix online and at mental health cafes.

She says mending things is a calming and creative part of everyday life. "You can upcycle, recycle and get creative, all with fabric you've got sitting at the bottom of your wardrobe. "But," Yvonne reminds us carefully, "remember that every mend is an opportunity to be a contemplative, creative exercise."

Yvonne's tips 

Mending stitches are the simplest stitches, and you don't need any expensive things to start – just a needle and some thread, and something that needs fixing

Shirts, ties and assorted clothing fabrics can be used to commemorate a loved one, and make really special living reminders
Always use old fabrics rather than buying new. You can find soft cottons and linen from around your home, eBay, a charity shop or boot fair
If you don't have someone who can teach you, look online for Facebook groups such as Slow Stitching for support and inspiration
Stop plastic use at source
Sue Campbell, 55, grew up in Australia in the 70s, but her family were far from the typical Aussie 'burb family. "My dad's family migrated from Scotland to Australia in 1949, and it's fair to say they were economic migrants. Our family philosophy was that the earth's resources shouldn't be wasted."

When Sue visited remote beaches around Cambodia, Japan and the Philippines as an adult, she saw seas thick and churning with plastic. "To me, stopping plastic use at source is how we can make a massive impact and change the whole supply chain." Sue founded KIND2 in 2019, to make luxury, plastic free shampoos and conditioners that are simple, low in fragrance and accessible.

"I came to the UK because it felt like there was a strong green, consumer lead movement, because people really get it here".

"Going plastic free isn't about a fringe hippie thing – you can make the change without compromising and having to use inferior products. Every small action in the right direction is what matters most."
Sue's watch list for finding natural, sustainable and amazing products:
No palm oil
No synthetic fragrances or colours
Plant based ingredients
Compostable or recyclable packaging
Sulphate and plastic free
Locally produced = lower carbon
Grow your own, at home or with friends

Sara Venn, 76, remembers it clear as day: "It was 1976, we were sitting in the garden. My mum looked straight and me and said, 'You'll be alive when the oil runs out.' I think I've spent my life looking at what that means and trying to limit my impact on the planet."
Growing up, Sue worked in a nursery. Watching her nursery parents have to compromise their home-cooked, home-grown way of life during the 80s showed Sara that being sustainable isn't always easy. "The everyday pressures of day-to-day living are enormous. There's an assumption that people don't care, which simply isn't true. People just are tired and don't know where to start."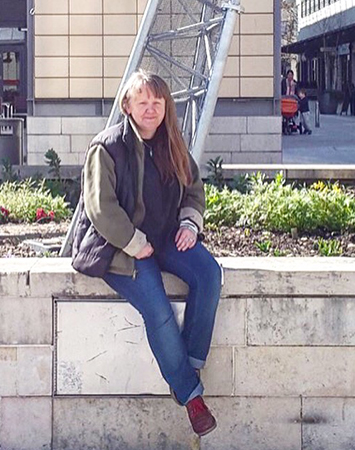 Sara now uses her experiences of balancing sustainable ideals and practical life by running Incredible Edible Bristol. "I wanted to share my skills and help people to know that they can do this! We have a couple who started out really shy, but now they're running a project with goats. Another woman was out of work and living in a flat with no garden. She's now earning a living by making her own jams and pickles from her own crops.
"Most people just need a helping hand to get growing," she says. "And now, 55 gardens in, we're helping people to learn how simple it can be to grow your own."
Sara's tips for growing food
Whether you have a massive garden or live in a flat with no balcony, you can start growing simple veg in pots

Growing can increase your confidence, help you to meet new people, make new friends and even start a new career
If you need a hand from some like-minded, green-fingered growers, there are groups out there who want to share their knowledge. Search on Facebook for communities in your area who can help you get growing
It's the small, everyday actions that count

Sometimes we just need a few quick pointers. Susan Campbell, writer and member of the Guild of Food Writers, 89, shares her simple, every day, sustainable tips:

Keep any piece of paper that can be reused, either for wrapping parcels, making notes or shopping lists 

Keep large envelopes and cardboard boxes of all sizes, from jumbo to tiny
In small bowls in the fridge, keep the smallest remnants of any food not eaten at a previous meal and use them
Save every last smidgen of melted fat from roasting beef, pork, duck, goose, chicken (but not lamb) for frying. Or, in the case of beef, for dripping on toast
Keep stale bread for making into breadcrumbs
Hang things to dry on a washing line (in good weather) rather than use the spin dryer
All generations doing their best

In the fight against climate change, all generations can be said to be doing their bit. Our research shows under-25s are more likely to be vegan and to have installed an electric charging point for their vehicle.
But the results from the over 55s show you don't necessarily have to change your diets or buy something new to make a difference. Buying second hand or plastic-free, mending, growing, reusing are all simple, effective habits anyone can try, and might be enjoyable too.