By Sarah Lewis
If asked to think of a typical student, what springs to mind? Depending on your age, you may imagine a scruffy-looking youngster in sparse lodgings subsisting entirely on Pot Noodles. 
Dietary choices aside, this outdated stereotype couldn't be more wrong. These days the average student hauls more than £3,200 worth of possessions to university 1, with the value of tech and gadgets alone coming in at more than
£1,750.
This is a sharp increase from two years ago, when the average student's possessions came in at £2,184 – with pricy laptops, phones, tablets and music equipment accounting for the rise. 
But it's not just gadgets to blame, our study found that many students have expensive taste all-round. Almost a quarter own designer clothes and cosmetics (both 23%); 18% have their own car or vehicle; and, less extravagantly, 13% take a bike to university.
Contents Insurance
From headphones to hoovers, our Contents Insurance helps protect your possessions.
Contents at risk
But if students are getting a First in owning cool stuff, they're failing miserably at protecting it. Worryingly, more than a quarter of students have no contents insurance.
Based on the value of a typical student room, this equates to uninsured items worth more than £2 billion across the
UK 2. And this is a particular concern as young people aged 16-24 are at greater risk of crime than any other age group in the UK 3.
But those prized possessions are easily protected.
Adam Beckett, our Product Director for UK General Insurance said: "Tech is very much part and parcel of student life, but this often means that thousands of pounds' worth of belongings are packed into one room. If these items aren't insured and the worst happens, this can be a huge ordeal – both emotionally and financially.
"The good news is that many insurers – including Aviva – provide student cover under the main family home insurance policy. In fact, our survey found that a quarter of students had cover under family home insurance, so they didn't need to take out additional cover. Going to university is a big move for both students and parents, so having insurance in place is one less thing to worry about."
Protect your belongings at university 
Check if your belongings are included as part of your family insurance policy. Aviva Plus contents insurance will cover immediate family members living away from home, providing they don't have a permanent fixed address elsewhere
If not, buy contents insurance. Be sure to tell your insurer about high-value items like laptops, bikes and jewellery and if you want them protected 'away from home'
Most thieves are opportunistic, so remember to lock doors and windows every time you go out
Don't leave valuables in full view when you go out, hide them somewhere safe. The same goes for items left in cars
Be careful not to draw attention to your latest gadget; this may alert potential thieves
Register your belongings, particularly those of value, on the UK national property register, Immobilise. If they're stolen and recovered, the police will be able to trace you
What students take to university
| Item in student room | Typical value of item in 2017 | Typical value of item in 2019 | Percentage change over two years |
| --- | --- | --- | --- |
| Laptop | £502 | £536 | + 7% |
| Tablet | £121 | £332 | + 174% |
| Mobile phone | £272 | £365 | + 34% |
| Television | £125 | £258 | + 106% |
| Music equipment e.g. speakers | £111 | £265 | + 139% |
| Study books and equipment | £259 | £286 | + 10% |
| Sports equipment | £75 | £199 | + 165% |
| Specialist equipment e.g. hobbies / musical instrument | £115 | £332 | + 189% |
| Clothes and accessories  | £422 | £438 | + 4% |
| Other equipment | £182 | £249 | + 37% |
| TOTAL | £2,184 | £3,260 | + 49% |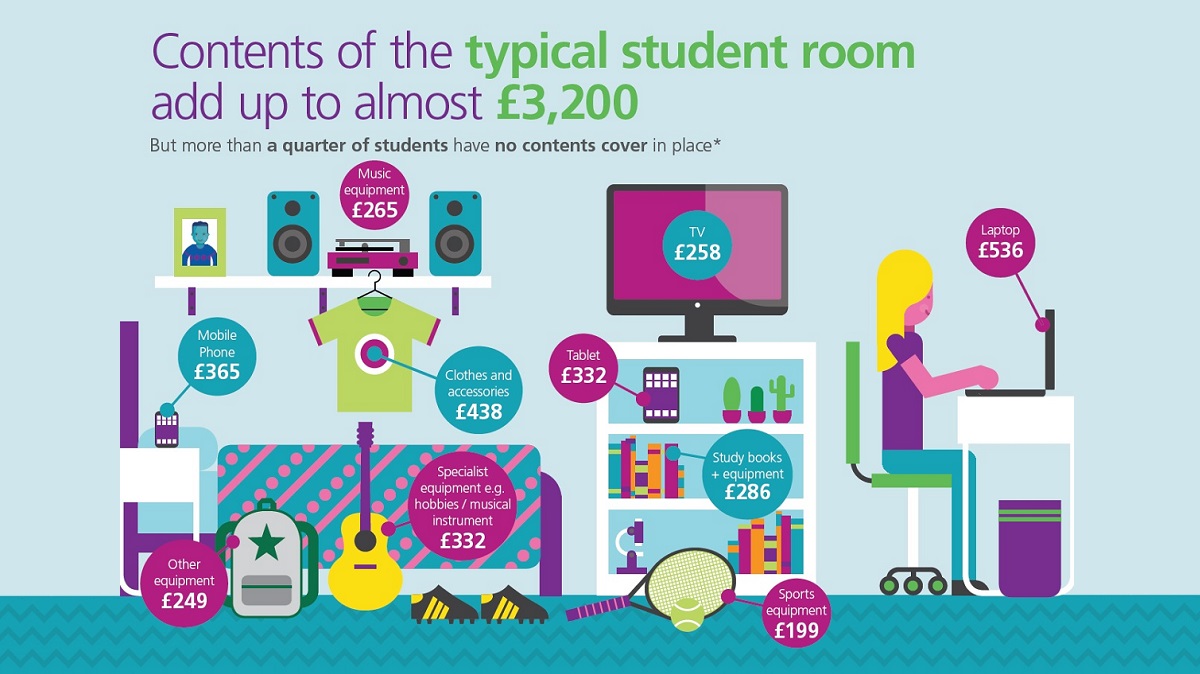 Unless stated, all figures are taken from research carried out by Censuswide in July 2019. 2,000 UK parents who have children at university or who have been to university in the last 10 years were surveyed online.