Mid-life matters: challenges and opportunities when you're 45+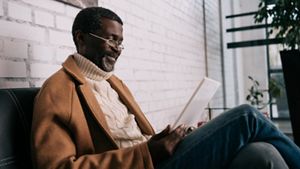 The period from our 40s to our 60s is a crucial one as we move from 'midlife' and begin to approach 'later life'.
By Steve Smethurst
We're all familiar with jokes about the 'mid-life crisis' and it's true that those in their middle years can face particular pressures and are often under strain. 
The pressures include feeling stuck at work – not progressing or reaching career goals. There's also the challenge of pension planning and being overwhelmed by retirement options. Then there's the strain of caring for children and older relatives, often at the same time and the mixed emotions when children leave home. 
A successful criminal psychologist, Linda Sage suffered such a severe 'burn-out' in 2005 at the age of 49, that it took her six years to recover. Since then, she's been working with healthcare professionals and home-based carers to help them avoid the same fate. "Self-care is something all care-givers know about, but they don't apply it to themselves," she says. 

Over 45s the 'backbone of the workforce'
Patrick Thomson, senior programme manager at the Centre for Ageing Better 1, describes this age group as the "backbone" of the workforce. "They're often highly productive and skilled, so employers and government think they can carry on and don't need too much help. 
"There's a preconception that career progression is only for the early stages of your career, but with so many of us working for longer, the importance of continuing to train and progress becomes more important. 
"Recruiters can also look at people in this age group and feel they have less potential for the future, but the evidence shows this isn't the case. We sometimes hear excuses that someone in their 50s or 60s might be retiring soon, so why employ them. But you might be getting a dedicated and loyal member of staff for at least another 10 years."  
Hit with redundancies
Patrick adds that all too often redundancies are targeted towards older age groups, even though age shouldn't be a factor. "It's a big problem because the impact of redundancy hits people in midlife and beyond much harder. If you are made redundant at that age, you find it very difficult to return to work afterwards in another role."
The picture is even worse for ethnic minorities. "There's often a double impact of both age and ethnic discrimination. Not to mention gender discrimination. All these things are cumulative and mean that the people least able to continue working for longer in good employment are the ones who most need to financially."
However, he does agree that it can be a period of great opportunity. "We've moved away from the idea that you must retire at a certain age. We hear fantastic stories about people whose careers have taken off in their 50s and 60s. Age isn't a barrier to people doing what they want to in their working life. 
"Our overall message - and we're not sugar-coating it - is that there are some big decisions to make. But if you make the right choices in midlife, it can have huge benefits in the rest of your working life and into your retirement as well.
A renewed focus on career
Leadership and mindset coach Sarah Wheeler 2 agrees that it's all too common for people in their 40s and 50s to find themselves questioning where they are in their work, financial and personal lives. 
"Work-wise, some may be moving into the next stage of their career by progressing into senior leadership positions, while others are looking to reconfigure their lives by getting a better balance between work and personal life, or to pivot their careers by moving into a different field of work entirely. 
"People often feel overwhelmed and intimidated by the challenges they face, and not knowing where to start in addressing these concerns and life changes," she says.
So how should people come to terms with this stage of life? "The principles are similar whether it relates to career, financial or personal life. The first thing is to get a clear understanding of your current situation and what's most important to you." 
This could include a better work-life balance, more financial security, or a renewed sense of fulfilment and purpose in your career and life. "Having a clear goal allows you to focus your attention on what you need to do next," she says.
"What puts people off taking action and making changes is that it feels overwhelming. The key is to start with small steps and build up gradually from there. For example, in terms of financial decisions, the first step might just be making an appointment to speak with somebody who is qualified to explore what your options are. In terms of looking at your career, it might be sitting down and making a list of the skills and strengths that you have." 
Don't let age stop you
"We urgently need to find ways to maximise the opportunities that a longer life brings," says Alistair McQueen, Aviva's Head of Savings and Retirement. 
"At Aviva, we're trying to help this forgotten middle demographic. To give an example, our youngest employee is 17, our oldest is 77 - so that's a 60-year career opportunity in one organisation. 
"Clearly, we're not saying everybody should be working until their 70s. But we want to create an environment where age is no barrier to opportunity."
In the UK, every large employer in the UK with more than 250 employees must provide an apprenticeship scheme to their staff. "Generally, this makes you think of 18-19-year olds learning a skill," says Alistair, "but the fastest-growing age demographic in apprenticeships is the over 45s. 
"Aviva has apprentices in their 60s. These are people that have decided that at the age of 60+ to say: 'My life is in front of me as much as behind me and I want to learn new skills.' 
"As a society, we need to reframe how we see age and push back on the perception that once you get above an age development and retraining and rescaling and redirection is not for me. That is very much a mindset of the past."
Take a mid-life MOT 
To help people in their 40s, 50s and 60s, we've created our free Mid-life MOT app. "It's there to help people take control for themselves and empower themselves," says Alistair. 
"The app contains 30 multiple-choice questions around wealth, work and wellbeing. Answering them results in an MOT score, not hugely dissimilar to a car MOT. Then, rather than leaving somebody hanging, it will give them five actions for each area.
"It could have a one-off use, or be used annually. It's designed to help people challenge their thinking and open their eyes to the various sources of free help that are available.
"It's not there to answer everything, instead it's designed to give a supportive nudge to help people move in the right direction."