From granny flats to graddy flats: one in three UK homes are multi-generational, Aviva survey finds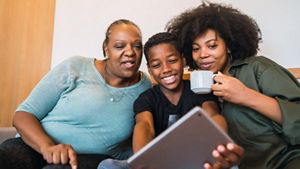 A growing number of UK households are multi-generational – mainly owing to adult children living with parents – and this number could be set to increase as more homeowners build annexes to accommodate their relatives.
By Remy Maisel
The Aviva study asked more than 4,000 adults across the UK about their lives and found that 34% now live in a multi-generational household, that's the equivalent of more than nine million homes.
One in eight UK homes is now expected to feature granny flats, according to the new Aviva study carried out by Censuswide 1. 
Why are more people living together?
While it might be assumed that lockdown has something to do with this, only 3% of households reported that adult children returned home during lockdown, and 1% of households took in an older relative. 
Similarly, many might have assumed that older people account for the general shift toward more multi-general living, with annexes commonly being referred to as 'granny flats', but the data show that the most common situation is one where adult children are still living at home with parents, at nearly two in five multi-gen homes.
Another 11% host 'boomerang' children, where grown-up children have left home for university and come back, and the same number (11%) are still at home while studying – so perhaps these are better referred to as 'graddy flats', home to graduates, than granny flats.
"While lockdown led to some new multi-generational households, this type of arrangement is already the norm in millions of UK homes, for a multitude of reasons," says Gareth Hemming, Aviva's MD Personal Lines for Global General Insurance. "Many young people are living with parents to save for a house deposit or 'boomeranging' back after university, while some older people are living with their families for health or financial reasons – so this is simply a way of life for these households."
Helping older relatives
A lower percentage of older people live with their families than younger adults, at 14% of all multi-generational households, but this still means there are 1.28 million homes in the UK that are hosting an older relative. This is a big increase from Aviva's 2016 survey that found just 9% of families had an older relative living with them. 
Remodelling our homes for multi-gen living
One in 20 households already has annexes with converted garages, cellars, or outbuildings functioning as extra accommodation. Another 7% of homeowners say they plan to create a space like this. 
More than a quarter (27%) of people plan to use this space for older relatives, but almost as many (25%) plan to use it for grown children. And nearly a quarter (24%) plan to use them as holiday lets or take in lodgers (16%).
"It's important that people inform their home insurer if they are planning to make changes to their properties, before and after the developments are completed, particularly if they are adding new buildings or changing the use of accommodation," says Gareth. "This will help to ensure homes are covered during and after any building works, providing peace of mind for everyone at that address."