When does the bank of mum and dad end?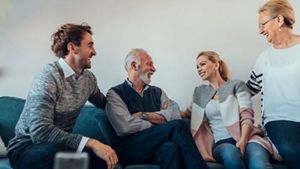 With university fees escalating and millennials flocking back to the family home, how can you make sure the 'bank of mum and dad' will, one day, end?
By Steve Smethurst
In the UK, the cost of raising a child to 18 is estimated at £155,000 for couples and £187,000 for single parents, according to Loughborough University's Centre for Research in Social Policy (CRSP) 1. 

The charity Scope found that parents of children with disabilities could face extra costs of £581 on average each month to achieve the same standard of living as parents of children without disabilities 2.
And the longer children stay at home, the higher the bill climbs. Even when they do leave, there's no guarantee they won't be coming back. 
Figures from the ONS 3 suggest the number of 18- to 30-year-olds living with their parents has increased by 6% over the past 10 years. 
The ONS also found that since 1997, the typical age at which someone left home has increased from 21 to 23. And the average age someone bought their first home was 26, now it's 34.
It would seem the bank of mum and dad is staying open for business later and later. 
How much rent should you charge?
Living with your parents as a millennial can save you around £17,000 a year according to Barratt Homes 4. Having an adult son or daughter at home could save a family money overall if appropriate rent charges are set out .  

However, Donald Hirsch, CRSP director at Loughborough University, points out that this does require a 'fair' system for making a payment to their parents to reflect these additional costs. Unfortunately, families are "extremely bad at devising rational ways of organising this", he says. 
Parents in London charge their children an average of £121.75 per month, according to the Barrett research – and half of parents don't charge any rent, which explains the low average. 
Surprisingly, parents in Southampton charge the most rent (£139.75) – which is almost double that of Sheffield parents (£77.95) at the other end of the scale. 
Both our children had student loans – but luckily it was cheaper then, as it came before the £9,000 tuition costs you see today. We helped with some of the accommodation costs and tuition fees.
Technology consultant Colin Messenger and his wife Marianne, now in their 60s, have two children over 30 and a one-year-old granddaughter. Colin explains that funding his children is a lifelong commitment. 
"Both our children had student loans – but luckily it was cheaper then, as it came before the £9,000 tuition costs you see today. We helped with some of the accommodation costs and tuition fees. I'd estimate we were paying around £1k a term to help them out," he says. "But they still came out of it with around £20k of debt."
Since then, their son has been a semi-regular rent-paying tenant at their four-bedroom family home in Middlesex. "We were lucky in that both our children got jobs pretty quickly," says Colin, "So we didn't have to cough up to help them live. But then Harry got a job in London, so it made sense for him to live at home. Then, later in his career, Harry relocated to Cheshire for six months, and after he came back to London, he lived with us for a second time."  
Colin and Marianne also helped their children when it came to deposits on their flats, something they were able to do with money from an inheritance.
Could house-swapping be a solution?
Professor Hirsch notes that one element often overlooked is the 'opportunity cost' imposed on parents by children who continue to live in the family home as adults. 
"Both parents and their offspring tend to think of the housing element as cost-free because the family already lives in it. If not having to provide accommodation for a son or daughter would mean there would be an empty room. But in doing so, they prevent the parents from moving somewhere smaller and cheaper."
This wasn't a problem for Colin and Marianne, however. For most parents, part-funding a property might signal the end of the 'bank of mum and dad'. But, the birth of their first granddaughter and the prospect of their daughter having to move further away to secure a bigger property than her two-bed flat prompted a radical move.
Colin explains: "Once Marianne and I talked it through, a house-swap seemed an obvious solution. They needed more space, and we didn't. Swapping properties with us was the only way they could afford to stay near us if they wanted somewhere bigger.
"Otherwise, if they wanted a house, it would have meant moving to somewhere further away. Then everything changes in terms of how often we'd see them. When we see them now in our old house, it seems an obvious thing to have done. They're still on the doorstep, and we get to see them all the time."
The move hasn't been simple in financial terms, however. Their daughter and her husband swapped their mortgage from their flat to the house, increasing it to release some of their parent's equity for her brother, making things fair for each sibling.   
However, both parties had to pay stamp duty even though the transaction was an exchange with no money changing hands. This came to £35,000 in total across the two properties, so even this solution isn't fool-proof.
Affecting your finances
Paul Brencher, Aviva's UK Health and Protection Director, adds in a further complicating factor for many families. "In addition to adult children sticking around, the bank of mum and dad is often stretched in terms of elderly parents and potentially needing to offer financial support to them as their health wanes. Or, as support services need a boost. So increasingly there's a two-way impact," he says.
Paul explains that this is affecting the generation whose pensions are mostly from defined-contribution schemes, rather than final-salary, and it all adds to the pressure on their future financial security.
The bank of mum and dad is often stretched in terms of elderly parents and potentially needing to offer financial support to them as their health wanes.
"It's putting a massive strain on this sector of the UK population," he says. "Traditionally, you'd take out a mortgage and life insurance to align with it. Then, when the mortgage is paid off, there's no further need for protection, but dependencies up and down the chain mean that the risks persist for much longer than they used to.
"As Professor Hirsch has identified, we're also seeing research that families are staying in larger family homes than they would have ordinarily done as they're expecting to provide for one or more of their children for a longer period.
"Home insurance needs to be reassessed – if your children move back in with all their laptops, phones and jewellery, you'll need to ensure you've updated your home-insurance policy accordingly."
A silver lining
There may be some good news, however. As Professor Hirsch says: "The example of Colin and Marianne underlines how the 'boomerang kids' story does not have to be seen entirely in negative terms. Given the overall shortage of housing, which can be exacerbated where older people "under-occupy" their homes, family sharing can be seen as quite an efficient use of space," he says.
"That said," he continues, "I do worry about the financial arrangements within families and the risk that parents feel unable to get a fair contribution from their children even when the parents find it a strain. This can encourage an inappropriately long extension of a sense of family dependency – even to the extent that it delays the maturing of the next generation."
So, remember, if you do have grown-up children staying with you, set a rent that reflects your increased costs. They might not appreciate it, but it will benefit them in the long run!