Having a baby? Here's how to work out your shared finances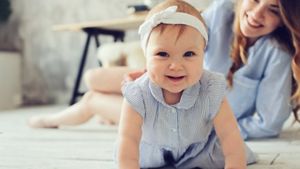 There are a lot of ways to share your finances with a partner, and you may already have found a system that works for you – but that may need to change if you're having baby.
By Remy Maisel

If you're planning to have a baby, or have discovered that one is on the way, you'll probably need to discuss how your household – and your new family – will run financially. Here's what two personal finance experts say about how to manage this change:
1. Have a conversation about money with your partner/other parent
Although many of us find it difficult to discuss money, it might lead to problems down the line if you don't do this now. 
"You could wait forever to find a 'good' time, so I think you've got to tackle it head on," says Sue Hayward, Personal Finance & Consumer Expert. "Just suggest to your partner that you 'have a chat about how we're going to manage our money' and maybe sit down over coffee on a Saturday morning when you won't be disturbed or feel frazzled after a day at work. This way you both know what's coming and nobody's caught off guard."
Once you've had a frank discussion about your financial circumstances, you can also start to agree about who will take time off work and how to contribute to the household bills. 
Fairness doesn't always mean 50/50 – so consider who'll be earning what when you decide how the bills will be split during parental leave. If one parent has stopped working or reduced their hours to care for the baby, that's a financial and career sacrifice they're making, which also enables the other person's career.
Unless both parents equally share childcare, the person taking leave can reasonably expect some financial support from the higher earner and an acknowledgement that the childcare they're providing is work and that they're making a financial sacrifice.
If you're a single parent, make sure you're taking advantage of all benefits and getting any maintenance payments you're owed as this will go a long way to helping you support your child.
2. Get your financial house in order
Take care of the most urgent issues, like paying off debt or taking out life insurance. Aviva offers Free Parent Life Cover – £15,000 worth of cover for free to parents of children under four years old. 
Sue says the first order of business after addressing any debts is to have a conversation about your affairs. "Ideally, try and work towards paying off any outstanding credit card debts and build up some savings to fall back on. And don't shy away from those awkward but important conversations about life insurance and making a will," she says.
Clara Wilcox, Career & Return to Work Coach for Parents at The Balance Collective, gives similar advice. "It's important to also consider the realities of life insurance – what would happen to your family if you were no longer able to earn or not around to care for them. You also should look into setting aside some money to get your will in order. I was shocked to discover that without a will, should something happen to myself and my husband, I would have no say in who looked after our children."
It's even more important to consider making legal arrangements if you and your partner are not married – should anything happen to your partner, and you haven't made these arrangements. You can't assume you'd be able to continue living in the family home if you're not on the deed, for example. 
3. Start saving and budgeting
As having a child is expensive and your household income is likely to drop, most people start saving right away. It's also a good idea to make and stick to a budget that fits your new lifestyle – though your wellbeing should be accounted for, too.
And keep in mind that six in 10 new parents say in hindsight they bought unnecessary items for their first baby 1. Do you really need a nappy bin and bottle warmer when a regular bin and a bowl of warm water do the same thing for less?
"If you are planning to have children, or just discovered you are, this is an exciting time! Congratulations!" says Clara.
"Pay attention to your health and wellbeing, take a good look at your finances and work out what are the must-haves, where you can cut back and where you can save money. Get clear on what type of life you want as a parent and realise that money is there to help you craft that life.
"On a practical level, I always recommend considering where you buy things from – babies don't need lots of gadgets and toys. Could you help manage your finances by buying pre-loved or selling on items after you need them?"
The earlier you start saving and the more carefully you budget, the better prepared you'll be for the impact having a child will have on your finances. 

Baby essentials for first-time parents
According to our survey, here are some of the essentials that new parents spend money on before the baby arrives – and how much they cost on average 1:
| | |
| --- | --- |
| Preparing for baby purchase | Average spent 2019 |
| Pram / pushchair | £334.12 |
| Furniture for nursery | £185.93 |
| Cot / mattress / cot bedding | £165.64 |
| Baby clothes | £131.12 |
| Baby toys | £103.86 |
| Car seat | £118.41 |
| Moses basket / bedding | £61.51 |
| Baby bouncer / swinging chair | £51.11 |
| Nappies / baby toiletries | £46.84 |
| Bottles / steriliser | £42.90 |
These figures represent the averages spent, but some people may spend much more on items such as pushchairs, so its best to be prepared.