By Sarah Lewis
Navigating the politics of living with a new long-term partner can be tricky. Deciding who does what when it comes to household chores needs tackling early on, not to mention dealing with your beloved's array of irksome habits – you know, the ones that tend to only reveal themselves after you've taken the plunge. 

One issue that affects everyone living with a partner is how to split finances fairly.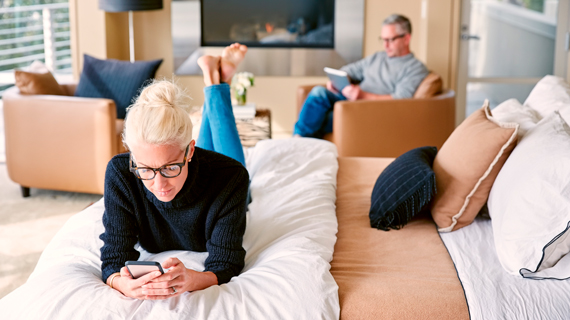 What's mine is mine
More of us than ever are opting to keep our finances as separate as possible according to our survey on shared finances 1. More than a third of people living with a partner admit to not sharing any financial accounts or bills with their other half.
We're secretive too. 1 in 14 of us stockpiles savings our partner knows nothing about and 1 person in 20 is deliberately concealing debt.
Why have shared finances fallen out of favour?
There are lots of reasons why couples might choose not to share accounts, says Dr Philippa Bullemor-Day, a clinical psychologist specialising in sex and relationships.
"Keeping separate finances can help to maintain an all-important sense of identity in a relationship," she says.
"We see couples settling down later in life than they used to, and as a result are less willing to lose financial independence. Keeping separate accounts can preserve this sense of autonomy and help avoid money-related disagreements around spending."
It takes taboo
Less positive factors include a fear of what will happen if the relationship breaks up – the divorce rate is well publicised these days – and a very British habit of not talking about our finances in the first place.
She explains, "Keeping finances separate may be an outcome of the somewhat taboo nature of talking about money, making it difficult to have open and honest conversations."
But there are downsides to managing your money this way. "Separate finances can mean trust and independence for some people, but for others can breed mistrust," says Dr Philippa.
"Working with couples in therapy I see how often money-related difficulties arise and escalate. At one end of the spectrum there can be disagreements over spending and couples not reaching the financial goals they want to; at the other end is the hiding of excessive spending – sometimes related to addiction or other serious difficulties."
Dicing with debt
This is something that Emily*, a marketing consultant from London, discovered last year.
"My ex-husband and I kept our finances completely separate for more than a decade," she says. "Of course, we would talk about our savings and outgoings and I'd raised the subject of a joint account after our children were born, but he seemed reluctant. I barely saw as much as a payslip in all that time."
This setup worked for them until Emily stumbled upon a letter saying her husband had defaulted on a loan, a loan she was completely unaware of. It later turned out to be more than one – he'd taken out multiple loans over the years until he owed tens of thousands of pounds he couldn't repay.
"To this day I have no idea what he spent that money on or why he kept it secret. It wasn't the sole reason our marriage broke down but the deceit was certainly a contributing factor," says Emily.
She ends with unexpected positive, "Although keeping our finances separate had kept me in the dark for years, it's also meant my credit rating is unscathed."
To your credit
This is one of the risks of sharing credit cards, loans and overdrafts, explains solicitor Lucy Haines. "If you enter into a loan or take out credit with your partner, you may find that the lender or credit card company seeks full payment from you if your ex-partner does not pay. 
"Your credit history may be adversely affected by your partner's poor payment history where you enter into a debt in joint names and/or live at the same address," she adds.
Lost property
And things can get complicated when property and investments are concerned, especially if children come along.
"Many people are not aware that people who live together don't have the same rights as people who are married. A 'common law' husband or wife does not exist in law in this country," says Lucy. 
If you're contributing to a mortgage in your partner's name and not married, keeping separate accounts is a risk.
"Where a mortgage is paid from a joint account it is much easier to show that you have contributed towards the purchase of a property, if this is ever in dispute," says Lucy.
"If you're married and then divorce, the starting point for the court is an equal division of all assets, including investments and property, whether owned solely or in joint names 2.
"What if you are not married and the "family home" is not in joint names?  This can have ramifications not only for you but your children as well."
If you don't want to lose your life savings in a split, avoid tying the knot. As long as you're unmarried, any savings and investments in your sole name won't be shared, even if you've been living together.
Money talks
So what's the best way to manage finances in a relationship? If you do some prep beforehand, merging finances needn't be a huge risk, suggests Lucy.
"People's perceptions of fairness at the end of a relationship can be very different. It's therefore better to agree arrangements for finances, assets (including property) and debts at the start of a relationship when feelings towards each other are much more positive," she says.
"By seeking legal advice before moving in together, it's possible to agree financial arrangements to avoid unintended consequences."
Dr Philippa agrees that it's important to discuss money at the start: "Talk about finances early on and often and – if you choose to merge finances – my tip would be to do it gradually.
"Maintain some independence to begin with, either with a personal account in addition to a joint one you both contribute to, or by having an amount you can both spend without consulting each other."
And if you're already living together, it's important to communicate and check-in regularly to make sure the arrangement is still working for you, says Dr Philippa.
"Financial needs will almost certainly evolve with time as the relationship does, so talking about these issues regularly, in a relaxed way and at a neutral time, can help avoid a financial crisis."
*Indicates that name has been changed
With thanks to Lucy Haines, family solicitor at QualitySolicitors Amphlett Lissimore and Dr Philippa Bullemor-Day, clinical psychologist at Collaborate Psychology.
Love and money
Read more from Lucy in a divorce lawyer's guide to sharing accounts, if you're already co-habiting find out how to protect your loved one financially and don't miss our feature on how real couples split the finances in their household.