Retirement poverty: what it is and how you could avoid being a penniless pensioner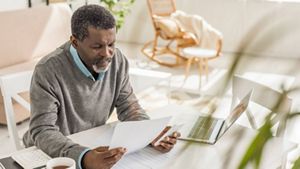 Pension poverty is a growing problem in the UK with many people unaware of just how little money they may have to live on in the future. Thankfully, it's easier than ever to avoid hardship in later life, no matter how close you are to retirement.
By Shilpa Ganatra
We come bearing concerning news, but a hopeful outcome too. The issue at hand is retirement poverty – an affliction that finds nearly two million of today's pensioners receiving so little income they're defined as in poverty 1 – in other words, they're earning less than 60% of the UK's average income.
For those of us dreaming about living out our golden years abroad, treating ourselves to expensive hobbies, or spoiling our grandkids rotten, the fact that retirement poverty is so commonplace suggests our reality could be starkly different. 
The rule of thumb is to aim for a retirement income that's 50 to 60% of pre-retirement earnings – so if your annual income is £30,000, you'd aim for £15 to 20,000 each year in retirement. But "we think around 10 million people in the UK are heading towards an insufficient retirement income based on the earnings they were used to," says Patrick Thomson, Senior Programme Director at Ageing Better, an organisation that aims to improve the quality of people's retirements. "There's going to be a big wake-up call, even more so as it clashes with today's unstable job market."
A changing society
It's not only about an ageing population, although it's true the number of people over State Pension age in the UK is expected to grow from 12.4 million in 2017 to 16.9 million in 2042 2.
It's mostly because workplace pensions aren't the catch-all they once were. Rather than climbing the career ladder with one employer who provides a cushy pension, there's a more flexible approach to jobs, with job changes, part-time working, self-employment and gig economy opportunities added to the mix. It means the responsibility has shifted towards the individual.
Even those who've paid a minimum into a pension might still find themselves short of cash. In previous generations, housing costs were usually paid off by retirement, but with many unable to afford a house and rents increasing 3, more than one in four renters worry about renting into their retirement.                   
Other groups need to be aware of retirement poverty too, says Aviva's Director of Savings and Retirement Alistair McQueen.  Women are particularly at risk because the gender pay gap could lead to less in savings and pensions, and it's doubly worse when opposite-sex relationships end in divorce.
"People may overlook the importance of pensions wealth when it comes to agreeing on a divorce settlement," Alistair explains. "If it's typically the man who has higher income in an opposite-sex relationship, the woman in the relationship would be more detrimentally impacted if pensions have been overlooked. It's important that anyone, unfortunately, going through a divorce ensures that pension rights are considered."
Avoiding retirement poverty
The first thing to do is check how much you can expect once you retire, remembering 50 to 60% of your current salary is generally the ideal.
If that sounds like a life admin task that needs strong coffee and a free afternoon, you'll be pleasantly surprised. Online calculators and quick forms with instant results make it easier than ordering a takeaway, especially if you have a gov.uk account and your annual pensions statements to hand.
Start by checking your State Pension entitlement. As you need to have paid in a minimum to qualify, those who took time off for childcare duties, were unemployed for long periods or lived abroad, will want to be sure. Log on to gov.uk to see your State Pension summary: the weekly amount you'll get in retirement, and when these payments are expected to start. For tax year 2021/2022, the full new State Pension is £9,339.20 a year. You can check if you've paid in enough – and crucially, backpay any of the last six years, which may help your pension amount.
"It's designed to provide a foundation, but it's not designed to be the answer to everybody's retirement needs," Alistair warns. "To drop from the average salary of £30,000 to the State Pension on its own would carry people into the legal definition of poverty."
Which means it's time to check your overall income. Free, no-account-needed calculators like the ones from Aviva and moneyadviceservice.org.uk ask for basic info, much of which you'll find on your annual pension statement. 
Tapping in these details will tell you what you're likely to get, when, and whether it's enough to keep you comfortable in later life. 
A few small changes
If you're hitting your expected targets, congrats! The reality is that many of us won't, and those whose forecast less than £12,000 a year might fall under the definition of poverty. But a few small changes could make the difference, and the calculators come with sliders to show the effect of changing things like retirement age or savings.
When it comes to putting away extra each month, saving into a pension is handy as you won't be paying tax on the contributions. Another person can pay into your pension on your behalf – especially useful in relationships where one person works and the other doesn't. Pensions like Aviva's can be accessed directly, through the workplace, or via a financial adviser.
Investing in a rental property to fund retirement is also an option.
Remember, that the value of your investments can fall as well as rise and you might not get back what you invest.

If you're just about to retire
 You could save more into your pension each month and make smart use of that tax relief. Or delaying your retirement and continuing to work is a popular option, especially as many companies offer part-time and flexible working.
"I was involved in government to remove the default retirement age, so that everyone has the right to work as long as they want," says Patrick Thomson of Ageing Better. "We know that there are biases in recruitment and the workplace, but some companies are doing innovative things, and actually Aviva is one, with work to support their older staff and initiatives like mid-life MOTs. 
"Working longer can help with the finances, but it also fulfils the social aspect, and gives people structure, purpose and identity."
Another option to consider, and especially useful for the retired, is equity release. 
"As the name hints, you take equity, or money, out of the value of your property while staying in the property," says Alistair. "This product must be accessed by a financial advisor so that you fully understand the mechanics. And it's always recommended that if you are considering equity release, consult with your wider family as they may be looking upon your house as an inheritance."
There's a wealth of other options to investigate – like tracing lost pensions, combining pension schemes, investing in stocks and shares, or ISAs to gives you quick access to the money if you need it – but they can all follow once you know your shortfall, no matter how close to retirement you might be. As Alistair says, "it's never too late to start saving".