It's what you do with it that counts – three people share what financial advice did for them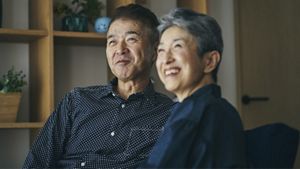 When it comes to your retirement and investments, can you really afford not to take financial advice?
By Steve Smethurst
Putting off or simply ignoring the thought of getting some expert help with your money might not seem like a biggie. But Mary Harper, Director of Aviva Financial Advice (AFA) explains that too many people believe they don't need financial advice – and are losing out as a result. "When asked, the majority (67%) of people who don't take advice, say they don't see a need for it. But of those with more than £10,000 of investible assets, 37% were holding their assets entirely in cash and a further 18% were holding more than 75% of their investible assets in cash. 1 This means they potentially aren't seeing any growth and the value of their savings is being eroded by inflation.

"In contrast, research suggests people who do seek financial advice are, on average, £47,000 better off in the long term. 2"

We spoke to three people who used AFA to find out the impact its made to their money – and their lives as a whole.

A confidence booster – that's what financial advice was for Richard and Roger 

Richard came across AFA when his workplace put on a wellbeing week for staff. As part of this, an adviser from Aviva was on hand to carry out financial reviews for employees.

Richard, 44, a radio-technology specialist, says he understands a little about investment and had started to make some decisions about his pension, but lacked the confidence to know whether he'd made the right choices. He found the session really useful.

"In the past, I've suffered from thinking my pension is for later in life and too far away to worry about. But you reach a point where you think, actually, it's going to become my main source of income. So why wouldn't I want to maximise its potential?"

Roger, 67, was similarly concerned. As he neared his retirement date, he was faced with making big decisions about his pension investments. "I started to feel anxious about it – whether it would be enough to live on. I understand pensions to some extent, I just didn't feel confident because when you're looking at everything online it seems so risky to make big decisions at the click of a mouse."

Met with patience and understanding  

My adviser was very switched-on. He gave me the confidence to make the decisions I needed to.
Roger had previously tried to speak to an independent financial advisor (IFA). "I contacted three or four. Unfortunately, I didn't get much out of the conversations. They didn't seem that interested and I didn't get much reassurance. There was no patience taken, no sitting down and trying to work out how you felt about it." 

This was in stark contrast to his Aviva experience, he says. "My adviser was very switched-on. He gave me the confidence to make the decisions I needed to.  I'd assumed that with Aviva being a big company, they wouldn't be interested, but it was the opposite. They were very patient and understanding."

Helping to plan during the tough times

Someone else who's benefited from AFA is Suzanne. The 59-year-old had an active job as a manager of apartment hotels in Nottingham until she was diagnosed with bowel cancer in 2015. "The treatment involved radiotherapy and chemotherapy, which meant I couldn't physically do it anymore," she says. 

Suzanne had a couple of pension pots and, as her family needed to get some work done on their house, she was thinking of cashing the smaller one in. She called us on a friend's recommendation. She says: "I had previously sought advice elsewhere about pension options, but I came out more confused than when I went in. It was only when I became ill again recently that I realised I really did need to sort it out." 

Suzanne says that while she can balance the family budget, financial planning on this scale isn't something she's comfortable with. "Fortunately, my advisor explained everything really clearly in layman's terms," she says. "She went through the whole process and updated me via email and Microsoft Teams. It was really straightforward."

Different circumstances, same positive outcome 

I'd absolutely advise people to get help with their future planning.
Suzanne is pleased with the advice she's received and urges others to follow suit: "I'd absolutely advise people to get help with their future planning,"  she says. "You never know what's going to happen and it takes away a lot of the stress about money."

Richard too was delighted. "I hadn't realised that Aviva offered this service and I can't fault it. I was particularly struck by the level of preparation that my adviser has gone to each time we've met. It's early days, as I'm only a year into it, but the pension has performed well.  I'm more than pleased."

It's early days, as I'm only a year into it, but the pension has performed well.
And we've got the figures to show other feel the same. Mary says that of all the customers we've spoken to over the first three months of 2021, "97% would recommend AFA." 3

Advice for everyone

"At Aviva, our aim is to make advice more relevant and accessible for more people," says Mary. "It's clear that the expert support provided by a qualified financial adviser makes a huge difference to people when they are planning for retirement. So, we're building a menu of services that will provide a range of options for people to pick and choose from to suit their individual needs."

Nearly half of our financial advisers are women 

Another factor that makes our financial advice different is that while IFAs are predominantly male, almost half (42%) of our advisers are female. Mary says: "This is important as our own research found that women are much less likely to seek financial advice than men, so we hope this will help to redress the balance."

Pensions, investments – we can advise on it all 

Anyone looking for financial advice on their pension or investments can contact AFA. There's no need to be one of our customers. Mary says "Whether you're saving for a particular target or moving into retirement, we can help. It should be particularly beneficial to those who are at a point when they have to make complex decisions as their needs change.

We can offer a range of services from pension support through to full financial advice. And while we can review all your pensions and investments – no matter who your provider is – we can only recommend products from Aviva.  We have an outstanding reputation and heritage, so will never advise customers out of a product that's right for them, or sell them products they don't need."