Your essential guide to debt - it's not as simple as 'good' or 'bad'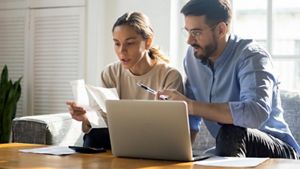 You'll often hear some debts described as 'good' and others 'bad', but what does this mean and how do you know whether it's worth taking on a debt?
By Steve Smethurst 
The number of UK adults with 'low financial resilience' — that's low levels of savings and low or erratic earnings — jumped from 10.7 million to 14.2 million over the course of 2020 . What's more, the UK's Financial Conduct Authority's survey revealed that 16% of respondents expected to take on more debt to cope with their financial hardships. The pandemic has clearly played a role in this, increasing the pressure on many people's finances by making once affordable debt unaffordable. 

However, it's important to note that debt comes in a variety of guises and although it's natural to assume the worst, it isn't always the case. For example, while the FCA report reveals that 17% of mortgage holders have taken up a mortgage payment deferral , this could be viewed as a positive as it allows them to manage their finances more effectively. Furthermore, mortgages are among those borrowings often classified as a 'good' debt. 

It all comes down to why you're borrowing — and whether you can afford it. So what should you ask yourself before taking on a debt?

Four questions to ask before taking on any debt

What are you using the money for — is it something that will add value, or more of an impulse buy?
Do you need to borrow money — is there another way you could pay for it?
Have you shopped around and checked out different methods of borrowing (e.g. credit card, personal loan) to find the cheapest option? Many providers offer 0% interest on borrowing for a certain period, which could significantly reduce the cost.
Finally, can you afford the debt at that price, not just with your current income, but with any potential changes to your income that could happen in the repayment period?
When can debt be good? 
'Good' debt is often described as a necessary or sensible investment in you or your future. The usual test is: 'is it something that will help you to be better off in the long-term?' 
Aviva's Head of Workplace Savings and Retirement Laura Stewart-Smith explains: "Good debt will often be well-structured, on the shortest feasible borrowing time and using the most appropriate borrowing vehicle." This typically applies to mortgages, home-improvement loans and business-start up loans.
Laura says: "Student debt can also count as a good debt as it should hopefully allow you to improve your earning potential for later in life. Another example might be for a car that allows you to get to work to be able to earn an income that improves your financial situation."
What are the debts to avoid?

In contrast, 'bad' debts are typically not well-structured and may not be affordable. They're also unlikely to offer you any advantage in the future. Some people may think the current low interest rates should mean consumer borrowing is cheaper. But it's important to think about whether you could still afford that debt if the interest rate went up, because it could. 
Laura says: "Examples of bad debt would be borrowing money to upgrade to the latest smartphone when you already have a perfectly good one and aren't sure how you will pay for it. Or choosing to go to Barbados when your budget only stretches to Bognor." 

Credit cards can also be considered a bad debt, especially if you're only paying the minimum off each month. Pay-day loans — taken out for a short-term emergency — can lead to debts mounting if not paid back quickly. Buy-now-pay-later offers, while tempting, also add to the burden if people are struggling financially. 

The line between good and bad debt can be a blurry one 

"Certain types of debt can be more problematic than others if you're unable to pay them," says Andy Shaw, Debt Advice Coordinator for the charity StepChange, which helps more than 600,000 people a year with their debt problems. "We call these 'priority' debts. These include your mortgage, rent, council tax and child maintenance. They're classed as priorities because the consequences of not paying them are greater. For example, if you don't pay your rent or your mortgage you could lose your home. 
It's also important to note that most people don't get into trouble because they have 'bad' debts. The majority of people who come to us for help have instead had some sort of life event that's affected their income and ability to pay back otherwise affordable lending," he says.

Laura agrees and stresses that 'good' debt is only good if you can afford to pay it back. She says: "It's important to only ever borrow what you can afford to pay back and think carefully about how you would manage if your circumstances changed."

Getting your spending in order can help tackle debt 

Organisation is key to budgeting, but knowing where to start can be daunting. With our budgeting planner, all you need to do is add in your income and outgoings — the calculations will be made automatically for you. This should help you see what's coming in and going out each month and make budgeting easier.
Ask for help if you're struggling 

If you're in a situation where you feel your debt is becoming a problem, the most important thing to remember is you're not alone, and there is, completely free, expert help out there. Whatever level of debt you're in there are organisations like StepChange, Money Advice Service and CAP to help you.
"We'll also do everything we can to support you if you've been affected by coronavirus," says Laura. "You may be able to review your cover online to ensure it still meets your new circumstances. You can also change the date your Direct Debit is collected. We won't charge a fee to make certain changes to your policy either, such as amend your payment dates. 

"What's more, on some of our insurance products you may also be able to defer your monthly payment and spread it evenly over the remaining term of your policy. It's not suitable for everyone as it means paying back higher monthly payments in the future. However, this may be preferable to missing a payment, which may mean you run the risk of your policy being cancelled and leaving you uninsured."