How buy-now, pay-later shopping splurges can affect your mortgage application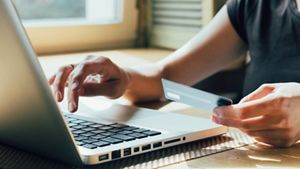 If you think interest-free payment plans like Klarna, Laybuy or Clearpay seem too good to be true, you could be right.
While they're great for getting out of short-term financial shortfall, frequent use of payment plans and payday loans can damage credit ratings and prevent mortgage applications from being approved.
By Louisa Fletcher
Payday loans, short-term loans and those 'buy now, pay later' schemes all seem so harmless, don't they? Designed to make an indulgent purchase a little easier to afford or offer a 'helping hand' to bridge the gap between now and when you receive your salary but need emergency funds to pay an unexpected bill, they can seem like the easy option. After all, it's only a few hundred pounds and you can pay it off over three or four months, so what's the harm, right?
Well, that all depends. If you're aiming to buy a home in the foreseeable future, it could make life rather tricky.
Protecting your credit score
You see, borrowing even a couple of hundred pounds or so on a payday loan, regardless of whether or not you repay it in full and on time, leaves a 'flag' on your credit file for six years.
While some short term and payday loan companies suggest that having a successfully repaid loan can increase your credit score, there is another major factor to consider that doesn't always seem to get the airtime it should.
That's because the impact of having had a payday or short-term loan or using 'buy now, pay later' shopping instalment plans in the past may have serious consequences on a future mortgage application.
Many mortgage lenders view payday loans, short term loans and even the interest-free buy now, pay later instalment plans as a 'red flag' when it comes to how a prospective borrower manages their money from month to month. As far as a mortgage underwriter is concerned, regular use of these types of loans and instalment plans can indicate financial difficulties, or perhaps a lack of money management skills.
Part of the bigger picture
As part of your mortgage application, the lender will assess your credit score and your credit file, which is where they're likely to find out if you've taken out any payday loans, short-term loans or used buy now, pay later schemes over the last six years. Your credit score may be OK, but if you've been a frequent user of these sorts of loans or payment plans, it could lead the mortgage lender concluding that you may be at risk of running into financial difficulties once you have a mortgage and therefore rejecting your mortgage application.
This is particularly likely to be the case if there are other indicators on your credit file, such as your bank account frequently going over-drawn, or long-term outstanding balances on credit or store cards with only the minimum payments being made each month. It all forms a picture of how you manage money, which is what the mortgage underwriter is seeking to establish.
Then, of course, there are problems if you miss a payment. For example, if you spot that pair of shoes a few days before your salary is paid at the end of the month, chose to use a three- or four-month payment plan (sometimes referred to as 'paying in slices' or 'slicing' your payment) and then for any reason subsequently miss a payment, this can sit on your credit file for up to six years.
Again, this would be picked up if you apply for a mortgage at a later date and could raise questions from the lender, possibly even contributing towards you being refused for a home loan.
Be cautious
The bottom line is that if you're going to be applying for a mortgage, either to purchase a property or re-mortgage your home, it's best to avoid using payment plans, payday loans, or any other form of short term finance for at least 12 months beforehand, as well as making sure you've either cleared any credit cards or are repaying the amount owed as quickly as you can, rather than just servicing the interest and minimum payment.  
If you've used payday loans in the past and are about to embark on your mortgage application, talk to your mortgage adviser as soon as you can and give them all the details so that they can then assess how best to approach the situation. If it was a one-off a couple of years ago and you've repaid the amount outstanding fully, while it doesn't look great on your credit file, it might not impact on your mortgage application if you've managed your finances well overall.
However, if this is a recurring theme and the lender can see that you've used short-term loans, payday loans or buy now, pay later plans on multiple occasions over the past few years, then your mortgage adviser may suggest that you wait 12 months before applying for a mortgage to sort out your finances first.
Savings can save your score
So, how can you avoid using a short term or payday loan for those unforeseen expenses?
Putting away a set amount a month – perhaps setting up a standing order to help you do so – will mean you should have enough in your account when you need to buy or pay for something, without having to lean on a payday loan.
As for those who see interest-free payment plans such as Klarna, Laybuy or Clearpay as the easy way to purchase that new outfit, although it may seem a convenient way to shop now they could cause a lot of issues down the line, long after you've given those designer items to the charity shop or recycled them. In other words, resisting the temptation to splurge now could save you a lot of aggravation later on.