Net zero, solar and policy – three ways we're investing in a better future for all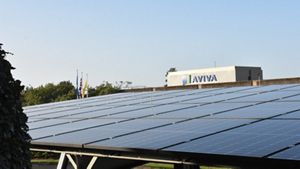 As a global business in the world of pensions and investments, focusing on climate change and sustainable practices is more important than ever.
By Sayjal Mistry 
Giving you more options to invest your money into sustainable funds and putting our money into building a greener future are both top priorities for us. 
It's why we're involved in all sorts of projects to make sure the money you put into your savings and investments is going into things aimed at changing the world for the better. 
Here are three ways we're investing in a better future by looking at how we invest your money, how we power our business and how we make a difference to policy. 
1. Options to invest responsibly
Investing money into funds which can help address climate change and sustainability issues is more important than ever. And we know you share this view. 
In a recent survey 1, 71% of millennials we spoke to said they'd invest in an environmental, social and governance (ESG)/ethical-focused fund through their workplace pension (if it was available and easy to do). It's this same group who are most concerned about climate change. Of those due to retire in the 2050s (aged 25-34 today), 77% are worried about climate change. But only 37% of the people surveyed know that their pension can play a key role in tackling this imminent issue.
We launched a pension investment strategy for our workplace pension customers that's based on the Aviva Stewardship funds (the Stewardship Fund was the first ethical fund of its kind to be launched in the UK). The funds look at a company's environmental, social and governance (ESG) policies. The funds won't include businesses that invest in tobacco, pornography or coal mining. By being selective with our investments, we can influence other big companies to change their practices too.
We're also part of the United Nation's Net-Zero Asset-Owners Alliance. It's an agreement between the world's biggest pension insurers to achieve net-zero emissions in investment portfolios by 2050. This target is in line with the Paris Agreement and the Government's own net-zero target. 
We've set our own 2050 target — net-zero carbon emissions for our own auto-enrolment default pension funds. We know the sooner we reach this target, the better. That's why we're even looking into the possibility of 2030 target.
And to help us get there, we're planning on investing more than £5 billion into low carbon equities and climate transition strategies across our default funds over the next 18 months — with a view to increase this level of investment after that. 
2. Using solar to power up 
We care just as much about making positive changes towards a greener future inside the business too. It's why we've partnered up with the Scottish Government to launch one of the UK's largest solar and energy storage initiatives — powered by Tesla Powerpack technology — at our Perth office 2. 
Our eco-powered carport covers 342 carpark spaces and features 50 electric vehicle charging stations. It's expected that the carbon emissions savings we'll be making from this all-new structure will be equal to powering more than 500 homes or a small town, year on year. 
"The solar carport is a really innovative way to generate green energy, tackle climate change and reduce our environmental impact," says Stuart Wright, Aviva Property and Facilities Director, "It's ready for the future with the electric vehicle revolution just around the corner."
This move tackles climate change at the community level and supports the Scottish Government's low carbon infrastructure transition programme nationally too. 
Now we know what can be achieved, we hope it encourages other businesses across Scotland and the whole of the UK to use similar technology to power their organisations in a sustainable way. 
Learn more about our Scottish solar-powered project below. 
3. Changing the law
As important as it is for us all to do what we can, changes need to be made at the highest level to make the biggest, lasting impact. So we're speaking to governments and regulators across the UK about these issues.  
We've already been involved in policy changes in the UK and across Europe. We managed to get the UK listing environment changed so that all companies listed must now publish their greenhouse gas emissions. 
And we've asked for a change to the current Pensions Schemes Bill too. As it stands, the Bill says pension funds in the UK should state how they'll report on their exposure to climate change. But we're asking them to go further — we want the Government to pass a law so auto-enrolment default pension funds are required to reach the net-zero status by 2050.
By giving you the opportunity to invest in ESG funds and being committed to hitting our 2050 net-zero target, investing in projects to power our buildings sustainably and working collaboratively with government to influence policy, we're taking vital steps to help create a better future for us all.