Climate crisis: why where we invest our money is more important than ever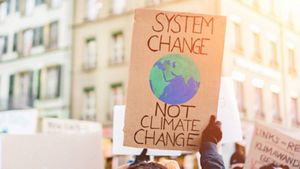 Find out about Aviva's ethical funds and how you can help to convince other companies to commit to saving the planet.
By Steve Smethurst
The warning voices about the threat of climate change are growing louder and more persistent – it's clear that everyone needs to do more. Global heating of 4°C above pre-industrial levels by 2100 remains all too possible – which, in the words of The Guardian, will lead to a future of "drowned cities, stagnant seas, intolerable heatwaves and entire nations uninhabitable" 1.  
Aviva is doing what it can. It took a significant step in 2006 when it announced it was going carbon neutral for its business operations globally. In the years since then, it's continued this pathway and November 2019 marked another milestone.
The United Nation's Net-Zero Asset-Owners Alliance is an unwieldy name for a major initiative in the battle to save the planet. The alliance brings together the world's biggest pension funds and insurers to commit to net-zero emissions in their investment portfolios by 2050, which is consistent with limiting maximum temperature rise to 1.5°C. 
Ethical dilemmas
Aviva is also developing criteria about what does harm in environmental terms and already has an investment stoplist that currently excludes companies associated with land mines, weapons including nuclear, biological and chemical, civilian firearms, ammunition, tobacco and several thermal coal mining and power generation companies.
It's up to your personal values on whether it's ethical or not.
However, these decisions are not always black and white. As Zelda Bentham, Aviva's Group Head of Environment and Climate Change, says: "When we look at companies involved in thermal coal, for example, it might be that only 15% of their revenue comes from thermal coal and the rest from renewables, so what is a thermal coal company to one person may be viewed as a renewable energy company with some legacy fossil fuels to another.
"Even with the best companies in the world, there's always something that won't sit well with one or more groups or individuals. There's a balance that we need to get right and that's where environmental social and governance considerations (ESG) come into effect. 
"The focus of ESG is not how ethical you believe a company to be because there's such a wide range – from adult entertainment to gambling through to fossil fuels through to controversial weapons. It's up to your personal values on whether it's ethical or not ." 
Aviva launched a default ESG product for workplace pensions in July 2019. Pension customers can check with their employer if ESG funds are available for them. 
It's shaped in three ways. Exclusions mean that companies with significant involvement in tobacco, pornography and coal mining, for example, have no place in the funds. Aviva then works with companies to improve how they conduct their business and it actively measures the ESG performance of the companies in which the funds are invested.
You have the power
Zelda is clear that while Aviva can do a lot, customers also have to make investment decisions based on their ethical values. "Yes, we're an asset owner and we have complete control over our assets," she says. "The challenge that we have is we have lots of customers with lots of pensions with us but they have the investment mandate. We can't significantly change things on their behalf and we need to make customers aware of what they can do."
Zelda suspects that many would change their investments if that awareness was greater. "Just think how many people buy Fair Trade coffee and avoid single-use plastics. Yet the chances are that their pension is invested in companies they wouldn't approve of. 
If everyone insisted their money was invested responsibly, it could have a transformative effect, unleashing trillions of pounds in sustainable investments. But people rarely ask.
"If they don't know where it's invested, they can't do anything about it, they can't switch or make choices along the lines of their values. Aviva as a pension provider can't make those decisions for them.
"Ten years ago, it was really difficult to switch electricity supplier. Now it's down to as little as three clicks. We're almost at that stage with pension options. For people's workplace pension there will be alternative funds and it will simply take a few clicks to move your pension to somewhere else.
"Pension funds invest the savings of millions of people and they have huge power. If everyone insisted their money was invested responsibly, it could have a transformative effect, unleashing trillions of pounds in sustainable investments. But people rarely ask." 
Everything needs to change
In the fight against climate change, Aviva offers people the choice to put money into a blend of environmentally and socially responsible investments via its Wealthify platform. 
Recently, we've launched a new fund that will focus on the transition to a low-carbon economy.  The Aviva Investors Climate Transition European Equity fund will invest in companies that derive income from goods and services that address climate change. It will also allocate to companies aligning their business models with a warmer, low-carbon world.
Aviva's CEO, Maurice Tulloch, says "The planet does not have time for excuses. Investors have a central role to play in moving the world to a low carbon future."
As climate-change campaigner Greta Thunberg has said: "I want you to act. I want you to behave as if the house is on fire – because it is 2."
Money talks
Aviva's Chief Responsible Investment Officer Steve Waygood says that the company is determined to push companies in the right direction. As an example, he cites the case of EasyJet.
"We raised concerns with the airline business more than 10 years ago. We wanted to know their strategy on climate change as they didn't seem to have one. They said it wasn't relevant to their business. 
"A year later it was the front cover of their annual report and accounts – they were advertising the fact that they had the most fuel-efficient fleet of their kind in Europe. More recently, they've tried to differentiate their business by offsetting their emissions as well. They've come full circle and it represents the kinds of conversations we're having with pretty much every company." 
Steve feels that things have changed 'immeasurably' in the past two decades. "We've been using votes on AGMs for a few decades to promote better practice, whether or not there's a shareholder resolution. We'll vote against a company's report and accounts if it doesn't include data we want to see, we'll vote against the re-election of a director, we might even vote against their executive remuneration to focus their minds and attention on how they should speed up the transition," he says.
However, he makes the point that while it's possible to engage with a company to improve it on climate change and greenhouse gas emissions. It's harder to change a coal company's business if they are a core extraction business. 
"People in my team used to dream of a day where our fund manager colleagues and all the companies that we owned routinely understood that climate change was a material issue. That day is a reality now but it doesn't mean we've solved it. It just means they've realised there's a problem."
Like Zelda, Steve feels that investors and those with pensions invested in funds need to put their money where their values are. "We're heading towards a future in which investors recognise that their money shapes their world and they want to shape the world they wish to retire into and bequeath to their children in a very positive way," he says.
"I'd urge everyone to read the fund documentation and assure themselves that what they're getting is what they would want to see. Money talks and everyone should know theirs is saying."