Why it's so easy to fall into debt, and how to overcome money problems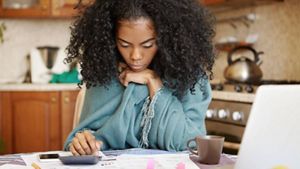 Zero-hours contracts and rising rents are driving more people into debt. We explain where to go to for free financial advice and what are the pitfalls to avoid.
By Steve Smethurst 
You could be forgiven for thinking that Lynn James has got it all sorted financially. She runs a phenomenally successful personal finance blog, Mrsmummypenny, and has appeared in The Financial Times, Sunday Telegraph and The Sun. Yet it's only in the past year that she's been able to finally pay off thousands of pounds of debt.
In a recent blog post, she wrote: "Believe me, I have been there. I have been on the long journey of paying down that debt. Last year, I finally paid off £16,000 that had built up on credit cards. I hid from it for a long time, before finally realising that I couldn't go on. I had to come up with a plan."
She told Aviva: "I receive messages from people who have read my story almost every day. The messages are often the same, its people in the same position. They are grateful to know that another person has been in their situation and has got out of debt. They feel inspired to make big changes to become debt-free."
Snowball effect
Unfortunately, getting into debt is all too easy, whether it's due to compulsive gambling or shopping, not budgeting wisely, taking out the wrong type of loans or simply not having savings to help weather a short-term financial crisis.
Will Berrington, a spokesperson for the debt-advice charity StepChange, reports that it gets more than 650,000 calls a year, a number that has been growing year on year. The charity estimates there are now 3.3 million people in severe financial difficulty in the UK, and the average client debt they saw in 2018 was £13,544. 
Younger people also tend to be faced with higher living costs, particularly if they rent.
"We've seen an increase in the number of people coming to us and an even bigger increase in the number of young people – particularly under 40s," says Will. 
Why is this group particularly affected? "One significant factor is younger people being more likely to have potentially insecure incomes, for example, because of unpredictable working patterns such as zero-hours contracts. Younger people also tend to be faced with higher living costs, particularly if they rent. We've been seeing a high proportion of renters."
But it's life events that are the most common cause of debt among StepChange clients. "You may lose your job, fall ill or it could be something as simple as a relationship break-up," says Will. "Suddenly, you've lost a portion of the income that you'd relied on to pay household bills or repay debts. And if you fall behind, you're hit with charges. You can see very easily how it snowballs."
Seeking help
There's never a wrong time to start seeking advice, says Will. "It's one of those things that people often think they can't do until they reach the end of the line, but I've never spoken to anyone who didn't wish they'd got in touch with us earlier. 
"Even if you think you are financially healthy, but just want a hand, then we can still help. We exist to advise people with problem debt, but we've got budgeting tools and money tips on our website that can stop you getting into that position." 
Early intervention is something the charity is particularly passionate about as the sooner someone can identify signs of financial distress the better. Obvious ones include more money going out at the end of the month than coming in; difficulty in making minimum payments, and also struggling to make payments that would allow you to pay off the debt in a reasonable period. 
You might even be tempted to cancel things like home or car insurance, but this can have disastrous consequences.
"There's no harm in calling up a financial helpline," says Will. "All you'll find is someone very friendly, trying to help you evaluate your financial situation. No one is going to judge you. And we're always happy to help."
Charities also recognise that for some people it's difficult to have a conversation about debt out loud and StepChange has online services that operate 24/7. "We want people to know that if they do feel affected by the stigma around debt that seems to exist in society, then they can use the online service. We also understand that most of the time it's something that people will struggle to talk about."
A long journey
Lynn confirms that paying off debt isn't easy. "My confidence changed throughout the debt-repayment journey. In the beginning, I felt motivated and determined. I had a plan and I knew roughly how long it would take to pay off the debt. I worked hard to save money on everything and to generate extra cash. I had to pay it off if  I'd told thousands of blog followers that I would!
"Even so, my confidence struggled when the debt repayment went backwards. The summer holidays during the two years were tough, my outgoings were higher than my income and my debt increased. I remember feeling like it would never be paid off.
"But then, during the winter months, when income rose and costs reduced I was able to make big repayments; sometimes £1,000 a month and my confidence came surging back."
Even today, she takes nothing for granted. "It is a challenge, as you never know what life might throw at you to change your financial position. In the short term, I know that my income is more than enough to maintain mine and my family's lifestyle and I can save money.
It is a challenge, as you never know what life might throw at you to change your financial position.
"But this could change. To give myself a huge feeling of security I have protected myself with income protection insurance so I know that if I get ill everything will be fine. But if anyone is unable to make their minimum repayments or is struggling with the interest charges, they should speak to and organisation like Step Change, CAP or Citizens Advice Bureau. All are helpful, if increasingly overstretched, organisations."
Fair, impartial, free
A final piece of advice comes from Will: "One important thing to mention is that if you're searching for debt advice online, be aware that companies buy the advertising space at the top of Google search pages to make you click on them without looking any further. They have names that are purposefully similar to free debt-advice services, but they are not the charities and may charge you. People need to scroll down past these sponsored adverts and click on the actual charity to avoid the risk of ending up on a plan you didn't expect.
"With us, you'll speak to a fully trained debt advisor and the advice we give will always be fair, impartial and free. It's also worth noting that, in 2018, £110 million in debt was written off with StepChange support, and three months after being given advice 60% of our clients said their overall financial situation was better than before seeking advice. Even better, 12% said their debt problem was completely resolved."
So, if you're at all worried about your finances, seek advice.
Lynn James' three steps to tackling debt
Be brave and face up to your debt, add up the balances and understand the interest you're paying or how long the interest-free period may be.
Restructure your debt if you can, move cards where you are paying interest to a 0% deal. 
Take a good look at your monthly expenses and work through everything to get the best deal. Switch your energy, broadband, mobile, insurance to ensure you pay the best price. Check your mortgage is on a good fixed or variable deal rather than on the standard variable rate. Switch your food shopping to a cheaper alternative like Aldi or Lidl. There are so many changes you can make to save you hundreds, even thousands a year. Yes, you might feel restricted and that you're maybe missing out, but it's worth it just to be debt-free in the long run.