The secret to my ethical success. Advice from an entrepreneur
Entrepreneur and founder of ethical shopping app Rootip, Ali Nourbakhsh shares his secrets for making money, staying true to your values and building a career you're passionate about.
By Sarah Lewis
Hi Ali! You're the founder of Rootip, an app which shows people where the products they buy come from and how they are made. When did you start Rootip and why?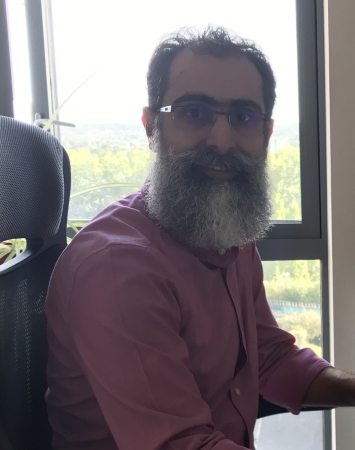 One morning in February 2019, I woke up with the realisation that we buy so much stuff and have no idea where it comes from.
Prior to the Industrial Revolution, we knew where things came from. There was a direct relationship between product and consumer. Since then this relationship became more and more complicated and, today, we humans tend to just consume stuff without asking where it's from.
But what if you could see the story behind the product, see the real person behind it? 
Say you're shopping for a dress online. What if you could also see the work that's gone into that dress, see the creator and perhaps hear why they love their job?
This is what Rootip aims to do – to connect the consumer with the producer. 
You can also tip the producer to show your appreciation. This is important as often only a tiny percentage actually goes to the people making the product.
I read once that if you buy a £2.50 coffee in London only around 1p goes to the farmers that produced it. That really shocked me. I'm a conscious consumer, but when I buy a coffee I'm a part of this system.
If the producer is tipped five 20ps a week, that's potentially a lot of money for them, but expressing gratitude is just as important. Rootip lets you thank the producer of your dress or coffee and make them feel appreciated for their work.
How did you get into tech? 
I knew I wanted to be involved in software early on. I studied Computer Science with Artificial Intelligence at university but I was also interested in business so later did an MBA. I love learning. I've worked in a number of different industries from video games to public transport to financial services.
That's the great thing about working in software – your skills are transferable, and you can take what you've learned to the next job. Video games for example – how do you gamify a product? Make it fun and easy for the user? Of course, you need to really understand the industry and the customer too.
Rootip isn't my first start-up but it's the biggest and is all-consuming.
What advice do you have for people in the early stages of their career?
It's undoubtedly a difficult time if you're just starting out. The whole world has been disrupted, but this means it's also a great time for new concepts and ideas. 
I grew up overseas and when I came to the UK I found it hard to get jobs because of VISA issues. Then the first iPhone came out and I thought: 'this is what I want to do'. I did all the online training I could and started to create basic apps by myself. This became my CV.
So get out there and do what you're passionate about. Find like-minded people. Promote the things you enjoy – whether that's starting a blog or creating something in your own time. Even if you don't have a job, this will build a CV.
We live in a time when it's easy to self-educate. You can learn the guitar or another language on YouTube, or take all manner of free courses from universities. If you're having a tough time finding work, build your skillset so - when the market picks up - you're in a strong position.
Talk to people in the industry you're interested in. There's a wide variety of roles in tech – from PR to testing – start-ups always need more help so you can always get in touch and see if there's anything you can do.
What is the most valuable lesson you've learned when it comes to money? 
Personally, it's to be prepared for change. If you're having a good time, a bad time will come eventually and vice versa. 
If you have a good job don't spend all your money, save it, especially in easy-access savings accounts. Your employer could go bankrupt tomorrow. In the same way, if you're having a hard time believing that things will change eventually. Don't lose hope.
And in business?
Be a camel, not a unicorn! As an entrepreneur, I've learned to think about costs and outgoings before revenue. If these are small it gives you a buffer to survive when revenue isn't coming through the door.
You may have heard about 'unicorn' start-ups – start-ups which make a great deal of money quickly and seem almost too good to be true.
But there's a school of thought that says it's better to be a 'camel'. Camels have a lot of savings so they can survive a bad patch. It's all about survival.
What was your best decision?
Rootip was my best decision. When I came up with the idea I was sure that this was the future of e-commerce. I would have never forgiven myself if I hadn't given it a chance.
And what would you like to warn other people against? 
Obviously don't take crazy risks – but don't underestimate yourself either. Don't self-censor. People do this all the time, quite unconsciously. If you want to be a vet or get into coding or marketing or fashion or whatever it is you're passionate about – don't tell yourself you can't before you've even tried.
What are the three most important things to consider when starting a business?
There are three important principles when defining a new project: the right idea; the right people, and the right time.
The right idea means you need to understand the end users' needs, know how to market it to them and how it will make money.
Even if you have the right idea, if you don't have a team with the right skills or who work well together, you can't do it. 
Finally, if the timing isn't right it will fail. Amazon is a market leader in online selling but other companies tried doing this before Amazon and failed.
It was the right idea but at a time when download speeds were slow and not many people were connected to the internet. When internet use grew, the timing was right.
Is the timing right for Rootip?
I was sure before COVID-19 it was the right time in terms of consumer appetite to know where products come from and I knew that the data was available. There's a lot of chaos right now but I still believe it's the right time. People and businesses are changing, becoming more ethical.
Take what's happened to Boohoo in 2020. In two days more than a billion pounds was wiped from its valuation. That shows that people really do care about the story behind a product.
Businesses can behave ethically but how is the sub-contractor of a sub-contractor behaving? If big corporates realise that this is what customers want, the business model will change. 
You can find out about Rootip at Rootip.io. Download it from the App Store or Google Play.
Aviva's values
All of Aviva's investment funds are ESG – which means we only invest with money in companies with ethical social, environmental and governance policies. Find out more here.