Six simple ways to boost your income in the short term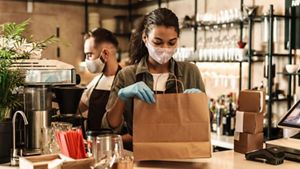 With the future so uncertain and finances being squeezed, how can we free up some cash? Here are six potential solutions.
By Steve Smethurst
Personal finance blogger Charlotte Musha has a golden rule when it comes to tightening up our finances: "The first step is to work out how much we spend each month, otherwise we won't know how much we need to bring in," she says.
"People often don't know where their money goes. Whenever I ask: 'How much is your water bill each month?', most can only guess."
Ultimately, there are only two ways to tighten up — by finding a way to bring in more money, or by reducing your outgoings — ideally both. "It means we have to get nerdy about numbers." says Charlotte.
1. Devote time and energy to saving
Tracking down old bank accounts, pensions and Premium Bonds is a useful first step, says Charlotte. "Websites like Money Saving Expert can help, as can MyLostAccount. You may not track them all down using these tools, but it's a good starting point."
It's also worth going online to check your direct debits. "I had one come out for business insurance once a year, which I'd cancelled with the company, but not with the bank," says Charlotte. 
A third area to look into is benefits. "A lot of people assume that they're not entitled to benefits because they work over a certain amount of hours a week, or someone in their household does. But you could be entitled to child tax credits or child care if you're on a higher wage — it depends on your situation (the website EntitledTo may help). Plus, lots of areas and organisations offer hardship funds." You may also be able to get the Government's Cold Weather Payment if you're on certain benefits and you might even qualify for Warm Home Discount Scheme. 
2. Cut back on your spending
Eliza Flynn is a pre and post-natal movement specialist who helps people prepare physically and mentally for the challenges they'll face as parents. When faced with financial pressures, she knew immediately where to make savings. 
In lockdown, Eliza was doing less face-to-face work and to get away from distractions at home, she chose to work from a nearby café. 
"I worked there two days a week and I'd buy drinks, lunch and a snack or two."
These costs soon mounted and, faced with a dwindling bank balance, she cleared out a room at home that had been used for storage. 
"I stopped working at the café in mid-July and, by the end of September, I'd saved at least £350 on food and drink, plus I don't have to stop work at 5pm when the cafe closes."
3. Make eBay your friend
Research from auction website eBay suggests that the average household has 42 unused items lying around that could be worth up to £2,600 1. Freelance journalist Peter Crush has been successfully selling many unwanted items in this way and has recently mastered the art of buying and selling Ian Fleming first editions — even launching a dedicated website.
At first, he bought what he could afford – often somewhat tatty books — but he found that he could work eBay to his advantage. He used his writing and photography skills to create more engaging listings than had originally been used and found he could invariably sell his old books for more than the cost of a better replacement.
Peter doubts that Bond sales will overhaul his writing income any time soon, but it's already a proven valuable income stream.
4. Get a second job
Jill Walker's job was running a successful holiday-chalet business and she thought long and hard about taking a second role. 
"The extra job was prompted by COVID," she says. "I have four chalets and they were just sat there more or less empty. Then I saw a part-time job come up at a warehouse. 
Jill saw it as an opportunity to diversify her income by taking on an extra role. "It turns out I really enjoy picking, packing and posting," she says. She now runs distribution single-handedly from the new depot in Edinburgh. 
Jill has since taken the decision to rent her chalets to long-term students rather than holiday-makers, which means her second job has become her primary one. "I'm very happy with my decision to take on another role. My advice would be to grab every opportunity that presents itself."
5. Take part in market research
If you have time on your hands and strong opinions, market research focus groups could bring in some cash. 
Groups have mostly shifted online due to coronavirus, opening them up to people who don't live near city centres. There are plenty to choose from and it's worth signing up with as many as you can to ensure you get a regular income. 
Hannah O'Donoghue-Hobbs, marketing executive for Fuller Research Group (Research Opinions) says the amount you'll get paid varies: "It can be anything from £30 to £200 depending on the depth of the research, the work involved and time commitments. Others will simply require people to talk about their favourite brand of cereal for an hour to earn £40."
6. Find a side hustle
When Charlotte Musha isn't blogging about personal finance, she's running a website on finding 'side hustles'. 
"My first was setting up a cleaning and gardening business after I'd been made redundant from a job in IT. Even after I found another full time job I kept doing bits on the side because it was something I enjoyed doing and it's nice to have that extra bit of income 'just in case'. 
"The first thing I would say to people considering a side-hustle is: what are your hobbies/interests? If you're going to do something that will take up your spare time, it's best to make it something you're going to enjoy. 
Charlotte advises that anything service-based is a good side hustle. "For example, cleaning, gardening, ironing or dog walking... If you can be a solution to a problem — the problem being a job that people don't want to do themselves – you will get work."
If you have a spare room, you can rent it out with no tax implications if you earn less than £7,500 and you can even rent out your driveway if you live near a train station, an airport or a venue, for example. 
One final thing to note is that if you are starting a side hustle, make sure you're keeping good records of what you're putting into it and what you're earning from it. You don't want the tax man taking it all.
Are you in financial dire straits?
If you feel like debts are getting on top of you, it's best to contact the Money Advice Service or a debt charity like StepChange. You may also be able to get help from Citizens Advice.
If you're struggling to pay for groceries, it's worth contacting the Trussell Trust to find your nearest food bank.
We're here to help