Tools, phones and handbags – a car thief's favourite items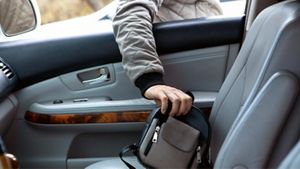 A closer look on what thieves target when they're out to steal from vehicles – and the modern methods of breaking in.
Shilpa Ganatra 
It's something we all dread happening: you return to your trusty car, mind on your exciting destination, only to find a broken window or the contents of the glove box spilling out. However it happens, the situation is clear – a light-fingered thief has eyed up your car and helped themselves to your possessions.
It turns out that they're often stealing the same things. We found that the most popular items claimed for 1 were:
Tools
Mobile phones
Handbag/purse/wallet
Laptop
Sunglasses/spectacles
Radio/CD/stereo
Tools down
While we might expect handbags or mobile phones to top the list, tools are a popular item to pilfer because they fetch a decent price on the second-hand market and they can't be traced back to their owners – they are rarely marked, and the serial number isn't always noted.
"I've been to court quite a few times to try and prove or disprove ownership. You have to have at least three marks on a particular item to prove that it's yours, or the minute it's in their hands, they can just claim it's theirs and there's no evidence to show otherwise," says Dr Ken German, a vehicle crime consultant with 60 years' experience in the field.
Steve Launchbury, Senior Automotive Security Research Engineer at Thatcham Research adds that tools are a common item to steal also because the tradespersons' vans they're found in don't have alarm systems. "The vehicle might be locked, but the theft trend is that the thieves grab the top of edge of the sliding door, and pull it over so they literally fold the door. It's a very difficult thing to try and prevent," he says. "Also, small tools are generally stored in a carrying case, waiting to be taken away. So it's pretty swift in-and-out method of stealing."
"It's all valuable to them"
When it comes to handbags and mobile phones, "they get stolen when the owner has forgotten them and left them on show, and opportunists walk past and get lucky, so to speak," says Launchbury.
...thieves aren't fussy about what they're stealing, as long as it's easy to steal...
Larger items like laptops and tablets are often stolen when they're left in the boot of a car, along with other personal items. "That's why a lot of people get targeted at service stations on motorways. Thieves know a family is on their way to a destination with everything in the back, including an iPad to keep the kids entertained. It's easy pickings – they're in and they're out," he explains.
The theft of spectacles shows that ultimately, thieves aren't fussy about what they're stealing, as long as it's easy to steal and can be sold on with relative ease. Says German: "Some of the places we raid early in the morning, you can't move for all the stuff that's stolen in there. They'll take anything – it's all valuable to them."
"It takes a matter of seconds"
How do these thieves get into vehicles? If they're not forcing the lock or the doors, a common method of entry is mimicking the signal emitted from electronic keys. Or they will check for unlocked cars – in the ONS report, 44% of car burglaries took place from unlocked cars 2. "Especially at night, criminals just walk up and down a road and try door handles," says Launchbury. "The police have also fed back to us that during the day, criminals check a car's wing mirrors. In prestigious cars, they automatically fold in, so having wing mirrors folded out is the first indication that the car has been left unlocked."
If all else fails, thieves have the brute option of smashing the window. And it's more sophisticated than it used to be.
"Nowadays, thieves have a spring-loaded dock punch that they just put up against the glass to shatter it into little cubes," says Launchbury. "You don't even hear it, and the car alarm won't go off until they've reached in and grabbed something. And if they pick up the item carefully enough, the alarm won't go off at all because it's looking for a volume change over a certain level." Either way, it takes a matter of seconds for the theft to occur.
Protecting your items
To keep your stuff safe, park your car in a well-lit place near other cars so that if the wannabe thief isn't immediately able to steal something, they'll swiftly move on.
The main advice is to triple check that you've locked the car (especially as your insurance may not be valid otherwise), and don't have any tempting items visible.
"People who steal items from cars are just looking for any opportunity to get their hands on something they can sell on," says Launchbury. "Every vehicle has got a window so if something is on show, it doesn't take much to break the glass, reach in and take it. You're making it an easy target."
If that doesn't work and thieves still manage to break in and get their hands on your stuff, at least good car insurance means all is not lost – for starters your personal belongings may be covered by your insurance. Just make sure any specialist items in your car are definitely covered, and check value limits on items in case you're ever carrying pricey goods. That way, you can park your worries – and your car with peace.