Three DIY disasters that might make you think twice before doing it yourself
Many of us had the same bright idea when we suddenly had to spend more time at home: make the best of a bad situation, it was time to get those niggly DIY projects done. Our collective to-do lists included painting the walls, fitting new cabinets or even refitting the bathroom. What could possibly go wrong, right?
By Shilpa Ganatra
While the optimism was admirable, a new survey 1 by Aviva revealed almost half of those who undertook home improvement projects were unhappy with the result. The most common problems related to painting and wallpapering rooms (one in four regretful DIYers say this was the cause of their issues), home maintenance efforts like fixing loose floorboards (14%) and upcycling projects (13%). 

That's no real surprise. After all, a lot of us are well-intentioned first-timers, and even with seemingly straightforward jobs, it takes experience to pre-empt the pitfalls. But has that stopped us from attempting DIY again, and how irreversible are our mishaps? We spoke to three people to find out more about their DIY disasters.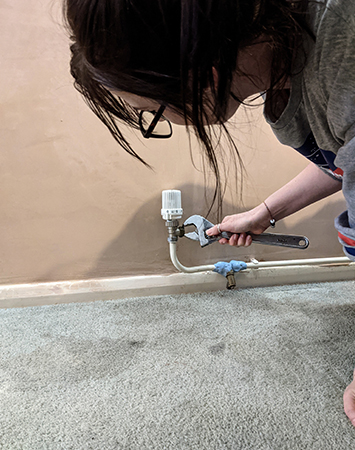 'I've learned about DIY — just the hard way'

When Rachel Jowett moved into a new home in Haywards Heath with her husband and kids just before the pandemic, she was ready to roll up her sleeves and get the work done herself. That included removing a radiator in the living room before the wall was re-plastered.

"I watched a YouTube video on it and it seemed like a job I could do," says Rachel. "I wanted to learn and be able to do jobs like that for myself. I guess I have learned — just the hard way."

Because the radiator was old, the valves didn't work properly. Once she thought the radiator had been drained of its water, she left the dismantled radiator to look after her kids for a couple of hours. Unbeknownst to her, water was still pumping out "and I came back to a very soggy carpet, with patches of black gunk that had come out of it."

Research fully

It's good fortune that the carpet needed replacing anyway, but between the carpet, a plumber and a new radiator, it's set her back £980 — more than the average from our survey, which saw an average bill of £676 for failed DIY projects.

She has home insurance, for the assurance it gives her as she continues her DIY journey. "This experience hasn't put me off trying things for myself first, but I now know to research fully," she says.

'We laugh about it now, but it wasn't funny at the time'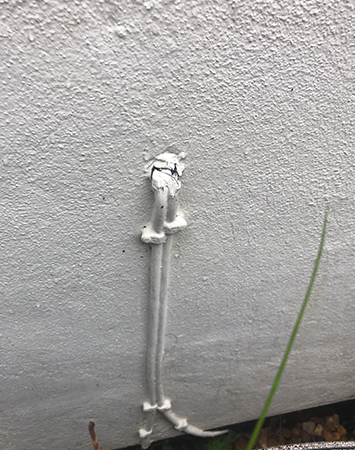 No stranger to DIY, Wendy Harris and her husband felt confident when it came to sprucing up their garden room in Burton-on-Trent. The only obstacle in the way of a fresh lick of paint? A mystery phone socket in the wall, whose wires trailed outside to who-knows-where.

"It didn't look like we used it, so we took it off the wall. Then when I went to work in my outhouse in the back garden, I found there was no broadband. My heart sank — I realised what had happened and thought, 'oh no, we didn't think this through'."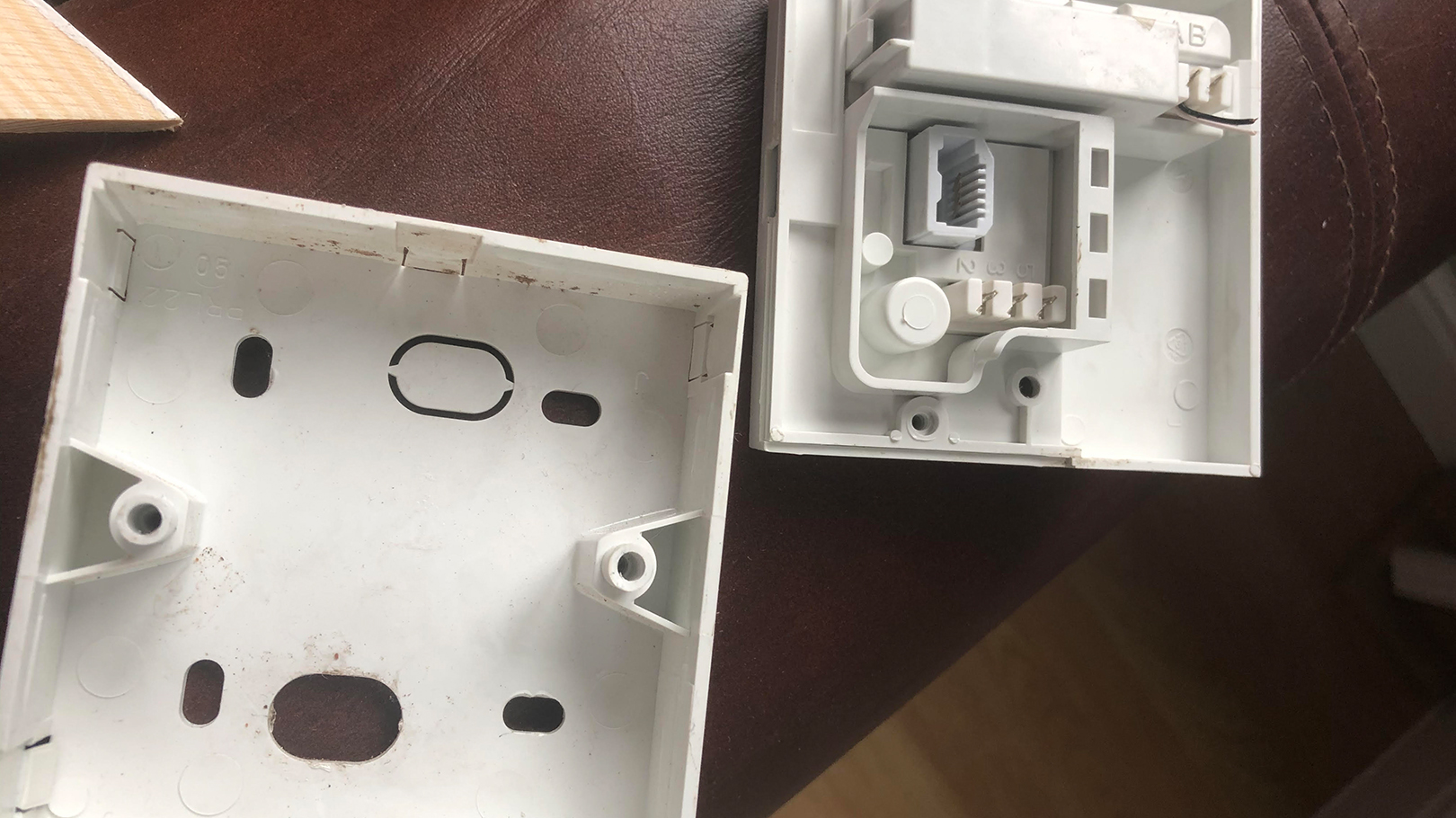 It transpired that when they first built the outhouse 11 years ago, Wendy asked for a work phone extension in the main house, in case she had to take calls during lunch. Once mobile phones took over, the phone box seemed redundant, but actually, it carried the broadband to her home office.

"I do have home insurance — I even have insurance for working at home — but because I work in telecoms, I knew an engineer who fixed it as a favour. So I didn't need to check it," she said.

Ditching the office

Still, it wasn't a straightforward fix: the wires were of different types and colour coded incorrectly. But after a three-week wait that involved ditching her three-screen office set-up for a laptop in the house — not aided by sharing the family internet with her kids who were homeschooling — she was back in her office.

"We laugh about it now, but it wasn't funny at the time," she says. "I don't think I'll be doing any DIY for a while!"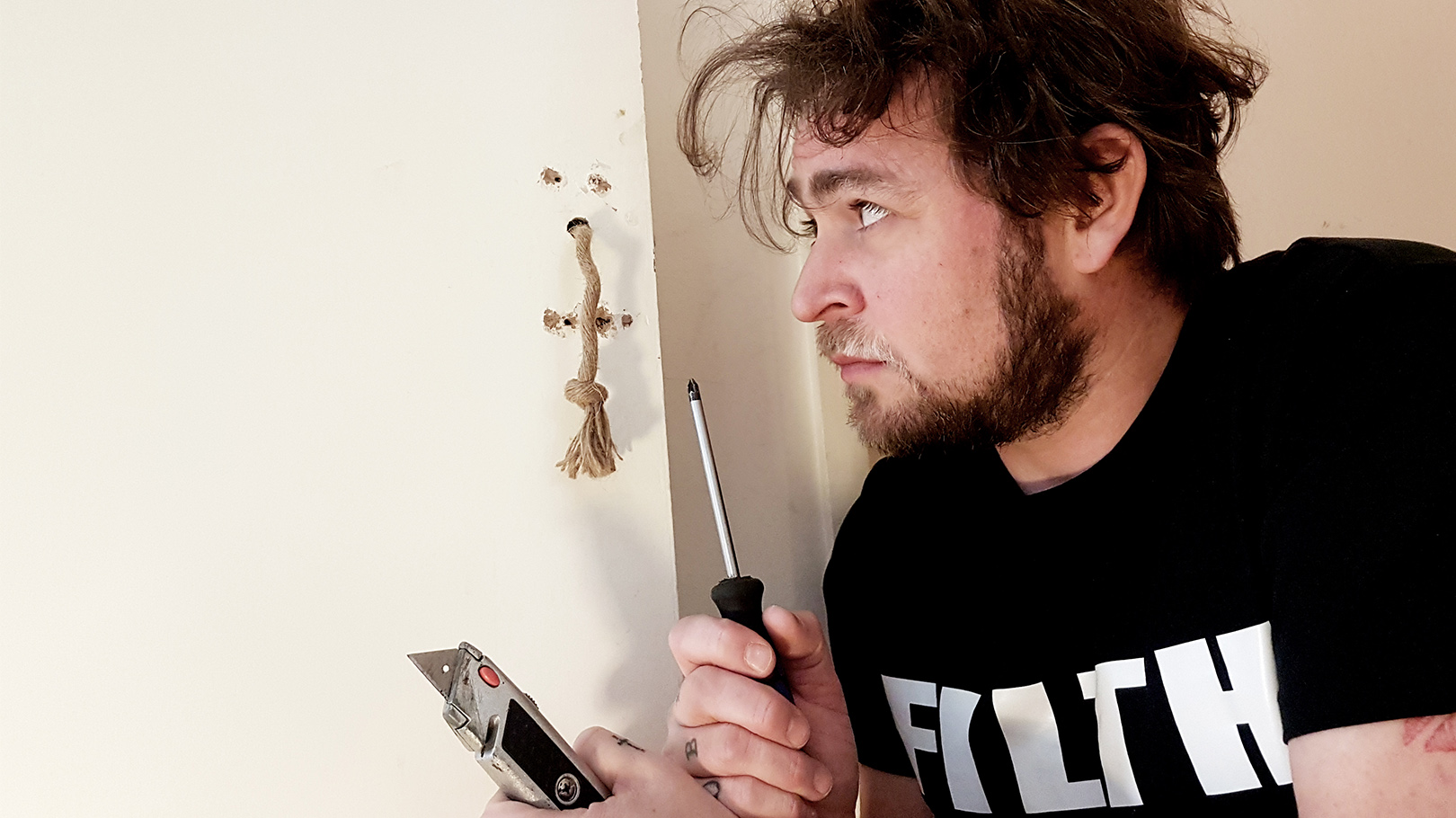 'My missus didn't speak to me. She just glared'

The door handles in Thomas Bartlett's flat in Hastings had been threatening to fall off for months. And when one finally did over lockdown, rather than replace like for like, his creativity came to the fore. Thomas, an artist, saw it as a chance to bring his town's seaside aesthetic inside his home.

"I thought I'd do something clever, and I had this great idea of replacing the standard door handles with brass rings with nautical rope coming out of it," he says. "I even created sketches of how I envisioned it, and how to change it from a door handle that needed turning to open it, to one that you can push and pull. But it didn't go to plan."

Still unfinished

"I managed to alter the handle mechanism so you can open it by pushing and pulling. But the nautical rope idea didn't work out. It's basically just a rubbish broken door now, with a bit of rope through it. When my missus saw it, she didn't even speak to me. She just glared."

A fifth of those in the survey who regretted their DIY said their pandemic project was still unfinished
A fifth of those in the survey who regretted their DIY said their pandemic project was still unfinished , and that's the case for Thomas. "We want to buy handles from a second-hand shop, but that means we have to wait until the shops open," he says. "Until then, I have it as a constant reminder of my lockdown DIY disaster."

Thinking about your next DIY project?

These stories are a stark reminder that things don't always turn out the way we plan despite our creative vision, experience or aptitude. Still, undertaking DIY is a neat way to spend your time, learn new skills, and avoid calling in a tradesperson. If you're considering it, a little extra preparation can save a lot of money.

"In many cases, what started out as an exciting idea seems to have turned into a bit of a burden, particularly if people need to find the cash to put things right," says Gareth Hemming, MD of Personal Lines. "We've certainly seen our fair share of claims for paint spilled on carpets, shattered windows and nails put through pipes. 

"So if people are thinking of starting renovations this weekend, we'd encourage them to do the necessary preparations and take their time. And if they aren't sure about a particular project, maybe sleep on their decision before making a start!"

When accidental damage cover helps
If you have accidental damage cover, some DIY mishaps are covered so that you won't have to foot the bill.

Foot through a ceiling

Plumbing going wrong
Paint ruining carpet
Shelves falling down 

Ill-fitting kitchen units
Regretting new bathroom tiles