Mirror, signal, put some clothes on! Brits share surprising sights from behind the wheel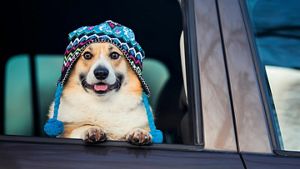 Who says driving's dull? From animals in the driver's seat to folk navigating in the nude, we're celebrating those gasp, wow and crikey moments on the open road. Warning: don't try this at home (or in the car).
Sarah Lewis
As one of the UK's largest insurers, we know the importance of being ready for the unexpected. We thought we'd heard it all, but even we raised an eyebrow – which went up along with our blood pressure – at some of the surprising things drivers confessed to seeing on the roads.
A sheep on the passenger seat, a driving instructor wearing a crash helmet and a motorist enjoying a cup of tea are just a few of the unusual sights people encountered while driving, revealed in our survey 1.
Turning heads while turning the wheel
Nearly a quarter of drivers have spotted pets in the driver's seat (24%), more than a third (35%) have been entertained by fellow drivers singing and dancing in the car, and 6% of drivers have seen naked people at the wheel. Let's hope they kept their eyes on the road.
Other unusual sights reported include a woman blow-drying her hair with the fan heater – resourceful, although pretty dangerous if driving. A pig being taken for a walk at the roadside, why not? And a rotary clothes dryer on top of a campervan with garments still pegged to it – a great idea, that is until you reach a tunnel.
Some of the more shocking sights were a mobility scooter on a slip-road to a motorway, people driving the wrong way around roundabouts and drivers reversing on motorways when they had missed an exit. Don't do this.
Pass the emergency cat litter
The study also discovered the quirky and unusual is as likely to be found inside vehicles as well as out, with many people carrying things as good luck charms or 'just in case'.
Such articles include cat litter (quite sensibly to deal with snowy roads in winter), a pair of roller skates, a mini-toilet, emergency tomato ketchup, a kettle and a toy wombat. One person even claimed to travel with a selection of their children's teeth in their car. Unfortunately, they didn't tell us why.
Among the more commonly found items, 11% of drivers like to keep cutlery in their cars, 8% have a spare toothbrush, and 6% keep a change of underwear at the ready. Perhaps to share with the above motorists who insist on driving in the nude?
Steering the conversation
A lot of drivers told us they use road trips for more than simply getting to a destination.
More than a third of drivers (34%) told us they use a journey as a chance to relax and wind down, and nearly a quarter (23%) have thought through a difficult decision while driving.
One in four drivers have taken a job interview in a car (27%), while one in eight (13%) have used a trip as an opportunity to have an awkward conversation with another person in the vehicle.
This is actually a smart idea. Find out why some experts say the car could be the perfect place to have that chat you've been dreading.
A romantic 9% of motorists have told someone they love them while on a car journey, and we love that 4% of drivers have popped the question and proposed marriage while on a road trip!
Do we think driving is weird and wonderful? We do.