By Remy Maisel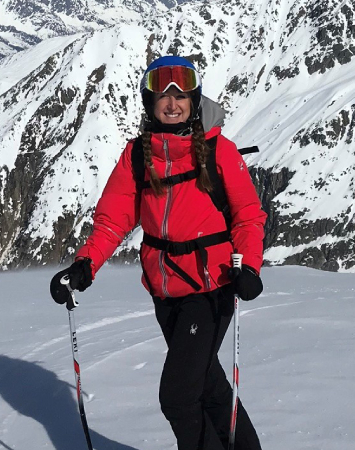 Last March, 28-year-old Alessandra took a holiday to Courchevel as part of a group of 14 friends. Alessandra currently lives in London, but was raised in France and spent winters at her grandparents' chalet in Chamonix, so she's been skiing since she was three years old. Modestly, she describes herself as 'a competent skier'. Also a marathon runner and an amateur open water swimmer, Alessandra is an experienced athlete – and this was far from her first ski holiday. 
Asked to describe her accident, Alessandra says she was forced to change her skis, as she'd snapped the brake on her previous ones. They didn't have many left, so she was given a pair of relatively heavy and wide skis that are more suitable for off-piste and powder snow. 
"We were skiing on a black run and I caught an edge on my left ski as I took a right turn and my ski didn't come off fast enough, so I twisted my knee in the process and felt something happen inside my leg," Alessandra says. 
"As soon as I fell, I knew something was wrong. I felt what can only be described as a small explosion take place in the knee. I was sure that I had either broken it or dislocated it. I suddenly thought to myself, 'I hope I don't have to call the emergency service to get me off the mountain.'"
Unfortunately, Alessandra couldn't stand on her leg – but she was glad she hadn't fallen off-piste 1, as she had to call the paramedics to send a blood wagon to get her down the mountain. Then, she took an ambulance to the hospital to get examined by a doctor. 
Luckily, Alessandra had renewed her travel insurance with winter sports cover right before leaving on the trip. She uses Aviva for her health insurance through work, and called the number she had saved the next morning. "It was really straightforward – they were very compassionate, and extremely helpful," she says.
Alessandra had a ruptured ACL and a torn meniscus, with recommended surgery and a prognosis of a 9-12 month recovery with rehabilitation after that. She stayed on the holiday until the end of the week, with 13 friends caring for her. 
So how did she get home in the end? "Aviva managed everything for me - all the transport back to the UK, the payment for the paramedics and ambulance, and they even called to check in to see how I was doing after the accident," Alessandra says.
Sadly, she missed out on running the New York City Marathon in December 2019 because of her injury. This was a shame as she was excited to take part and had raised money for charity – but she is now feeling a lot better. After what she says has been a long, difficult and frustrating road to recovery with a great physiotherapist, her hard work is paying off. "I went for my first (very short) run just before Christmas, which was a massive milestone for me," Alessandra says.
I was raving about Aviva after my accident.
And not only is she back to running – she can't wait to get back out on the slopes. "It's one of my favourite things to do. I'm actually contemplating going in March, knee permitting." 
If Alessandra hadn't had travel insurance, this may have been a different story. Luckily, not only did she have travel insurance, she had winter sports cover – which meant she was fully covered for skiing when she was injured, and we were able to help her get back on her feet. "I was raving about Aviva after my accident and told everyone in my vicinity that they were brilliant. They made a difficult and painful time for me, that much easier," she says.
What travel insurance covers
Travel insurance is designed to protect you with a range of problems, whether you're travelling in the UK or abroad. It can help if you need medical assistance, if you miss a connection, you've lost your passport, or even if your money is stolen. You can get travel insurance for a single trip, or take it out annually so that you're covered for all your holidays or business travel for an entire year. Plus, you can add up to 8 friends or family members to your policy and add extras like winter sports or baggage cover.
Whether you have single trip or annual travel insurance, as standard, you're covered for emergency medical expenses up to £10 million with an Aviva policy – including emergency medical treatment and emergency dental pain relief. We'll also cover the costs of emergency flights home. However, always remember that you need to let insurers know about any pre-existing medical conditions when you take out an insurance policy. 
If you need to cancel your trip or leave in the middle of it, you're covered for costs up to £5,000 – as well as for costs of pre-paid excursions up to £250. 
If you need emergency travel documents, you have £750 worth of cover and £400 worth of cover for cash and banknotes. There's also £150 worth of delayed baggage cover. 
What travel insurance doesn't cover
There are a few things that travel insurance won't cover – including out-of-date travel documents, certain leisure activities (like those that aren't organised through a licensed operator), and missed connections, where you didn't give yourself enough time for travel (for example, to make it between airports). 
Before you book your travel, always double-check your arrangements and your insurance policy to make sure you have the appropriate cover. 
Winter sports cover
If you're adventurous, like Alessandra, you might not have enough cover on standard travel insurance – activities like skiing and other winter sports, scuba diving, and golf trips aren't included, so they'll require add-ons to your policy. Especially if you're taking expensive equipment along with you. 
"If you are planning a skiing holiday you should make sure your travel insurance policy includes cover for winter sports – you may have to pay extra to have this added," says Beverley Bowker, Travel Underwriting Consultant at Aviva. 
"You should also check the policy to see if there are any conditions or restrictions such as wearing a helmet when you are skiing, which we would always recommend or if you intend to ski off-piste, you may only be covered if you do this with a qualified guide."
When you're buying travel insurance, it's important to let your insurer know about all the activities you're planning to do, even if you're only going to ski once or twice – but tell them if the main reason you're going away is a ski holiday! 
Winter sports cover gives you extra protection if you're on a ski holiday – you'll be covered for:
Winter sports equipment up to £500 (with a £50 excess per person)
Avalanche delay up to £200
Piste closure – limit up to £300
Inability to take part due to illness or accidental injury up to £200
Equipment taken from a motor vehicle won't be covered, unfortunately, and neither are activities not listed on your policy. For any theft claims to be covered, you'll need to report the incident to the police within 24 hours of discovering the item was stolen. 
It's thanks to having winter sports cover that we were able to help get Alessandra back home in relative comfort – and keen to hit the slopes again. So next time you go on the piste, make sure you're fully covered 2.