This is not a drill: how we're turning to DIY repairs to save money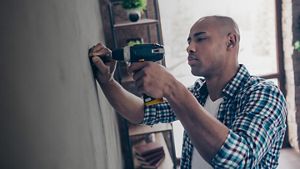 From cutting costs to protecting the environment, Britain's in a "do it yourself" sort of mood, fixing up clothes, furniture, and other household items.
By Tom Pilkington

We don't think that DIY should be something to send a shiver down your spine and your cat to take up temporary residence next door. In fact, a survey  of over 2,000 adults by Aviva has found that people are planning on reaching for their toolbox more and their credit card less in the coming months.
With the cost of living increasing and budgets being squeezed, let's hammer down on how people are using repairs and other measures to cut costs and promote sustainability.
Ramping up repairs
Our survey found that more than a third (36%) of UK adults expect to repair more possessions, rather than buying new, with 54% of these repairing enthusiasts saying they would do so to save money. Almost a third of people (32%) say it's more convenient to repair an item than buy a new one, while one in six (17%) are keen to pass on their repairing skills to others.

Upcycling is also a great way to make the most of what you've got, and 35% of people intend to do this more, while 33% believe they will buy more pre-owned items, which is good news for our high street charity shops. The environment is also front of mind, with 31% of people keen to avoid sending items to landfill.
Other savvy saving techniques include picking up free items from giveaway sites (such as Freecycle and Facebook marketplace) and social groups (24%) and using barter systems (12%) – both great ideas and ways for the community to help each other out.
Stitch it up good as new
When it comes to mending belongings, people are most likely to have a go at fixing clothing, furnishings and furniture, with 45% of people confident mending clothes if a simple repair was required. Just make sure that zipper is definitely fixed before going out in public.

Less than half of this number (20%) were willing to walk the walk with shoes, while 30% would try to fix curtains or rugs, and 28% furniture. Just imagine the look on Great Aunt Mildred's face if you fixed her favourite rug.
It is worth remembering that some goods are more easily (and safely) fixed than others, and people quite rightly felt less confident fixing electrical goods, with just 15% comfortable fixing a phone, tablet or computer equipment.
| | |
| --- | --- |
| Household item | Percentage of UK adults who would feel confident doing a simple repair |
| Clothes | 45% |
| Furnishings e.g. curtains, rugs | 30% |
| Furniture | 28% |
| Children's toys / baby items | 25% |
| Small electrical appliances e.g. kettle, toaster, hair straighteners | 22% |
| Pedal cycles | 21% |
| Shoes / boots | 20% |
| Computer equipment e.g. laptop, printer | 15% |
| Phone / tablet | 15% |
| Car / motor vehicle | 13% |
| Large electrical appliances e.g. fridge, washing machine, cooker, TV | 11% |
If an item has been damaged accidentally in the first place then it may be covered by the accidental damage section of your Aviva home insurance policy, and you might not need to repair it after all!
Home repairs to avoid
There are some things that should be left to the experts. Two-fifths of UK adults say they have tried to fix an item, only to make the problem worse or not be able to put it back together again.

The survey found one respondent who flooded their bathroom after trying to fix a radiator, while another tried to fix the leg of a wooden table, only to break another table leg in the process.
It's not uncommon to end up in a scenario like this, so if there are repairs or renovations that you are less confident in attempting then we would advise calling an expert to avoid potentially dangerous situations.
While not every repair goes to plan, the ambition to cut costs, be more sustainable, and learn new skills is admirable. Repairers of Britain, we salute you.