How to beat car depreciation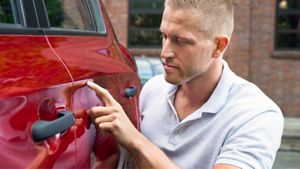 Buying a new car is a big financial commitment, and the sad truth is the minute you drive off in your shiny new purchase it starts losing value. So which models should you choose that will retain their value the best?
By Dee Pilgrim
The main thing that determines your car's depreciation (which the industry works out as a percentage of its new price) is how in demand it is. In the UK, SUVs tend to retain more value as they age compared to hatchbacks and saloons because buyers like the way they look and their high driving positions. 
The same is true of sports cars and classic cars because they are highly desirable, although pricier than your average family car. However, the cars that are now holding their value the best are new electric, plug-in and hybrid cars. 

According to research carried out by cap HPI for What Car? Magazine 1, these are now outperforming petrol and diesel cars when it comes to retaining value. 

The research covered more than 7,000 different makes and models of car and analysed how much of their original value they held after three years and 30,000 miles. It found that on average cars retained 42.1% of their value, but the new electric, plug-in and hybrid models depreciated in value the least, holding 47% of their value - while petrol models retained 43% and diesels just 40%.

Some pure electric and hybrid models like the new Jaguar I-Pace, Toyota Prius, Lexus UX and NX performed even better, retaining more than 57% of their purchase value.

Not surprisingly, it was the premium brands which offered the best value for money, with Porsche coming out top with the first three places. The Porsche Macan Turbo was rated as the UK's least depreciating new car, retaining close to 65% of its £65,276 price tag. Some more affordable models did make it on to the top 10 list, including cars from Toyota, Mercedes-Benz and Dacia. The Dacia Duster in Access trim and with a 1.6 SCe petrol engine, was found to retain 59% of its retail value after three years. 

Steve Huntingford, editor of What Car? said: "When the first EVs and hybrids arrived, they suffered from heavy depreciation. But with the technology now becoming mainstream, buyers are starting to see far better residuals, which will no doubt boost sales further. It's also great to see the Duster make the top 10, because it proves that you don't have to spend a lot to get a car that will hold its value well" 2.
Car depreciation calculator
| Make | Model | Trim | Edition | OTR | 30k/3yr Residual | Price drop | Retained value % |
| --- | --- | --- | --- | --- | --- | --- | --- |
| Porsche | Macan | Turbo | Turbo Performance | £65,276 | £42,150 | £23,126 | 64.6% |
| Porsche | Panamera | Sport Turismo | 3.0 V6 PDK | £73,956 | £47,700 | £26,256 | 64.5% |
| Porsche | Cayman | GTS | 2.5 PDK | £63,054 | £39,450 | £23,604 | 62.6% |
| Mercedez-Benz | GLA | Urban Edition | GLA 180 | £25,105 | £15,175 | £9,930 | 60.4% |
| Audi | Q5 | SQ5 |   | £51,955 | £31,275 | £20,680 | 60.2% |
| Jaguar | E-Pace | R-Dynamic S | 2.0 auto | £37,880 | £22,800 | £15,080 | 60.2% |
| Range Rover | Velar | R-Dynamic HSE | 2.0 P250 HSE | £62,030 | £37,225 | £24,805 | 60.0% |
| Toyota | Prius+ | Excel | 1.8 VVTi TSS | £30,185 | £17,950 | £12,235 | 59.5% |
| Jaguar | I-Pace | S | 294kW EV400 90kWh | £64,495 | £38,200 | £26,295 | 59.2% |
| Dacia | Duster | Access | 1.6 SCe | £9,995 | £5,900 | £4,095 | 59.0% |
Courtesy of  What Car? Magazine
Top tips for keeping your car in top nick

Carefully choosing the make and model of the car you buy is key to it depreciating in value the least, but there are other things you can do to help your car retain value.

It's important that your car is regularly serviced at a reputable garage, where you can be assured that they will be using the correct and warranted manufacturer parts and oils. Most cars need to be serviced once a year, but each manufacturer has a recommended service schedule. Nowadays, the need for a service is often indicated by a warning light on the dashboard. 

Sue Robinson, Director of the National Franchised Dealers Association (NFDA), which represents franchised car and commercial vehicle retailers in the UK, said: "There are a number of precautions motorists can take to ensure that their vehicle is safe, and its depreciation is minimised. These include regular checks for oil and screen wash levels, tyre pressures, lights and windscreen wipers."

5 tips to save the value of your car

Keep it in a garage
Keeping your car out of the elements, especially the sun and rain, will help to maintain the bodywork in maximum condition.
Keep it clean with regular car washes or hand valeting
You should make sure both the inside and outside of your car remain clean and in good condition. Use rubber mats inside and regularly hoover. If the car has leather seating, use leather polish.
Wax it
Waxing removes blemishes, prevents the bodywork from fading and stops foreign bodies sticking to the paint.
Oil spray the undercarriage
This will help protect it from rust caused by salt, spray and road grime.
Fix dents and scratches immediately
Depending on the severity of the damage either fix scratches yourself of have them repaired by a proper technician. If your car doesn't look good you won't get the best price for it when you come to sell it.
A real classic

Because they're so desirable, classic cars tend to hold their value well, or go up in value. But some cars are more classic than others. Take James Bond's 1965 Aston Martin Silver Birch DB5 as seen in the films Goldfinger and Thunderball. The car has now been fully refurbished with all its custom-built gadgets restored. When new, it cost the not inconsiderable sum of £4,490 – more than most houses at the time. It's being auctioned by Sotheby's in California this August and is now expected to reach between $4m (£3.2m) and $6m (£4.7m) 3.

Did you know...
Electric is the way to go
According to a report by EDF Energy, the lifetime costs of charging an electric vehicle are likely to be cheaper than filling up at the petrol station. It found that an electric vehicle will cost just over £15,000 to run over a lifetime – around £41,000 less than a petrol car 4. Electricity costs much less that buying petrol or diesel and a battery engine can require less maintenance than a fuel engine. You can also be entitled to Vehicle Excise Duty discounts or exemption, and exemption from Fuel Duty.