Worried about driving post-lockdown? Make sure your car is safe on the roads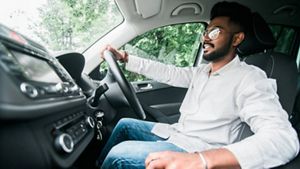 If your car has been sitting idly on your drive through lockdown, you may feel anxious about getting back out on the road.
By Dee Pilgrim

Almost two thirds (62%) of drivers are nervous about resuming driving as lockdown measures ease, Aviva research shows. Nearly a third of are concerned about more traffic on the roads, especially more cyclists, some of whom may have only taken up cycling during lockdown. A third worry that pedestrians who have become used to quieter roads may step off pavements without looking and one in eight worry they'll have to deal with more delivery vans.
These worries run in parallel with fears about how their driving skills have deteriorated through lack of practise. A survey of 2,000 drivers by Hyundai shows a fifth of motorists are struggling to get to grips with driving again.
The most common errors are stalling the car, scraping the wheels on the kerb and failing to indicate. Other mistakes include having to think carefully about what each pedal does, not checking mirrors when pulling away, forgetting which side of the car the filler cap is on and not putting their seatbelt on.
Build confidence behind the wheel
If you feel unsure about driving again you should take it slowly. Go for short drives on quieter roads and at less busy times, making sure you keep to the speed limit.
Take extra care when overtaking cyclists and approaching pedestrian crossings, and keep your distance from the car in front of you. As your confidence returns, gradually increase the length of your trips and try to drive every day.
Check your vehicle
Aviva's research also suggests there could be an increase in the number of potentially dangerous vehicles on our roads. Although almost half of drivers have been cleaning their cars during the pandemic, more than two-thirds haven't checked their tyre treads or engine oil levels, while 28% haven't run any checks on their vehicles at all.
The number of unsafe vehicles may be exacerbated by the extension of MOT expiry dates. On 30 March this year, the government introduced legislation giving vehicle owners a six-month exemption from MOT testing, so key workers could continue to travel or shop for necessities.
However, vehicles should still be roadworthy and garages have remained open throughout the lockdown for essential repairs. You can be fined up to £2,500, be banned from driving and get three penalty points for driving a vehicle in a dangerous condition.
If you haven't driven your car for some time, there are various things you need to check to make sure it is still in good working order. Sarah Applegate, Head of Global Strategy and Insight at Aviva says: "Drivers will inevitably be using their cars more often as restrictions lift and non-essential shops start to reopen, so they should prepare for this by ensuring their vehicles are up to scratch.
"If people have any concerns about their vehicles, they should ask a professional mechanic to investigate, particularly before embarking on longer journeys.
"It's also important for drivers to make sure their insurance policy suits their future driving needs. If people are likely to use their car significantly more or less post-lockdown, or drivers need to be added or removed from policies, they should inform their insurance provider so their cover can be updated."
Sue Robinson, Director of the National Franchised Dealers Association (NFDA), which represents franchised car and commercial vehicle retailers in the UK, adds: "Motorists should carry out basic checks and visit a franchised dealer for their peace of mind to ensure their vehicle is safe to drive. Getting an MOT done is often the best way to find any potential issues and have them addressed.
"Also, as roads get busier, it is advisable to try where possible to avoid rush hour traffic as that's when more vehicles, as well as cyclists and pedestrians, will be on the road."
Things to check before getting back behind the wheel
Check your lights: Make sure your headlight covers are clean and check they work properly. If they flicker when tapped, they could be loose or damaged. Replace any blown bulbs.
Check your tyres: Check your vehicle's tyres are all the same size and inflated to the correct pressure. They shouldn't have any cuts or other signs of damage. Make sure that the tread depth of all tyres is above the minimum legal requirement of 1.6mm
Wipers and windscreen: Make sure wipers are in working order, the washer bottle is topped up and the windscreen is in good condition. Too often drivers forget to top up washer fluids, but this is all the more important before taking a long drive
Top up your fluids: In addition to windscreen washer fluids, it's a good idea to examine engine oil and brake fluid levels, if they haven't been checked for a while
Make sure that your number plates are clean, secured to your vehicle, and all letters and numbers are easily legible from a distance
Check your seatbelts: Take a moment to ensure your seatbelts aren't damaged or frayed, that they work properly and click into place securely
One safety aspect you may not have considered is carrying hand sanitiser in your car. During periods of extremely hot weather, hand sanitiser can burst into flames, so remember to take it with you on leaving your vehicle.
Out and about
As lockdown measures continue to ease, many drivers are planning to take longer journeys in their cars, either as a means to get to work or on leisure excursions and holidays. Remember to observe all road laws, especially speed limits, and above all stay safe.
You can easily update named drivers, annual mileage and change your details on your Aviva car insurance policy by logging in to MyAviva.